Posted: March 25, 2019
Filed under: Darkroom Door, Nature Walk, tall flowers, Woodgrain
| Tags: Darkroom Door stamps, Ranger Distress inks, WOW embossing powders
9 Comments
I've been creating with the tall flowers and nature walk stamps from Darkroom Door again, this time with a wedding theme in mind. Darkroom Door now has eight different sentiment stamps collections in list format, each one has a different theme. For two of today's cards I isolated one sentiment by masking either side but on the second card I used a large chunk of the stamp as a feature over a soft blurry floral background. I am over on the Darkroom Door blog sharing these cards so make sure to pop over there for more details on my process.
This first wedding card made me think of a country style-decorate the barn type of wedding. I did a bit of masking to get the look of three daisies against a timber background and used twine to keep things natural and not too fancy. I inked the daisy from 'Tall Flowers' set in worn lipstick, abandoned coral, forest moss and peeled paint distress ink, spritzed lightly with water and stamped in centre of a hot pressed watercolour paper panel, then used masks to stamp another on each side. I masked all three daisies so I could stamp the  Woodgrain Background Stamp in weathered wood and frayed burlap distress inks.
My second card features the 'wet on wet' watercolour technique. The watercolour panel was very wet before I stamped the daisy stamp in wild honey and forest moss distress inks. I restamped to get paler images then dried the panel before wrapping a vellum strip with gold embossed wedding sentiments over the stamped flowers.
The very blurry style is not for everyone but in real life it does have a soft romantic look to it.
My final card features wildflower silhouettes in blueprint sketch and milled lavender ink stamped repeatedly to get first, second and third generation images as well as silver embossed flowers and sentiments with some very sparkly silver ribbon.
Working with sentiment strips that have fifteen different sentiments gives me plenty of options, some of the 'wedding' sentiments are totally appropriate for other events too.
I enjoyed the process of creating wedding cards in three different styles and I know I could have gone even fancier. What's the fanciest card you have ever made?
Supplies


---
Posted: March 7, 2019
Filed under: alphabet medley, Art Journal, Darkroom Door, mesh, Nature Walk, stone, tall flowers, Woodgrain
| Tags: Art Journal, Darkroom Door stamps, distress oxide inks, Ranger Distress inks
5 Comments
Are you a wee bit surprised to see a journal page here?  I'm surprised myself, surprised but pleased. I really enjoyed dreaming it up and making it. It didn't end up looking as I imagined but that is the way with journal pages is it not?
This art journal is a Fabriano journal; the paper is nice and thick but not watercolour paper so I painted over it with absorbent ground first. Then I grabbed a bunch of stamps from Darkroom Door along with three light coloured oxide inks and stamped mesh, stone and woodgrain texture stamps over the background. I spritzed it with water to soften the edges of the stamped images and dabbed some out too to make it subtler. Even after adding some water it was still bolder than I wanted so I painted another thin layer of absorbent ground over it.
I filled the bottom of the page with repeat stampings of flowers from the Darkroom Door 'tall flowers' set in distress inks then blended some of the big flowers with water. They don't blend as well as they do on watercolour paper but the effect is still nice.
I added grass and flowers from the DD ' nature walk' set, also in distress ink then a border with the mesh texture stamp in black soot oxide ink. It was a bit bolder than I wanted so I spritzed then dabbed with a paper towel ( as you can see I'm a fan of the 'spritz and dab' ). I splattered wild honey, forest moss and dusty concord diluted ink over the whole spread and it ended up looking like confetti. To boost a few of the flowers I outlined them with fine tipped black markers.
I wrote psalm 18:36 with a brush pen leaving a space to stamp the word 'steps' with the DD alphabet medley stamps.  I find choosing words for a journal page tricky, which words and how to add them. But the beauty of a journal page is the experimental nature of it. If I don't like something on this page, I'll try something different on another. Once the ink had dried I sealed the large flowers and the lettering with distress micro glaze.
Do you have any art journallers you would recommend for inspiration? I already follow Rachel Greig from Darkroom Door, Julie Fei-Fan Balzer, Vicky Papaioannou and Maremi SmallArt who all have different styles and inspiring journal pages.
I'm hoping to create in my journals more often and will share pages here if possible. Even if you are not an art journal person the designs can usually be converted to a card and sometimes start out as cards anyway!
Art Supplies (all Darkroom Door stamps are linked in description)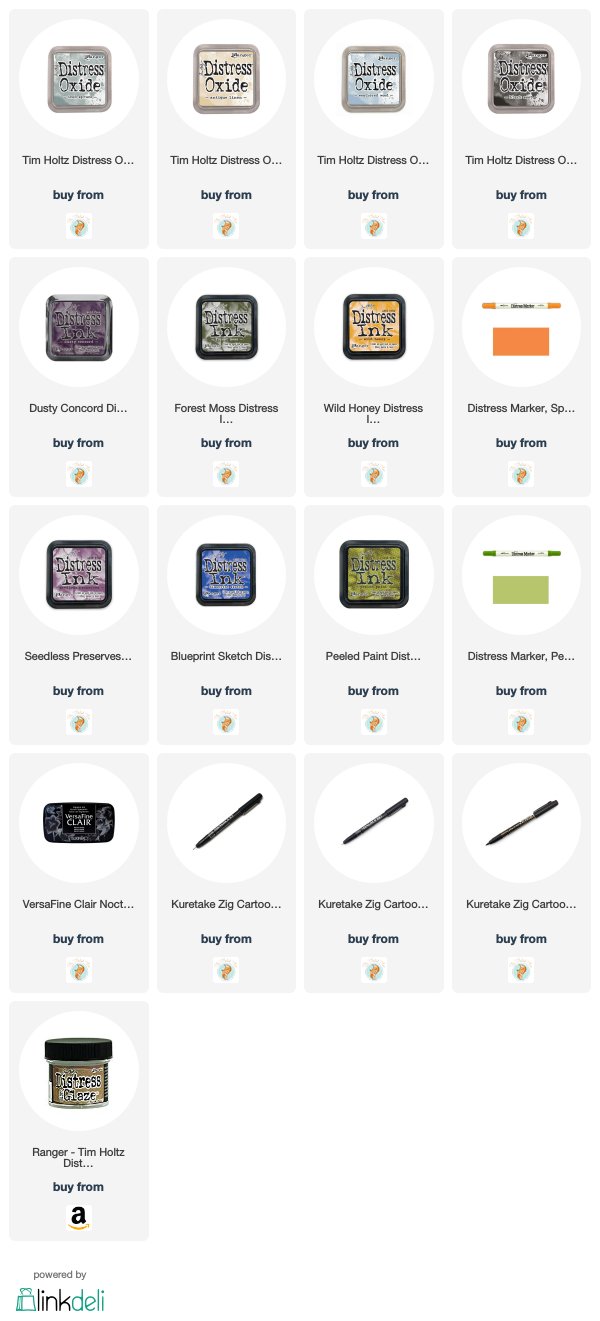 ---
Posted: February 19, 2019
Filed under: Darkroom Door, Leaves, Nature Walk, tall flowers
| Tags: Darkroom Door stamps, Ranger Distress inks, Ranger Distress stains
9 Comments
I am excited to feature some new stamps from Darkroom Door today. The tall flowers are from the new 'Tall Flowers' set and the background flowers are from the delightful 'Nature Walk' set.  I am a guest over on the Darkroom Door blog today, if you haven't visited you definitely should check out all the inspiration shared there.
My first card features a cold pressed watercolour panel filled with one of the stamps from 'nature walk' set inked in iced spruce and stormy sky distress inks. I diluted the ink with a spritz of water and stamped first, second and third generation impressions. Over the top I stamped the tall daisy from 'tall flowers' four times with wilted violet, blueprint sketch and forest moss distress inks. Because the stems are long and thin I was able to orient them in different directions. I used a mask a couple of times to overlap the daisies. Once stamped I blended the colours with a paintbrush and water.
I used a similar process to create the orange toned daisy card but this time I did the background foliage after the foreground flowers by using stamped and cut out masks. The daisies are stamped in peeled paint and fossilized amber distress inks. I added extra colours one at a time with spiced marmalade marker, rusty hinge marker close to flower centre and finally ground espresso marker on the centre of the flower. I blended the inks with water then after it was dry stamped the centres again to add some texture back in. The background stamping is another stamp from the DD 'nature walk' set stamped with weathered wood and tea dye distress inks. I added some splatter because, well, why not!
On both the daisy cards I decided to add the sentiment on a vellum strip. I liked the floral scenes too much to stamp words over them so the vellum seemed like a subtle way to do it. The recipient could even snip the sentiment off and have a picture to display if they wanted to. For this tall thin panel I used the kraft card base to frame it on two sides.
The last card is a little different; I used the small flower from 'tall flowers' and some little leaves from 'leaves' set to make a wreath.
To guide my stamping I traced a circle onto my watercolour panel. I sponged fossilized amber distress ink around circle then erased the pencil line. With the sponging as a guide, I stamped the small flower heads from 'Tall Flowers' set round the circle in carved pumpkin ink, holding the stamp so only flower(not stem) was inked and stamped. I repeated the process with small leaves and ferns from 'Leaves' set in  fossilized amber, peeled paint, forest moss and tea dye distress inks. You know I splattered forest moss ink over wreath because that's what I do then matted the panel in orange cardstock, attached to a kraft card base and added a raffia bow.
I loved creating with these beautiful tall flower stamps and couldn't help myself from using the 'nature walk' stamps again because they work so well together!
Supplies
Stamps: tall flowers, nature walk, leaves


Inks: stormy sky, iced spruce, blueprint sketch, wilted violet, forest moss (purple flower card)


fossilized amber, peeled paint, weathered wood, tea dye & distress markers: spiced marmalade, rusty hinge, forest moss, ground espresso (orange flowers)


fossilized amber, peeled paint, carved pumpkin, forest moss, tea dye (flower wreath)


Papers: hot pressed watercolour, cold pressed watercolour, vellum, kraft


Also: stamp positioner, raffia

---