Posted: February 14, 2020
Filed under: Art Journal, crackle, Darkroom Door, Nature Walk, number medley, Stencils, warm wishes, Wildflowers Vol 2
| Tags: Art Journal, Darkroom Door stamps, Darkroom Door stencils, Ranger Distress inks, Ranger Distress stains, Wendy Vecchi
6 Comments
Are you wondering if I'm repeating myself? Didn't I post this a few days ago? Indeed, I posted something similar on Monday, a card featuring the new 'warm wishes' set from Darkroom Door. At the end of the post I mentioned that I'd like to transform the design into a journal page…so I did!
I kept my colour scheme with the addition of more green and added a few extra stamp images and a bit of texture. I used a Fabriano 'Venezia' art journal, with drawing paper not watercolour paper. The weight of the paper is decent but if I'm going to be spritzing and adding water and ink I paint a layer of absorbant ground on both pages first.
I began by inking up the clover stamps with worn lipstick, aged mahogany and peeled paint markers, spritzed them so the ink started blending on the stamp then stamped randomly across the pages. I spritzed the images lightly so the ink moved and softened and also dabbed colour and water away with a paper towel. I inked the number/account book stamp from 'number medley' set with stormy sky distress stain and stamped it randomly around the pages. After stamping I spritzed the images so the ink spread, diluted and ran across the page. I dabbed some of it dry but left other bits to make watermarks. I also splattered the stain around with a paintbrush. Once the first layer of stamping was dry I switched to stormy sky distress ink and a blending brush to add colour to all the page edges. Also on the dry page I added a bit of texture by applying modeling paste through the DD stencil, 'crackle'. The crackle was not very obvious but showed up a bit more after I added more stamping.
At this point I considered the background complete and started on the more distinct stamping. As I was working in the journal I couldn't place it in the MISTI so I placed my 'staytion' magnetic board under the left hand page and added some acrylic blocks underneath the board to balance the left side of the journal with the right. I used an acrylic block to stamp all the clover and positioned a stampa-ma-jig against the block a couple of times just in case I didn't have a complete image. I was able to do touch ups with a paintbrush and extra ink if the stamping was too pale.
I wanted some clover-ish leaves to stamp around the flowers so I grabbed a stamp from the DD 'wildflowers vol 2' and stamped foliage all around in peeled paint and forest moss inks. I added some green splatter too because journal pages always need splatter! At this point I was almost finished but I wanted a little more blue on the page. Rather than add more of the number stamp I used a very delicate floral stamp from 'nature walk' in faded jeans archival ink so I would have fine detailed lines that wouldn't blend or blur. To balance mass of colour at the base of the pages I added more blue across the top edges. The blending brush was going to take too long so I swiped the ink pad over the edges and some water droplets also.
My journal is nowhere near full but it has become bulky with uneven pages because some have been glued to each other, others have been collaged. When I started the journal I glued pages together for sturdiness because that was what Vicky Papaioannou did and Vicky is an art journal wizard! She doesn't always do that any more and neither do I because some of the pages just don't want to be joined to each other, it makes it difficult to open them or flatten them. If you are an art journaller I would love to know if you prep your pages in some way so they can take a bit of water and liquid ink.
I hope you enjoyed seeing how a card inspired a double page spread; I definitely enjoyed working on the large scale with less pressure to keep things neat and contained!
Supplies


https://linkdeli.com/widget.js?1559654439292
---
Posted: February 10, 2020
Filed under: Darkroom Door, number medley, warm wishes
| Tags: Darkroom Door stamps, Fabriano Watercolour Paper, Ranger Distress inks, Ranger Distress stains
11 Comments
I posted a clean and simple two tone card last week featuring a new Darkroom Door set, 'warm wishes'. The detail of the stamp was very apparent in my earlier card but this time I am showing it off with a watercolour look. The set includes five flowers ( I think they are clover) of different shapes and sizes. I have used a rounder flower on this card and stamped it several times to create a blurry background then twice with detail in the foreground.
I began by taping some hot pressed watercolour paper to my glass mat then spritzing it unevenly with water. When it was fairly wet I inked the flower stamp in worn lipstick, aged mahogany and peeled paint distress inks then stamped it repeatedly over the wet panel. I re-inked the stem to stamp several times in the bottom left hand corner.  To frame the design I painted some stormy sky distress stain around the edges. After the panel dried I transferred it to a stamp positioner so I could add a couple more flowers. I used the same three distress markers to ink the flower and stem then added darker green with a forest moss marker.
For some added interest I used a number stamp from another new Darkroom Door set, 'number medley'. I know I am going to enjoy using this set to add texture and detail to a whole lot of projects. You probably wouldn't have guessed the stamp is made up of numbers because I stamped with distress stain and did some spritzing to make the ink move a little.
To complete the card I added a sentiment from 'warm wishes' in faded jeans archival ink then popped up the whole panel with some white foam. I feel like transforming this design into an art journal page; what do you think?
For more inspiration with this new set head over to the Darkroom Door blog.
Supplies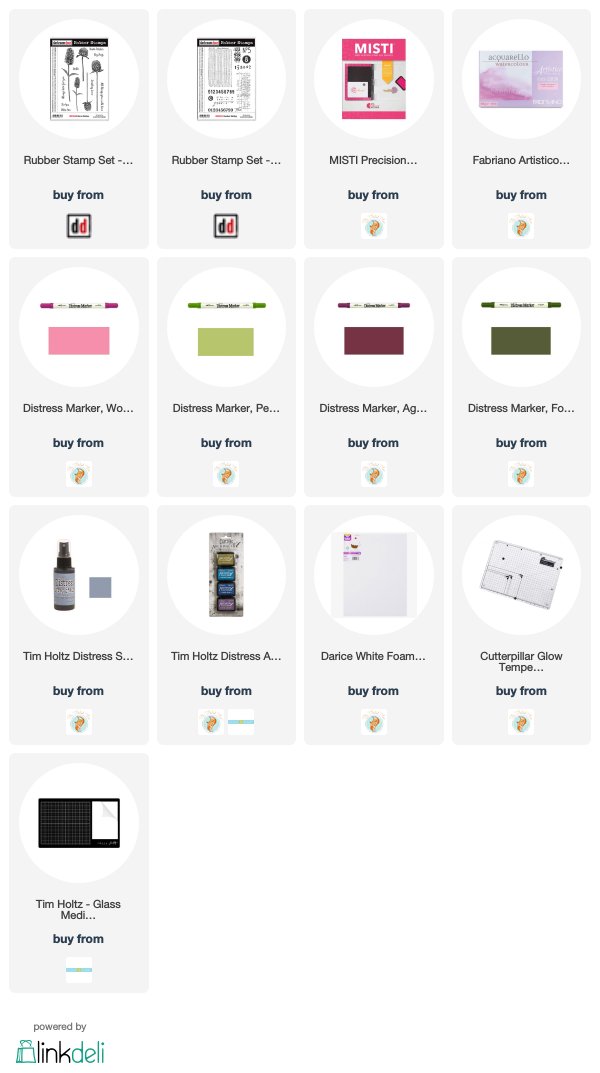 ---
Posted: February 2, 2020
Filed under: Darkroom Door, Nature Walk, warm wishes, Wildflowers Vol 1
| Tags: Darkroom Door stamps, Tsukineko Memento inks, Tsukineko Versafine inks
5 Comments
Hot off the presses and ironically cold out of my mail box here are some brand new stamps from Darkroom Door. Rachel Greig creates incredibly artistic stamps and these new flowers are no exception. The feature image and sentiment on today's card are from the new set, 'Warm Wishes' which contains five flower stamps and eight sentiments.
I decided not to watercolour them this time (but you know I will), instead I chose a crisp pigment ink so you would see the incredible detail of the flower head. I created a background by stamping some fave florals from DD 'nature walk' and 'wildflowers vol 1' in memento London fog ink. It is a light enough grey to show up but not take over. On the card above I stamped the feature flower from 'warm wishes' in versafine clair 'shady lane' ink and added the sentiment in the same colour.
Both the stamped panel and the card base are neenah solar white cardstock and the panel is popped up on a piece of foam to create some subtle framing.
Make sure you pop over to the Darkroom Door blog for more inspiration with the new 'warm wishes' set. And check back here too because I'll be giving these stamps the watercolour treatment very soon!
Supplies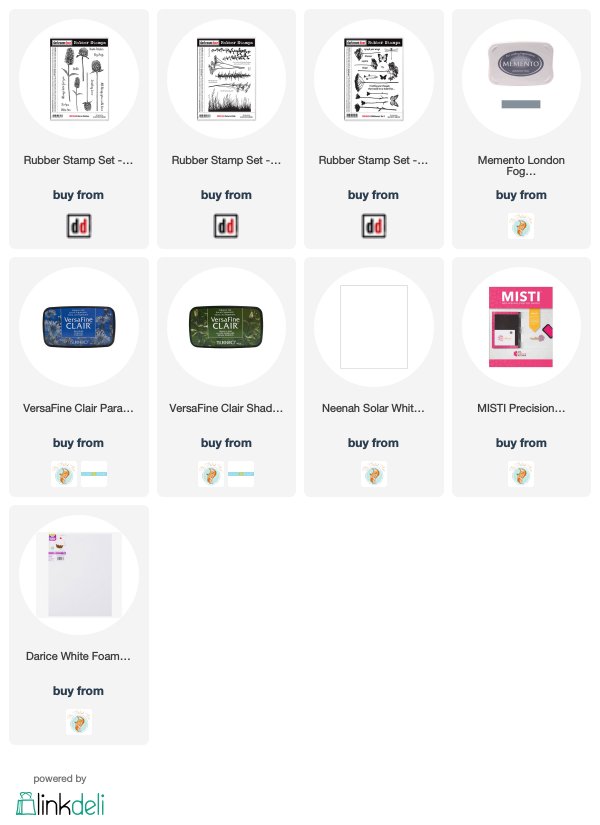 ---