Posted: March 9, 2023
Filed under: gel press, Handmade book
| Tags: Fabriano Watercolour Paper, gel press, gel printing, Handmade book
10 Comments
A couple of weeks ago I posted photos and description of the handmade book with Coptic binding which I made as a participant in the November 5-Day challenge from the Handmade Book Club. I really like the construction and binding of this particular book so I made another one, this time with cold pressed watercolour pages and a gel printed cover.
The pages in this book are seven inches square so the covers are a little larger. When I went through my very large stash of gel prints I didn't have two pieces large enough and matchy-matchy enough for my liking. Hard to believe I know, because my gel print collection now inhabits two large boxes. Knowing that I needed at least 9″ x 9″ prints I made a couple on rice paper especially for this journal. The pretty circle/tile pattern in the print is from a piece of embossed cardstock I have been holding onto for a very long time 'just in case I needed it!'
I make my covers from the thick cardstock backs of watercolour paper pads. You can buy bookboard, but my stash of thick cardstock pieces is large and easily sturdy enough. I printed the cover patterns on rice paper which folds beautifully over the thick cardboard.
As you might have noticed from recent art journal posts, I've been creating in a 6″ x 6″ journal for my classes and at home. This one is just that little big bigger so I'm excited to get started in it.
Stay tuned to see what I put in this journal. I think it is safe to say some of the prints from those two big boxes will end up in here! Hope your day includes a book, in some shape or form.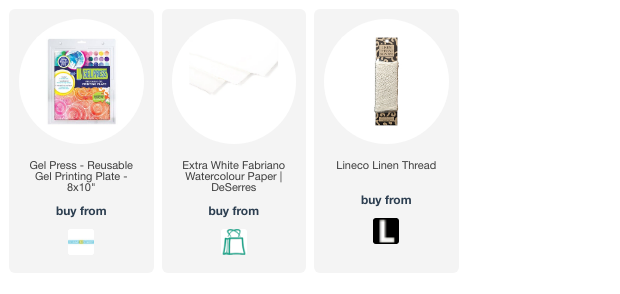 ---