Posted: June 24, 2020
Filed under: A2 layers, Hand painted, Penny Black, sennelier watercolours, Waffle Flower
| Tags: Fabriano Watercolour Paper, Hand painted, Penny Black stamps, sennelier watercolours, Waffle Flower dies
11 Comments
I have another hand painted watercolour today paired with a sweet little stamp from the new Penny Black set 'trust me builder'. I used my Sennelier half pan watercolours on Fabraino cold pressed watercolour paper. I am still learning how to arrange elements in my paintings but I know for a random pattern (is that an oxymoron?) it is best to do the largest elements first, then the next biggest and so on, in this panel ending with the small splatters and dots.
Unless you are after a symmetrical design odd numbers of elements are usually more pleasing to the eye so I have three large flowers then three medium sized flowers but I slipped up on the berry clusters, there are four not five and I can see where I should have painted another!
I painted this design on a larger panel and then cropped it to make it look more balanced. I used a rectangle die to choose the part of the panel I wanted but you can do the same with two pieces of 'L' shaped cardstock held on opposite sides of a panel and moved to 'frame' the design. I popped up my painted panel on foam and my stamped sentiment on one extra piece of cardstock.
Supplies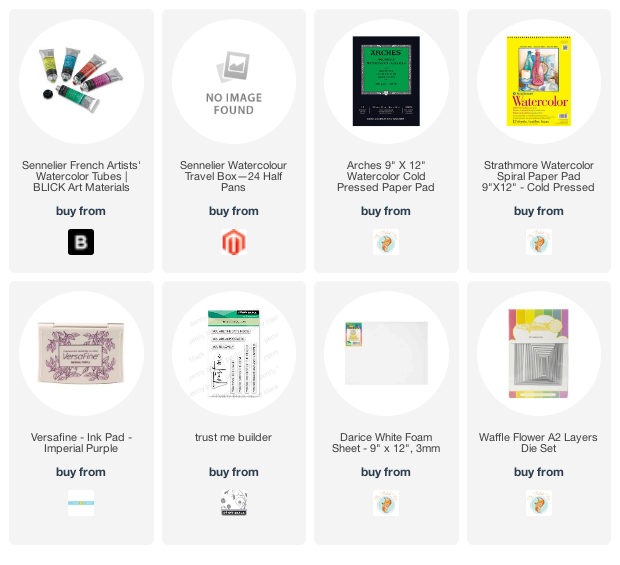 ---
Posted: June 15, 2020
Filed under: blooming bunch, Penny Black
| Tags: Kuretake Zig clean color real brush markers, Penny Black stamps, Waffle Flower dies
6 Comments
Are all your tulips gone?  None of mine flowered this year, not even the faithful two that predated our move into this house! I have planted quite a few over the years but I believe they became squirrel lunches. These ones are coloured with zig clean colour real brush pens. I chose an orange and a yellow then coloured some in just orange, one just yellow and a few with a mix of the two pens. The whole image was first stamped in antique linen distress ink which is so good for no-line colouring.
Once again I really enjoyed painting the bucket to give it an aged look with a mix of grey and brown pens. I drew the black centres in after colouring.
To frame the tulips I used two dies, a smaller one from the Waffle Flower A2 layer dies to cut the stamped panel and the other from Waffle Flower additional A2 layers to cut a very narrow green ⅛" mat.
The sentiment is from PB 'birthday humor' set but I stamped only part of the phrase and cut it with a die from the PB 'pocket full' die set.
Supplies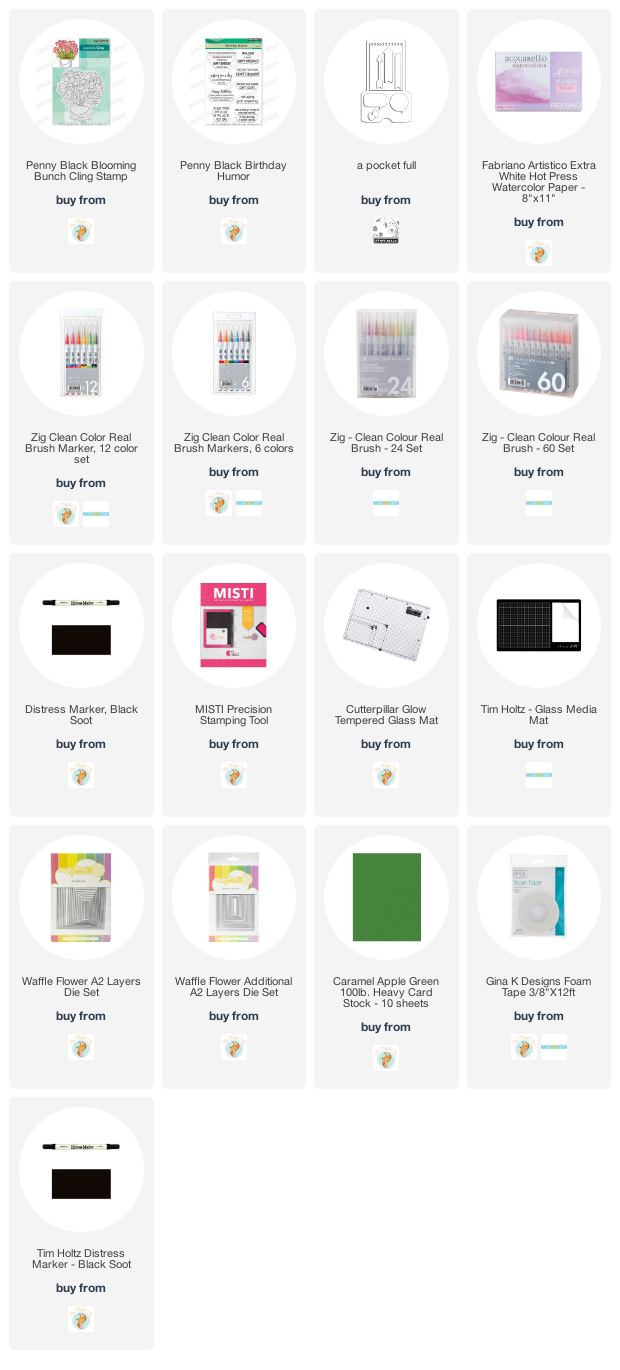 ---