Posted: May 19, 2021
Filed under: A2 layers, Additional A2 layers, Papertrey Inks, Penny Black, rose dance, Waffle Flower
| Tags: Papertrey ink, Penny Black stamps, Waffle Flower dies
48 Comments
When I first posted a card with the PB 'rose dance' stamp I mentioned I'd been putting it to work with several techniques. To create this card I worked on hot pressed watercolour paper with papertrey ink cubes.
With the stamp and paper in the stamp positioner I inked the roses in 'royal velvet' and a few dabs of 'pure poppy' inks, spritzed then stamped. I used three different greens (listed below) for the leaves and stems. The papertrey ink cubes are fairly juicy to start with but with a spritz of water before stamping the ink is wet enough to blend into the petals and leaves.
When it came to putting the card together I decided to mix things up a little by cutting out the main image on an angle before adding some dimension with a few extra layers of cardstock. The Waffle Flower A2 layer dies and additional layer dies made it possible to cut the image from the panel, cut a scrap the same size to fit in the space and cut a slightly larger green mat before putting it back together. I pulled out an older PB sentiment set 'kind words' and stamped the message in dusty concord archival ink.
This technique is covered in lessons 2 of my new online class FLORAL FAVES. The lessons cover a range of my favourite techniques, some simple and elegant, others requiring more time and fine detail but all outlined clearly on video so they can become your favourites too! Registration opens tomorrow and I will have all the information in tomorrow's blog post.
If you would like to win a place in the FLORAL FAVES class please comment below telling me one of your favourite flower stamps. I will randomly pick a winner and announce it here on the blog on Monday.
(Compensated affiliate links used when possible)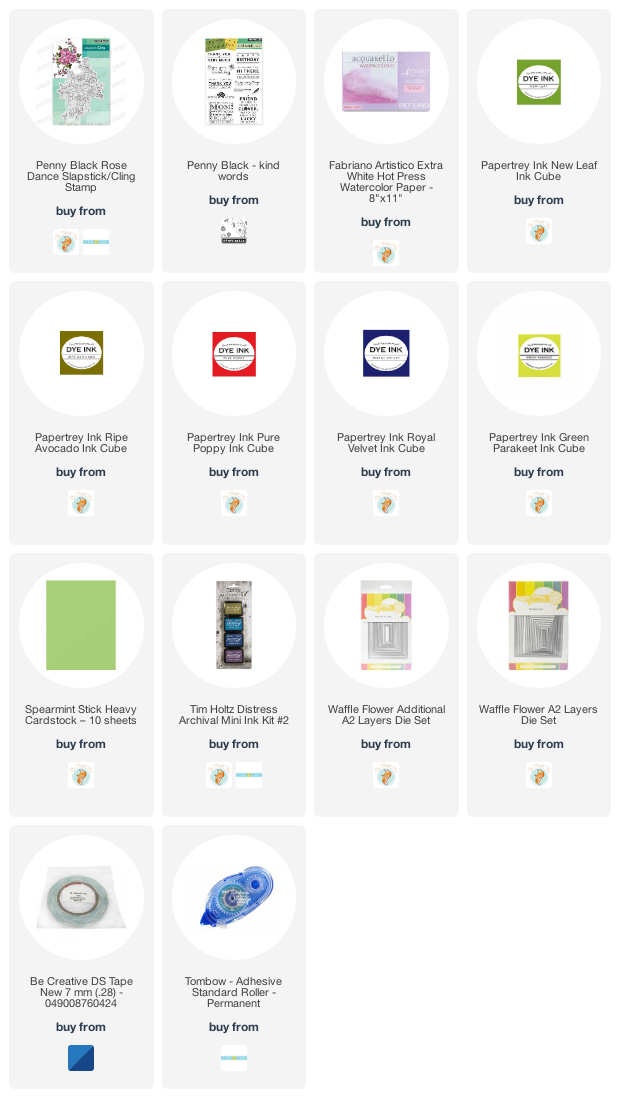 ---
Posted: February 12, 2021
Filed under: Brutus Monroe, Finetec paints, Penny Black, rose dance
| Tags: brutus monroe embossing powder, Finetec artist mica watercolour paint, Penny Black stamps
6 Comments
Today's rosy card features just a portion of the Penny Black rubber cling stamp, 'rose dance'. I've been creating with this stamp for a couple of days, coming up with different ways to use it. It is quite a large stamp, 6″ x 4″ but you don't need to use the whole stamp on a card. I used only a section to create an embossed white border on a square panel of black watercolour paper.
I painted the outline design with Finetec Mica Pearlescent watercolours; I didn't spend much time being detailed or doing blending because the pearlescent on black is very pretty without too much fussing. I wish you could see the shimmer a little better in the photo but trust me it is there in real life.
I embossed a sentiment from the PB special sentiments set in Brutus Monroe alabaster ink and popped the panel up on two pieces of black cardstock to lift it above the card base. And you might have noticed I remembered to make a matching envelope this time.
(Compensated affiliate links used when possible)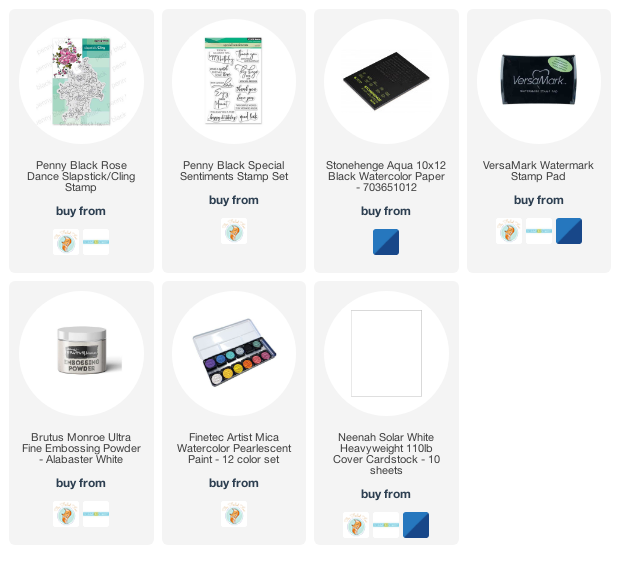 ---