Posted: October 7, 2020
Filed under: A2 layers, Additional A2 layers, all the birthdays, CAS, Concord & 9th, nesting squares, Waffle Flower
| Tags: Concord & 9th, gel press, gel printing, Ranger archival inks, ranger embossing powders, Tsukineko Versafine inks, Waffle Flower dies, WOW embossing powders
4 Comments
I made a short stack of birthday cards yesterday with a new Concord & 9th set, 'All the Birthdays'. I pulled out several prints from earlier gel printing sessions and chose some which would work as panels for birthday cards.
On the card above I used ranger blue embossing powder and the card below versafine tulip red was the perfect match for my printed background.
Some were printed using the petite set A gel presses so they were already shaped as squares. Others I cut from larger prints. I used stencils and lace to make the prints and a range of acrylic paints.
One of the stamp combinations from the C&9 'all the birthdays' is a pair of stamps that overlap to spell 'happy birthday'; there are outline stamps that frame the solid letters also. That is what I used on the card below with gold and brown inks then clear embossing powder.
I also added some texture to a few of the card bases or mats with embossing folders and stencils.
The printed panel below included such pretty blues and purples I wanted to match them in the sentiment so I stamped with archival dusty concord and faded jeans then, before the ink dried embossed in clear powder.
The card below features rose gold embossing powder; it looks a little darker than expected on this panel, maybe because of the depth of colour in the print.
I really enjoyed pairing sentiments from the C&9 set with my leftover gel prints. I did have some embossing challenges though; I'm just not an embossing champion. Stray powder, over heating, underheating, even when I use a powder tool and preheat the heat tool I still make mistakes. This lot took me all afternoon but I am very happy with them and I'm pleased to have boosted my birthday card stash. Now if I can just remember to send them…
Supplies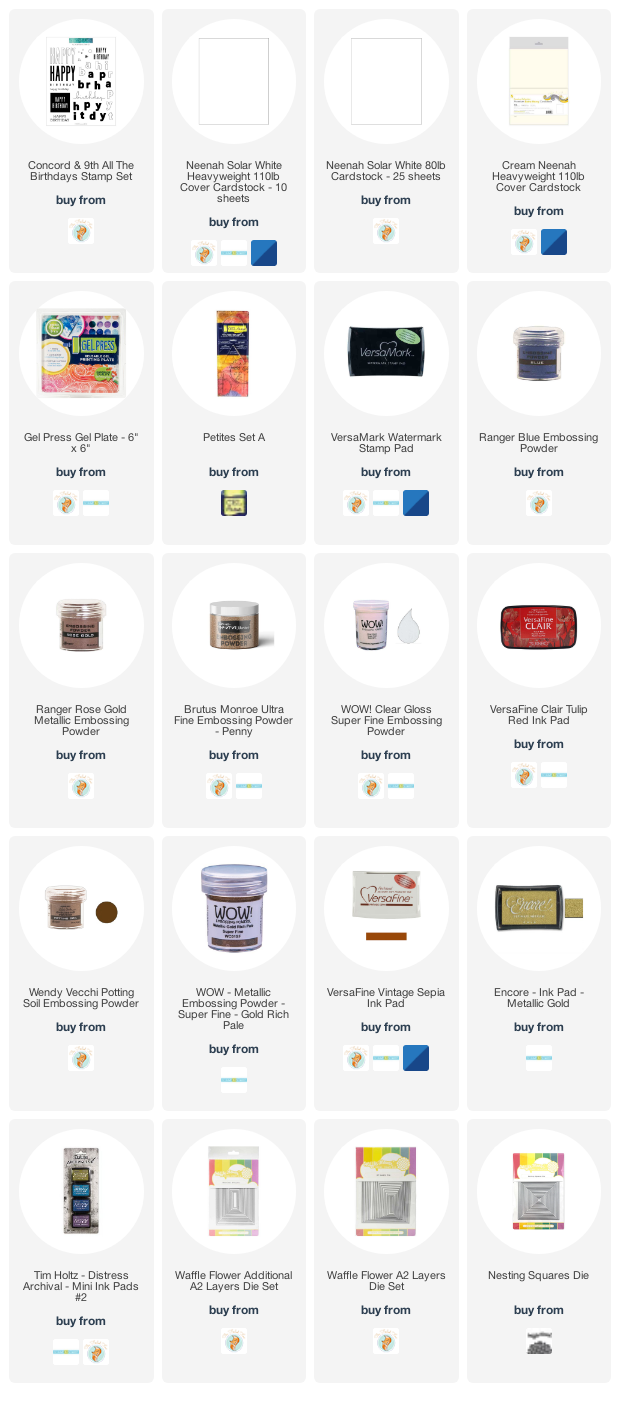 ---
Posted: July 15, 2020
Filed under: A2 layers, Hand painted, sennelier watercolours, Taylored Expressions, Waffle Flower
| Tags: Hand painted, sennelier watercolours
7 Comments
I squeezed in a little painting the other day using Sennelier watercolours on cold pressed watercolour paper. I used only three colours, a purple, a green and a pinky purple.
I have a few lilac stamps in my stash which I really enjoy using but I wanted to try my hand at painting them myself. I painted with the stalks pointing up to start with, then at some point turned the panel around to finish it off.
The little sentiment strip is from Taylored Expressions; she has a range of sentiment stamps where you stamp all the phrases in one print then cut them into strips with her co-ordinating die. It is a clever idea. I like the fact that I then have a pile of sentiments to choose from.
Supplies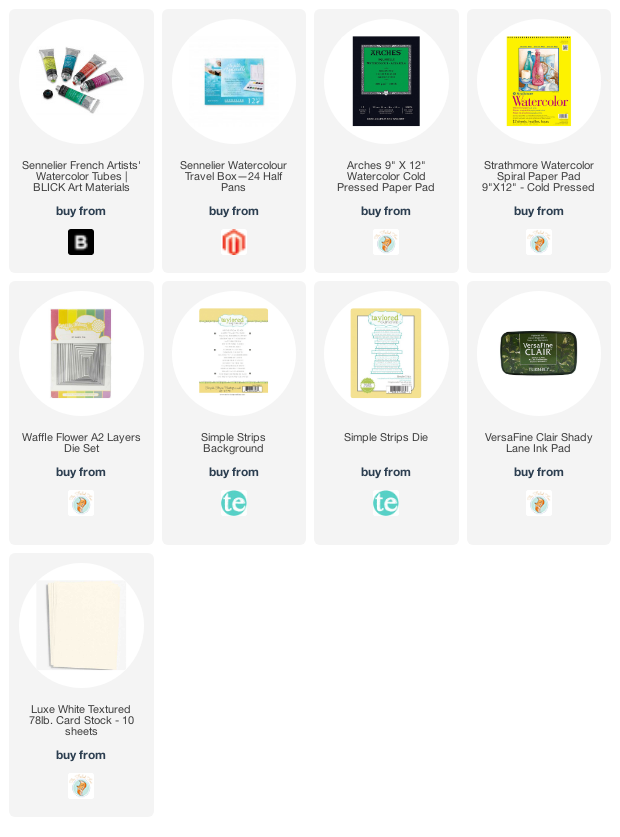 ---
Posted: June 24, 2020
Filed under: A2 layers, Hand painted, Penny Black, sennelier watercolours, Waffle Flower
| Tags: Fabriano Watercolour Paper, Hand painted, Penny Black stamps, sennelier watercolours, Waffle Flower dies
11 Comments
I have another hand painted watercolour today paired with a sweet little stamp from the new Penny Black set 'trust me builder'. I used my Sennelier half pan watercolours on Fabraino cold pressed watercolour paper. I am still learning how to arrange elements in my paintings but I know for a random pattern (is that an oxymoron?) it is best to do the largest elements first, then the next biggest and so on, in this panel ending with the small splatters and dots.
Unless you are after a symmetrical design odd numbers of elements are usually more pleasing to the eye so I have three large flowers then three medium sized flowers but I slipped up on the berry clusters, there are four not five and I can see where I should have painted another!
I painted this design on a larger panel and then cropped it to make it look more balanced. I used a rectangle die to choose the part of the panel I wanted but you can do the same with two pieces of 'L' shaped cardstock held on opposite sides of a panel and moved to 'frame' the design. I popped up my painted panel on foam and my stamped sentiment on one extra piece of cardstock.
Supplies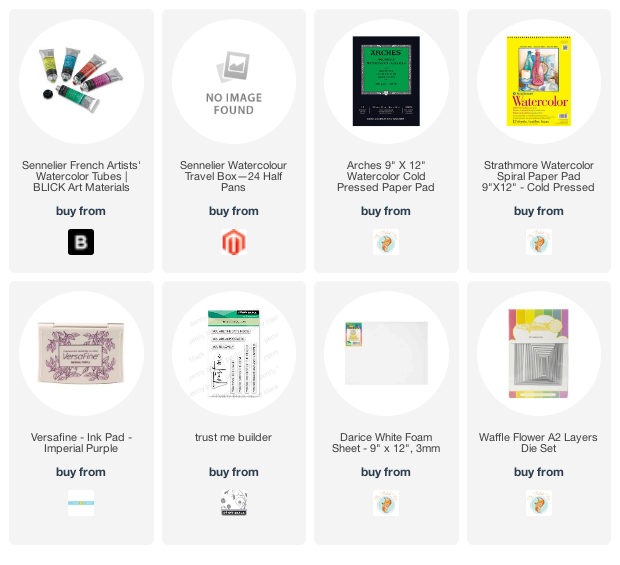 ---