Posted: June 24, 2020
Filed under: A2 layers, Hand painted, Penny Black, sennelier watercolours, Waffle Flower
| Tags: Fabriano Watercolour Paper, Hand painted, Penny Black stamps, sennelier watercolours, Waffle Flower dies
11 Comments
I have another hand painted watercolour today paired with a sweet little stamp from the new Penny Black set 'trust me builder'. I used my Sennelier half pan watercolours on Fabraino cold pressed watercolour paper. I am still learning how to arrange elements in my paintings but I know for a random pattern (is that an oxymoron?) it is best to do the largest elements first, then the next biggest and so on, in this panel ending with the small splatters and dots.
Unless you are after a symmetrical design odd numbers of elements are usually more pleasing to the eye so I have three large flowers then three medium sized flowers but I slipped up on the berry clusters, there are four not five and I can see where I should have painted another!
I painted this design on a larger panel and then cropped it to make it look more balanced. I used a rectangle die to choose the part of the panel I wanted but you can do the same with two pieces of 'L' shaped cardstock held on opposite sides of a panel and moved to 'frame' the design. I popped up my painted panel on foam and my stamped sentiment on one extra piece of cardstock.
Supplies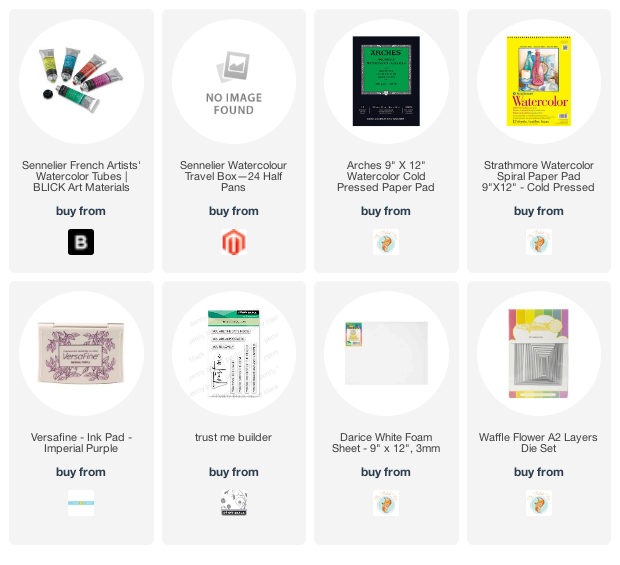 ---
Posted: June 1, 2020
Filed under: Hand drawn, Hand lettered, sennelier watercolours
| Tags: Fabriano Watercolour Paper, Hand lettering, Hand painted, sennelier watercolours
10 Comments
A few weeks ago I posted a floral wreath I'd painted and asked your opinion on adding a sentiment. In the end I didn't risk stamping or writing one because I didn't want to spoil the finished wreath with an inky mistake. So….can you guess why I have a large sentiment strip stuck across this floral circle I painted?
To create the floral circle I drew a circle in pencil on cold pressed watercolour paper then painted liquid frisket (masking fluid) to a width of about half an inch around the outside of the circle. I used my Sennelier watercolours to paint three large roses first then moved onto other flowers, leaves and berries until the circle was fairly full. With a random design like this one whether it is painted or stamped it makes sense to start with the largest images to make sure you can fit them in then finish off will little leaves, dots or tiny flowers to fill any spaces at the end.
Once the painted circle was complete I practiced a 'happy birthday' greeting on scraps of watercolour paper with my nib pen and some black ink until I was happy with the size and style. I had only written 2½ letters before a large blob of black ink landed on the panel where the letter 'p' should have been! As you probably guessed that is the reason I have a large birthday banner obscuring some of my pretty flowers.
Supplies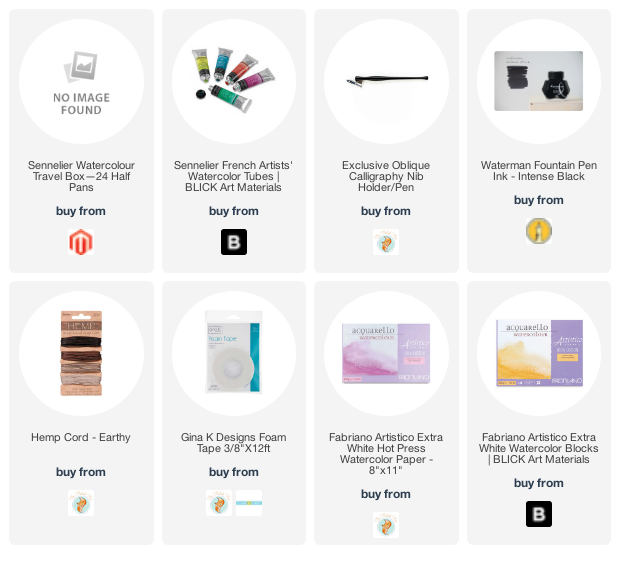 https://linkdeli.com/widget.js?id=f5e8378456858c916708
---
Posted: May 27, 2020
Filed under: balloons!, City Stacks dies, Concord & 9th, Papertrey Inks, Penny Black, sennelier watercolours, simple serif alphabet dies
| Tags: Concord & 9th, Papertrey ink, Penny Black creative dies, sennelier watercolours
8 Comments
I'm not sure if I have ever posted a baby card on my blog; if I have it was so long ago I can't remember! This one is a commission for a friend; she asked me months ago and I totally forgot. When she texted the other day to see if it was ready I admitted it was not but I would make sure it was by the next day! I was happy to have thought up a concept all those months ago and my idea came together without hiccoughs.
I painted pink, yellow and orange paint on watercolour paper, added water then let it blend and bleed together. Once it was dry I used the Penny Black 'Balloons!' die set to cut three balloons then cut the strings and bows from unpainted watercolour paper. I added stick-it adhesive to the back of some peach coloured cardstock then cut two sets of letters to stack for the words using the C&9 'simple serif alphabet' dies.
To create the cloudy sky I cut post-it masks using the cloud die from C&9 'city stacks' die set then blended over the edges on a background panel and an envelope using Papertrey ink cubes in 'sweet blush' and 'lovely lady'. I cut a very narrow mat of pale rose cardstock to frame the panel and attached everything to a cream card base.
I wondered about cutting more balloons to put inside but instead painted some of the same pink, yellow and orange paint on my glass mat, spritzed it generously to dilute it then placed an extra panel of watercolour paper on top to pick up a pale wishy-washy print.
Seeing that I rarely make baby cards this might become my design of choice when I do need one; I'll just change the colour scheme to keep things interesting.
Supplies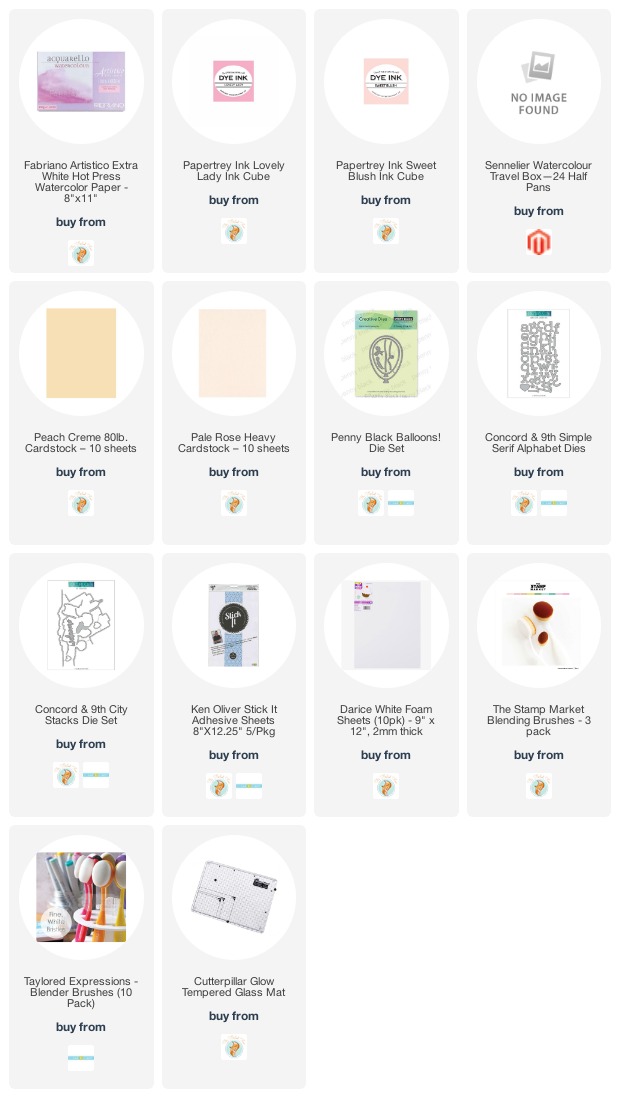 ---