Posted: March 2, 2023
Filed under: Echidna Studios, seedlings, sennelier watercolours, Simply Graphic
| Tags: digital stamps, Echidna Studios, Fabriano Watercolour Paper, sennelier watercolours, Simply Graphic
7 Comments
If you are a plan ahead – plant ahead person then you might have some seedlings growing somewhere in your house or green house. These are the only seedlings I have at this point but I must say they are looking quite healthy.
This is a digital stamp designed by my daughter and available in her etsy store Echidna Studios. I printed it so that it just fitted on an A2 card front but I think it might be nice to print it larger and feature only one or two pots on a card front with the shoots and leaves coming off the edge of the panel.
I printed on hot pressed watercolour paper and used my Sennelier pan paints for all the colouring. I used a mix of greens for the greenery and a mix of blue and brown for the pots. I really like blue and brown combos these days, something that I wouldn't have imagined a few years back.
The sentiment is from Simply Graphic's 'English Sentiments' set; I like the handwritten look and the size of the words. I know I could be handwriting a few sentiments myself here and there but I always add the sentiment last and by that time I don't want to mess up a otherwise completed card with a crooked or uneven sentiment. That being said I think I should try a few handwritten sentiments on upcoming cards…
(Compensated affiliate links from Foiled Fox, Scrap n Stamp)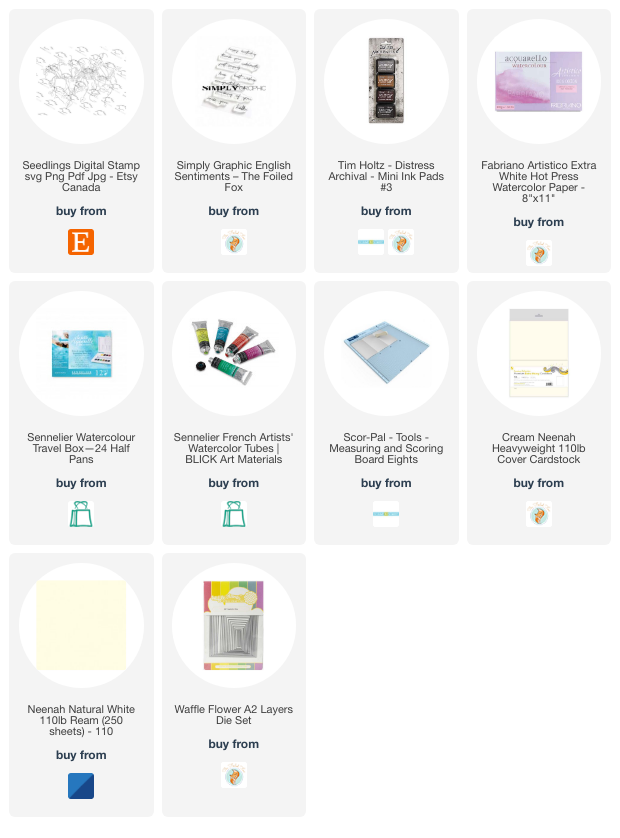 ---