Posted: September 30, 2019
Filed under: autumn bliss, calligraphy, Hand lettered, Penny Black, Watercolour
| Tags: calligraphy, Dr Ph Martin Hydrus watercolor paints, Finetec artist mica watercolour paint, Penny Black stamps, Pointed pen
5 Comments
This card is one of those rare ones where the end result is very close to the dreamed up idea.
I started by masking a piece of hot pressed watercolour paper with tape. I taped it into the stamp positioner using the grid lines as guides to get it straight and, wonder of wonders, it actually ended up straight. I stamped the pumpkins from the PB 'autumn bliss' set in Gina K's jet black amalgam ink. I bought the amalgam so I could compare it to my current fave black, versafine clair nocturne. The amalgam stamped well and dried quickly but I didn't find it superior to the versafine clair.
I wanted bold bright colours and wondered which of my watercolour mediums would give me that result. I settled on my Dr Ph Martin's Hydrus liquid watercolours. They are definitely bold and bright! Of course they can be diluted for a softer look but I was happy to make the most of their vibrancy. Even though I put barely a drop of each colour on my palette I still ended up with more than I needed. I tried to limit my colour scheme by mixing some of my own colours. I started with gamboge and brilliant cad red for the middle pumpkin and painted all but the flowers. I then mixed the gamboge with the brilliant cad red for the left hand pumpkin and again painted all but the leaves. It was very tricky avoiding the leaves especially before I realised that I had my reading glasses on instead of my stronger 'art glasses'. Sadly my art glasses are becoming my reading glasses so in the new year I am hoping to get some new 'art glasses' to help me see and paint all the fiddly bits. The right hand pumpkin is brill cad red and Venetian brown.
With my art glasses on I painted all the leaves and stalks with a green made by mixing gamboge with ultramarine. The flowers on the middle pumpkin I painted in a diluted deep red rose/ultramarine mix. I added little dots of gold to the right hand pumpkin using finetec pearlescent ink then used a rosy colour from the same set to add shimmer to the flowers. If I did the pumpkins again I think I would paint them one solid colour first with a little shadow and shading then use the pearlescent inks over the top to add all the flowers and leaves. The pearlescent inks are opaque and would not have let the underneath colour show through.
After all the pumpkin decorating, I painted the background with ultramarine. If you have masked with tape before you will know how satisfying it can be to peel back the tape to reveal crisp straight edges and also how frustrating when some paint has seeped underneath. Well, again, wonder of wonders, no seepage! Now, the last wonder of wonders is really the biggest. I occasionally do my own calligraphy sentiments, more often than not it does not end up straight, neat or the right size so I end up cutting the painted panel off and attaching it to a whole new panel in order to get rid of the messed up sentiment. This time I ruled my pencil lines, practiced the sentiment on a scrap, wrote it in pencil on the panel and finally wrote it with pointed pen in a mix of ultramarine and pearlescent ink. The next step was key; I have messed it up in the past. I left the room and went and had my lunch, that way I was not tempted to erase the pencil before the writing was dry, dry dry! I used one of those nifty battery operated erasers to gently erase all the pencil and then did a happy dance!
I hope you don't think I am overdoing it in my satisfaction with this card, I know it's nothing out of the ordinary, it's just that it could have gone wrong in quite a few places but happily it didn't.
Supplies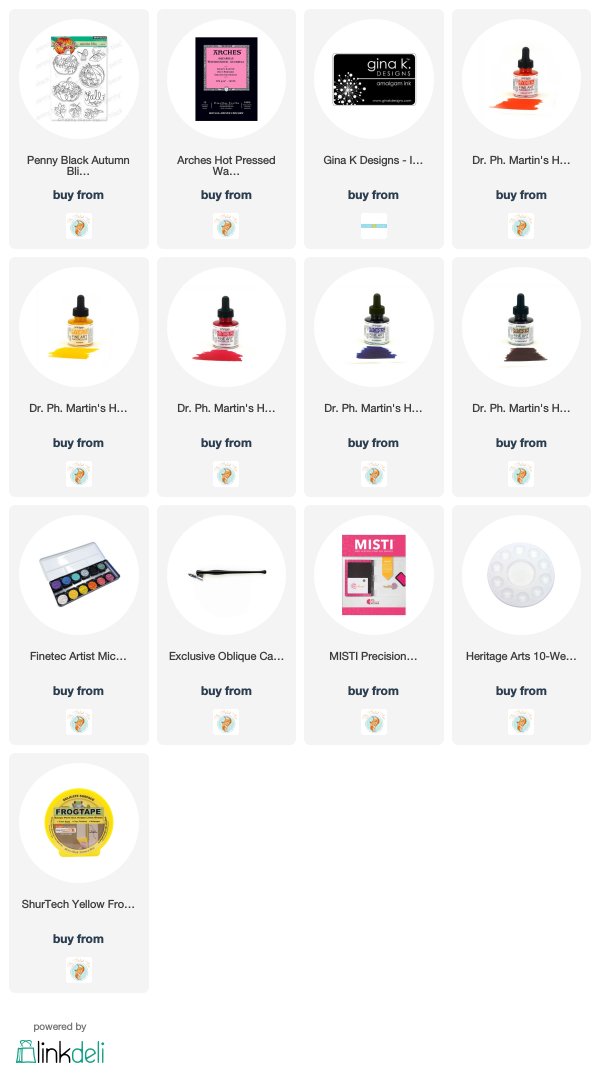 ---