Posted: February 3, 2023
Filed under: Echidna Studios, old stone doorway, sennelier watercolours, Simply Graphic, Watercolour
| Tags: Echidna Studios, Faber-Castell Albrecht Durer Watercolour pencils, Ranger archival inks, sennelier watercolours, Simply Graphic
12 Comments
Isn't this a sweet front path and door? It makes me want to head inside or wander around the garden. This digital stamp is another design by my daughter which is available in her etsy store, Echidna Studios. I printed it on Arches cold press watercolour paper. You know I generally use Fabriano hot press watercolour paper but I am trying to 'use what I have' so I pulled out the Arches for a change. I like how the texture of the paper adds texture to the front of the house.
Using my Sennelier watercolour paints I painted a wash of brown over the brickwork, blue over the door and grey for the stonework. I also mixed a bluey green for the hedges. Next I switched to watercolour pencils and added shading to the bricks and stones, coloured the leaves and painted from the tip of my pencils to make the window and door frames grey and the reflections light blue. The sentiment is from Simply Graphic and is stamped in prize ribbon sketch archival ink
I almost stopped a couple of times as I wasn't happy with the colours I had chosen and the lack of detail in the washes. I did keep going though and it pulled together. One thing that helps is that I didn't use too many colours and I like the way the watercolour fades away at the edges. There are little white patches where I didn't touch up the painting and I think they work too in adding a highlight here and there. I have printed another one out because a red brick house might also be fun to do.
The designer of this stamp is coming over for dinner tonight so I will ask where this door is in real life…
(Compensated affiliate links used when purchasing from Foiled Fox)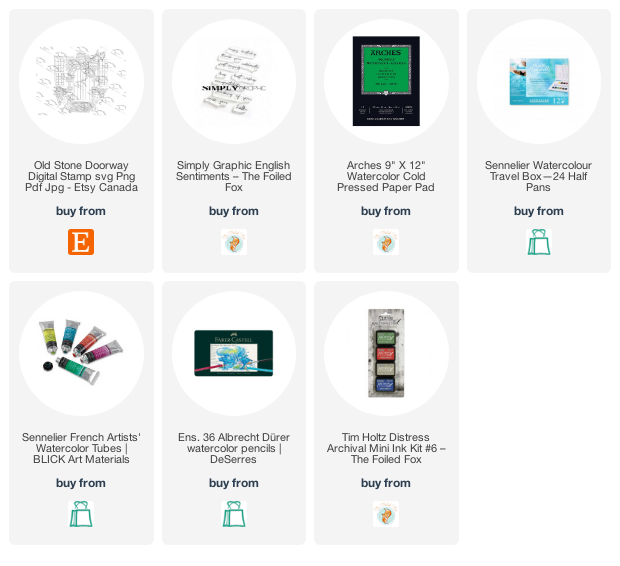 ---