Brusho & cling wrap
Posted: July 22, 2020
Filed under: Brusho, Hand painted
| Tags: Brusho, Hand painted
17 Comments
Before we talk about the freestyle, abstract floral above I want to direct you to CeeCee, the inspiration for today's post. Her website is CreationsCeeCee and I'll link to her youtube further down in this post.
As the title suggests this panel was created with brusho paints and cling wrap plus a few pencils and pens in the second half of the process.
This painting was inspired by a beautiful painting CeeCee Creations did recently. I watched her video which you can see here. She used watercolour paints and cling wrap to create a pattern then used coloured pencils to add shading. I loved her process and end result and have been playing with the technique for the last couple of days.
I taped some watercolour paper to my glass mat, wet the whole panel then scattered brusho over it. I just used two colours of brusho, olive green and violet and I tried to keep them a bit separate. I spritzed the panel lightly to keep the paint moving then lay a piece of cling wrap over the panel and scrunched it over the whole area. The wet paint sticks to the clink wrap creating coloured areas. Where the cling wrap is raised and bunched together there are gaps in the paint. It's hard to explain but CeeCee's video gives you the idea. The covered panel takes a long time to dry but once it has you remove the cling wrap to reveal intersecting lines and spaces. I studied my panel and instead of the purple flowers with green leaves I was hoping to see I saw the suggestions of green flowers and purple 'things'. The idea is to enhance the lines and patterns made by the cling wrap rather than draw whole new patterns. I wish I had taken a photo before I did any colouring that would have given you a better idea.
I used watercolour pencils to turn some of the cling wrap patterns into flowers and shapes and then blended the pencil with water. (CeeCee used polychromos pencils so my shading ended up looking slightly different to hers.) I used a purple and two green Albrecht Dürer watercolour pencils then once my shading and shaping was done I highlighted the centres of the green 'flowers' with white and black gel pens.
I'm not sure which way is up so I've posted photos of both a portrait and a landscape orientation. What do you think? Does it matter?
Supplies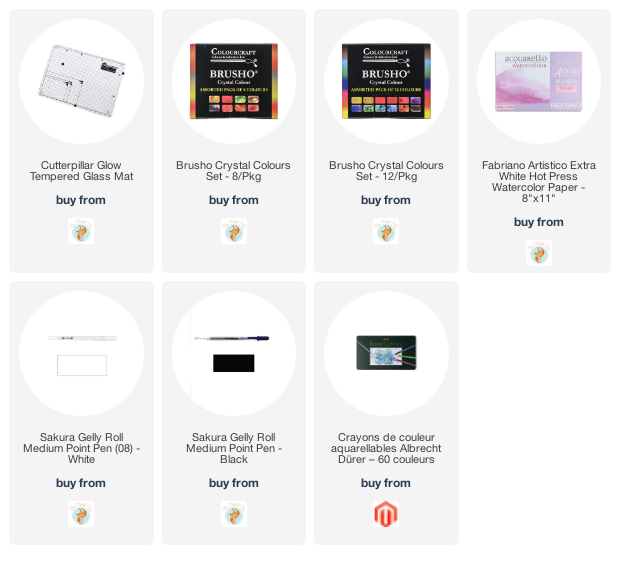 ---