Painting atmosphere
Posted: July 29, 2020
Filed under: Brusho, Coliro paints, Darkroom Door, Finetec paints, Hand painted, Leaves, tall flowers, Wings
| Tags: Brusho, Darkroom Door stamps, Faber-Castell Albrecht Durer Watercolour pencils, Fabriano Watercolour Paper, Hand painted
27 Comments
I've done some more playing with watercolours and clingwrap. Quite a lot of playing actually; it's addictive. I don't even remember if the panel above was painted initially with brusho powders or pan watercolours or both. I do know I started with a large piece of cold pressed watercolour paper taped to a glass mat. I wet the panel then added the paint and let it move around and blend a little before I placed the cling wrap on top. I did remember to take a photo of the panel after it had dried and I'd removed the cling wrap. The card above which looks a bit like some hydrangea flowers was painted on the bottom right corner below.
The butterfly card below was made from the top left corner of the large panel and the flower card was made from the top right corner. I did work on the bottom left corner but didn't end up liking what I'd made.
For the butterfly card I used a stamp from Darkroom Door 'wings' set and stamped it on the panel in blueprint sketch distress ink. After stamping I blended the ink plus some pearlescent paint from a finetec palette to fill the butterfly's wings. It's not obvious in the photo but the wings shimmer.
Once the butterfly was dry I did some water stamping using a fern stamp from the DD 'leaves ' set.
The flowers are from the DD 'tall flowers' set and were stamped in festive berries, mowed lawn and wild honey distress inks. I also added gold paint to the flower centre. You can see some more water stamped ferns and some second generation stamping with the flowers also. The little circles on all three cards were made just by adding some droplets of water, letting them sit on the panel then dabbing them up with a paper towel.
The card above with the purple flowers doesn't feature any stamping, the patterns made by the cling wrap made me think of a hydrangea flower head so I painted a bunch of little flowers using a purple watercolour pencil to draw centres then a paintbrush and water to blend the pencil into petals. While the petals were still wet I used the pencil again to add some darker areas in the centres.
The red shape on the left hand side looked a bit like a flower so again I used a watercolour pencil to add a bit more colour and followed the lines left by the cling wrap.
Whether painting or stamping over the panel, I love the patterns and play of light and dark in the background; I think it creates atmosphere. Have I finished with this technique now I hear you ask? No, definitely not. Have you tried it?
Supplies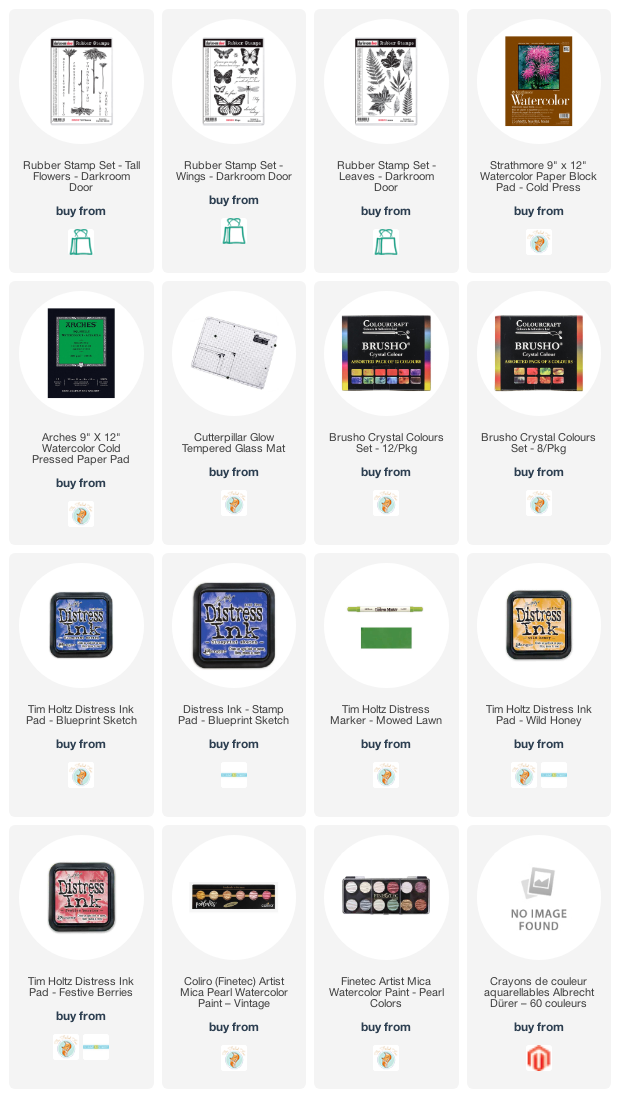 ---