Posted: April 6, 2023
Filed under: Art Journal, Darkroom Door, global postmarks, Handmade book, this way, word labels, World Map
| Tags: Fabriano Watercolour Paper, Ranger Distress inks, Art Journal, Darkroom Door stamps, Coliro paints, Handmade book
5 Comments
This journal spread was a joy to make. It combines so many of my favourite things. A few weeks back I posted about a new handmade art journal. This is it and these are the first pages I've completed. I didn't work on the very first page; I leave that for later, so this is a few pages in. The pages are cold pressed watercolour paper so I taped the edges and created a watery blended background with distress inks smooshed on a piece of acetate then pressed onto my pages. I added more ink with a paintbrush and stamped the Darkroom Door world map stamp into the wet ink. I wasn't trying to create sky or land or anything in particular I was just working randomly with blues and browns.
Once the background dried I used stamps from another favourite, the DD 'global postmarks' set, again stamped in blue and brown but archival ink, not distress, so it wouldn't dilute and blur.
On an extra scrap of watercolour paper I picked up some smooshed and diluted ink then dried it before stamping the new 'word labels' stamps so I could cut them out and arrange them over the page.
If you have been visiting my blog for a while you will have seen the lighthouse stamp before. The lighthouse is in Norah Head, on the central coast of NSW, not far from where my father lives and the Darkroom Door premises. I have visited there several times and climbed the lighthouse with my dad. You can probably see now why I chose the word labels I did. The lighthouse and the 'this way' arrows are stamped on tissue paper. This allowed me to move them around to work out exactly where I wanted them. The blurry world map stamping worked as a 'reflection for the lighthouse image so that's where it ended up.
When I am adding stamped tissue to a page I gently tear around the edges with the help of a damp paintbrush. For the lighthouse I cut carefully around the walls and light then painted white paint on the back of the tissue so it would not be transparent. Of course I splattered some water and some gold paint to complete the page.
As this was the first time I had used my new journal I was interested to see how the cold pressed watercolour paper worked. Nothing soaked through the paper to the other side and I took care to dab up liquid from the centre seam so there was not much bleed through there either. The 7″ x 7″ size gave me a little more room than the 6 x 6 journals I have been working in but wasn't so large as to be overwhelming.
(Compensated affiliate links from Foiled Fox, Scrap n Stamp & Ecstasy Crafts)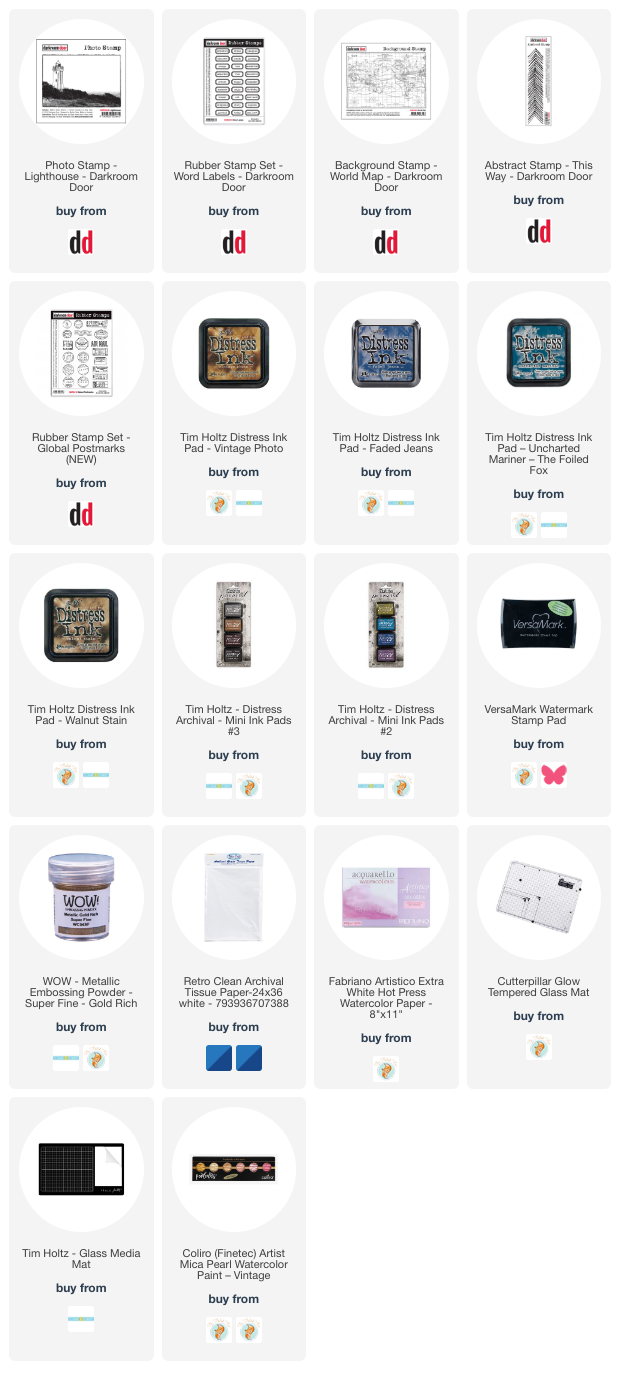 ---