Posted: May 17, 2021
Filed under: daisy delight, Darkroom Door, French Script, scratches, scripty, Stampin Up, you are everything
| Tags: Brutus Monroe, Darkroom Door stamps, distress oxide inks, Stampin Up, Tsukineko Versafine inks
5 Comments
I have in my workroom a few new items to try but with one thing and another I haven't had a chance. I recently bought two new pads of paper, one is rice paper and the other is mixed media paper from Fabriano, that's the one I used for today's cards. I'm very taken with Fabriano 100% cotton watercolour paper so I wanted to see what I thought of the mixed media.
It is quite a while since I've done anything with my oxide inks so I pulled them out to make a blended background. After blending I did some water-stamping with both the DD 'daisy delight' background stamp and the floral silhouettes from the DD 'you are everything' set. The paper worked brilliantly for both steps. After drying the panels I stamped again with versafine clair inks and, as I hadn't moved the stamps, the inked images landed inside the watermark images.
I dried all the stamping with a heat tool before adding background stamps over the top for added texture. I used white ink for both the DD 'French script' stamp and the DD 'scratches' stamp. The daisy stamp ended up with a double dose of script when I embossed a white base layer with the SU 'scripty embossing folder.
I gave both cards a little birthday label and pronounced the mixed media paper a success. Of course I will put it through it's paces with gel printing and a few other processes but so far so good.
(Compensated affiliate links used when possible)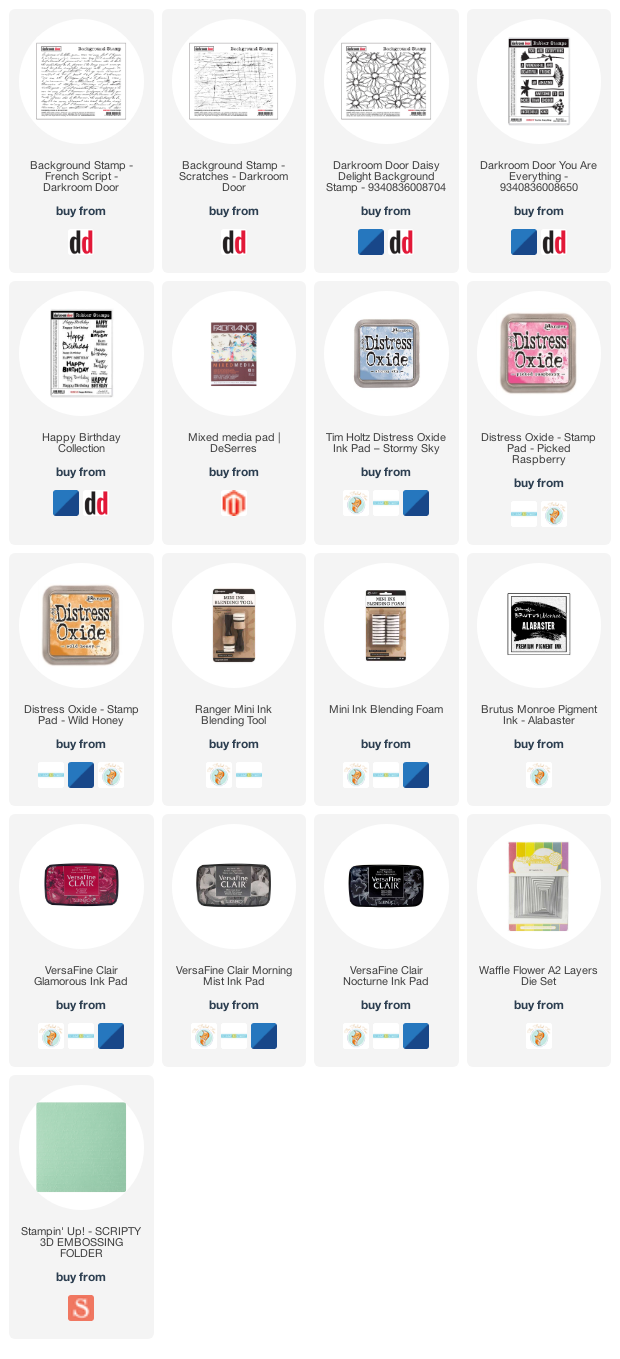 ---
Posted: March 30, 2021
Filed under: Christmas bush, daisy delight, Darkroom Door, Papertrey Inks
| Tags: Darkroom Door stamps, Fabriano Watercolour Paper, Papertrey ink
5 Comments
This is the second card I've created with the new Darkroom Door background stamp 'daisy delight'. Once again I ended up using the whole stamp because it is just so happy and bright. At some stage I must try cutting a strip or some squares because I'm sure that would look pretty too.
Using the stamp in a positioner with hot pressed watercolour paper I first inked the centres of the daisies with an orange ink cube. I wasn't careful to ink only the circles; I just gave each daisy a twist of orange ink then stamped. I cleaned the stamp and inked sections with raspberry fizz ink then stamped and finally inked remaining sections with bright buttercup ink. I gave it a spritz of water to help the inks blend before stamping the last time.
To fill the petals I smooshed the same three inks on my glass mat then used a paintbrush and water to paint loosely inside the petals and centres. I also mixed new blends with the pink, orange and yellow inks.
To put the card together I die cut a rectangle from the centre of the panel, popped in up on three layers of cardstock and wrapped some white and silver twine around it before attaching it to the card base. The sentiments are from the DD 'Christmas bush' set and they are perfect for many occasions; possibly a birthday this time.
Did you know Darkroom Door has a blog where they post oodles of inspiration for using their huge range of stamps and stencils? They also have a newsletter so you can receive emails full of inspiration.
Thanks for joining me today, see you again soon.
(Compensated affiliate links used when possible)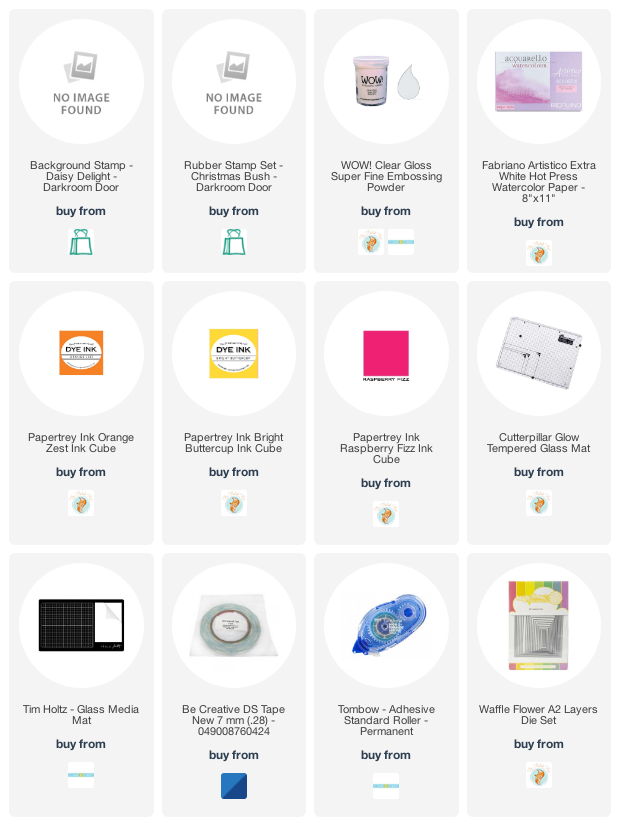 ---
Posted: March 22, 2021
Filed under: Brusho, daisy delight, Darkroom Door, you are everything
| Tags: Brusho, Darkroom Door stamps, Fabriano Watercolour Paper, Tsukineko Versafine inks
5 Comments
When I have a new line-art background stamp my first choice is usually to try emboss resist with brusho paint powders. This new background stamp from Darkroom Door is called 'daisy delight' and has plenty of loops and lines for trapping brusho.
I embossed the stamp in clear powder on hot pressed watercolour paper. With scrap paper spread under the panel I sprinkled brusho powder over the panel, both turquoise and sea green. I spritzed water over the brusho and sat back to watch the magic happen. As the brusho diluted I saw pockets of colour appear which were exactly what I wanted. You can see different shades of blue and green as well as a few pops of yellow. There were a few blank or pale sections so I sprinkled more brusho, spritzed more water and then waited again to see what happened. Once the paint was really soaking in I took a small brush and started filling some of the petals where the colour hadn't reached all the edges. In a few places I took bold colour from a petal and used it to fill a petal somewhere else.
I dried the panel with a heat tool then trimmed it and did a test on a trimmed scrap to see if I would like black background in amongst the flowers. I went with it and coloured in the few areas that are not part of the flowers with a black Karin brushmarker. To finish the card I wrapped white/silver twine around it and popped up some embossed words from the new DD 'you are everything' set.
(Compensated affiliate links used when possible)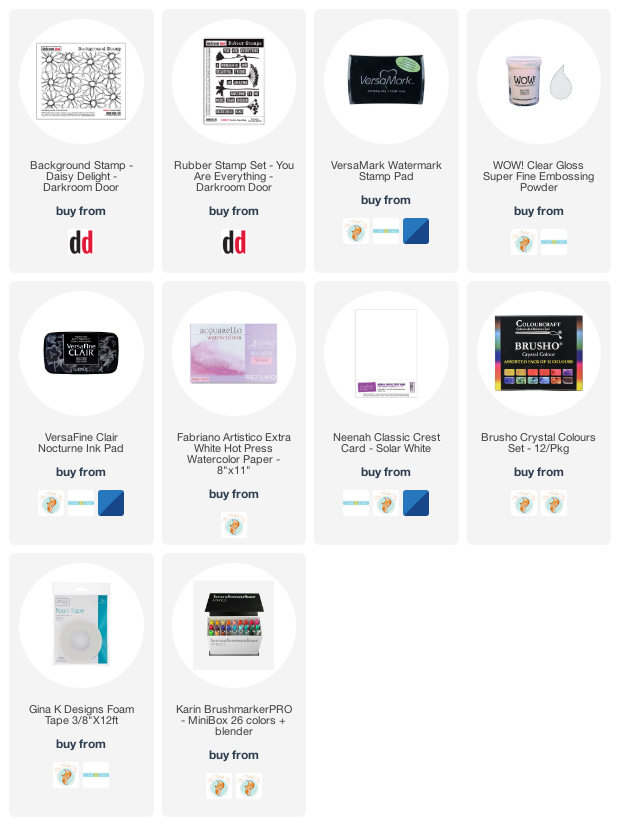 ---