Posted: April 5, 2021
Filed under: Darkroom Door, French Script, global postmarks, mesh, Nature Walk, Papertrey Inks, scratches, you are everything
| Tags: Darkroom Door stamps, Dr Ph Martin Hydrus watercolor paints, Fabriano Watercolour Paper, Papertrey ink
12 Comments
Today's cards developed bit by bit over a week or so. I worked on flower panels one day, middle layers another day, let them sit a few days, searched for ribbon another day and finally a week later put them together still adding stamping, splattering and blending right up until I called them finished!
I featured the silhouette floral stamps from the new Darkroom Door 'you are everything' set. There are four floral stamps along with eighteen word stamps I mentioned in a previous post. The flowers above are stamped on cold press watercolour paper with papertrey inks. I used pale peony and pure poppy on the petals and olive twist on the stems. I spritzed lightly before stamping then blended further with a paintbrush on the paper. I used the same technique on the purple flowers in the second card but worked on hot pressed watercolour paper.
For the vintage and collage details on the card I above I used olive twist and fine linen inks to add painted areas, stamped text, splatter and blending with a brush.
The flowers above are stamped in pale peony, royal velvet and olive twist and I stuck with fine linen and royal velvet as the inks on the layered areas also.
I've listed all the stamps I used to add texture and interest to the floral panel and the layers underneath. You can see some of my favourite 'filler' stamps including French script and global postmarks. I also splattered water and white paint for some watermarks and subtle blots!
To finish both cards I punched a couple of holes in the top to thread some fabric through. I didn't have a cream silk or sheer ribbon so I ripped some strips of what might be silk but I can't remember. The ripped edge worked fine with my vintage layered look.
(Compensated affiliate links used when possible)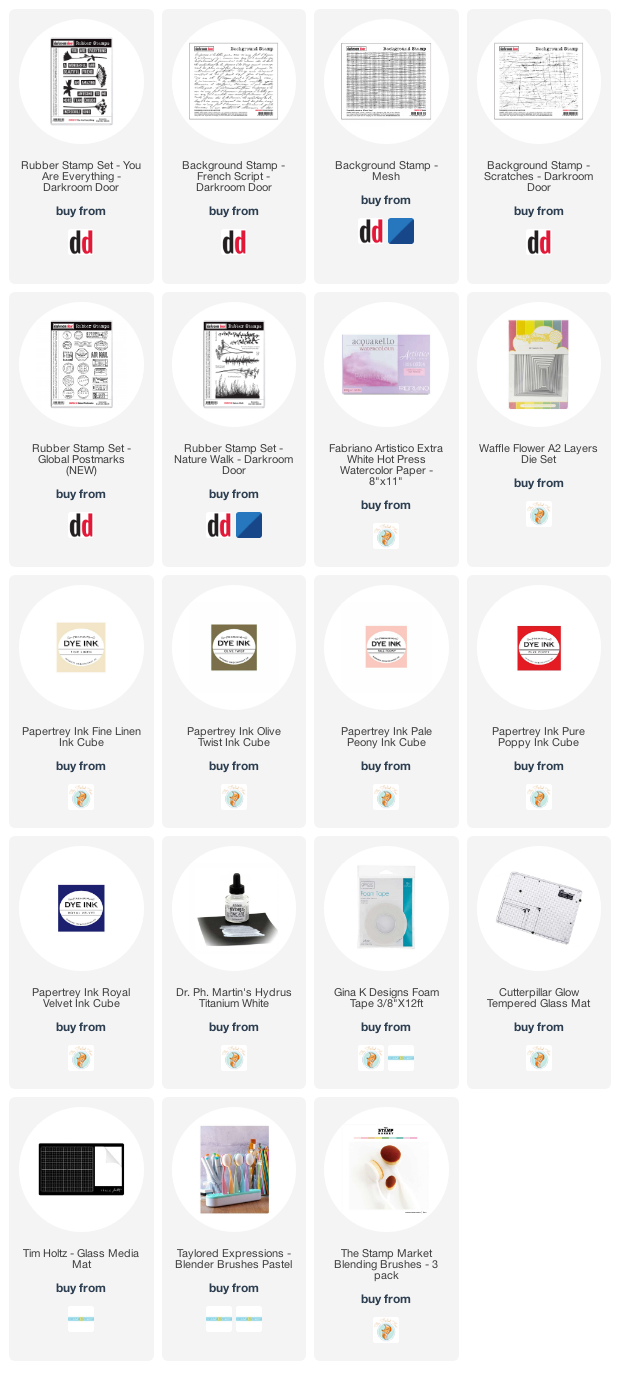 ---
Posted: October 23, 2020
Filed under: Art de Fleur vol 1, Botanical Script, Darkroom Door, global postmarks, majestic mountains, scratches, sheet music, tall flowers
| Tags: Darkroom Door stamps, Fabriano Watercolour Paper, Papertrey ink
5 Comments
This card is the cardmaking version of going down a rabbit hole. I know how easy that is on the interwebs, but apparently it is possible with a card as well. What started out as a vintage style two layer card became a little more than that. I just kept thinking of stamps and papers and techniques I wanted to add.
I decided an insert would be nice; I don't usually put anything on the inside of my cards so an insert is quite the departure. An insert turned into two inserts which is more like a little book when you count both sides of the pages!
The front panel, which was initially going to be the whole deal features several Darkroom Door stamps: scratches background stamp, sheet music background stamp, global postmarks, art de fleur vol 1.
For the whole card I stuck with four Papertrey ink cubes (listed below); I used them for stamping, watercolouring, splattering and blending with a blending brush.
The inside pages are not watercolour paper but handmade paper from a Hanji gifts in Toronto. It is handmade paper with rose petals embedded in it. It was very white straight out of the packet so I smooshed some brown and pink inks on my glass mat, diluted with water then swiped the paper through the ink. This resulted in the colour I wanted but removed the sizing and wrinkled the paper. I ironed it, which did the trick then added little bits of stamping on every page. I used a couple of sentiments and some quote stamps, all from Darkroom Door and reused the same background stamps plus the floral stamps from the Art de Fleur set.
To join it all together I poked holes and used some fine twine for a little 'book binding'. With all the 'vintaging' I did on the front panel and pages the card base itself looked very stark so I swiped that through some smooshed ink too so everything would co-ordinate.
I was so deep down the rabbit hole by this point I realised an ordinary envelope was just not an option so I pulled out another sheet of the handmade rose petal paper, inked it, ironed it and used my envelope punch board to create an custom envelope, which I failed to photograph. All in all a very satisfying but surprising creative project. Now, back to work!
Supplies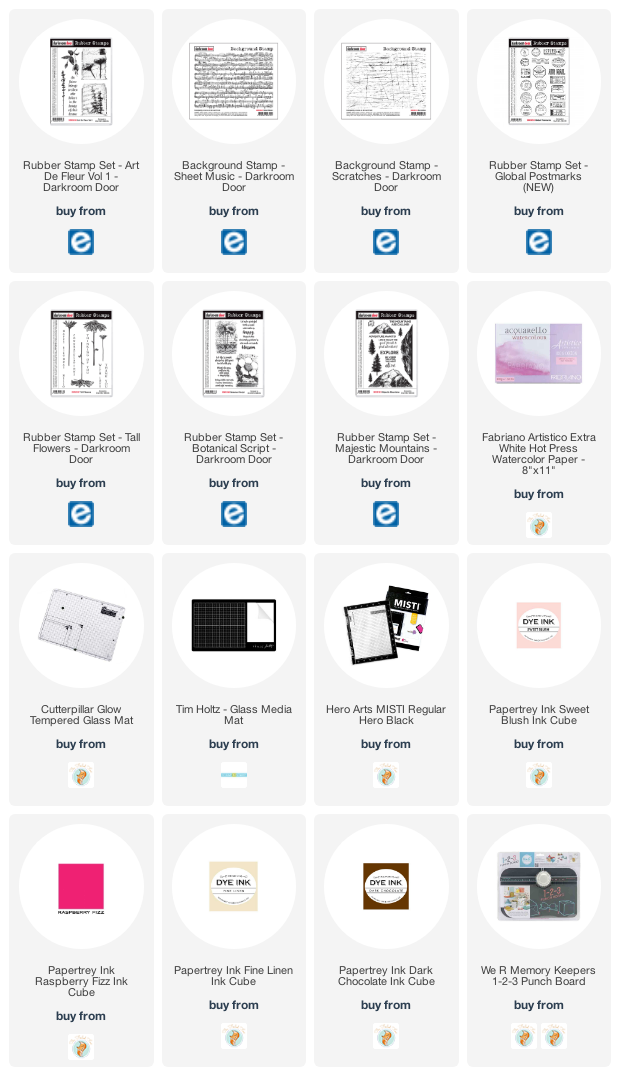 ---
Posted: October 1, 2020
Filed under: Art Journal, book spines, Darkroom Door, mini open book, scratches
| Tags: Art Journal, brutus monroe embossing powder, Darkroom Door stamps, Fabriano art journal, Ranger Distress inks, Ranger Distress stains, WOW embossing powders
21 Comments
This book themed page has been in my mind for quite a while and that little open book stamp on the right side of the spread pushed me to make it happen. All the stamps are from Darkroom Door; I used 'mini open book' once, 'book spines' several times and the 'scratches' background stamp for the wall behind the books.
I have three art journals on the go and this one has a literary theme. I've done pages inspired by books and others inspired by quotes. I have a few started but not finished and several in my head.
I taped the edges of the double page spread before doing anything; it really helps keep the book open and stable while I work, it protects the other pages from paint and ink and I think it frames the finished design really nicely.
I embossed all the books on hot pressed watercolour paper in either gold or copper powder then coloured them with markers, distress stains and distress inks smooshed on my glass mat. I really just played with techniques until I had a good selection of colours and patterns. I stuck to jewel tones featuring dark green, bright blue, red and aqua. I've listed all the distress inks below. I also painted over the inking on a few books with Coliro pearlescent paints so they have a bit of shimmer.
I painted the background with 'absorbant ground' as I usually do when I want to work with liquid inks and water then I smooshed some 'peacock feathers and ground espresso inks on a piece of acetate, spritzed it and dragged it across the page multiple times. That gave me some abstract colour but not enough so I used distress stain sprays in the same colours. After it dried I stamped the scratches background stamp a few times in ground espresso stain. When that dried I used a piece of tape to mask edges to sponge vertical lines across the pages.
Arranging the books on the page took a little while. I cut them all out first then cut some of the groups into smaller groups to play with the layout. Once I had it settled I glued them down and started adding titles and decoration with gel pens, embossing pens and embossing powder. I wrote quite a few of my favourites on the spines, nothing particularly new even though I have read some great new books lately. I guess they just haven't stood my test of time yet. I have some empty spines left that I will probably fill another day.
I finished by balancing that open book on one of the piles and added the name of my favourite podcast, 'What Should I Read Next?' I get a large chunk of my book recommendations from Anne Bogel, the host of WSIRN. I could talk about books for several more paragraphs but if you've made it this far you're a champion so I'll save the book chat for another book themed project. I think there will be a spin off card from this journal page.
Oh, and one more thing, please feel free to leave book recommendations in the comments; I'd love to hear your favourites.
Supplies

---