Posted: April 5, 2021
Filed under: Darkroom Door, French Script, global postmarks, mesh, Nature Walk, Papertrey Inks, scratches, you are everything
| Tags: Darkroom Door stamps, Dr Ph Martin Hydrus watercolor paints, Fabriano Watercolour Paper, Papertrey ink
12 Comments
Today's cards developed bit by bit over a week or so. I worked on flower panels one day, middle layers another day, let them sit a few days, searched for ribbon another day and finally a week later put them together still adding stamping, splattering and blending right up until I called them finished!
I featured the silhouette floral stamps from the new Darkroom Door 'you are everything' set. There are four floral stamps along with eighteen word stamps I mentioned in a previous post. The flowers above are stamped on cold press watercolour paper with papertrey inks. I used pale peony and pure poppy on the petals and olive twist on the stems. I spritzed lightly before stamping then blended further with a paintbrush on the paper. I used the same technique on the purple flowers in the second card but worked on hot pressed watercolour paper.
For the vintage and collage details on the card I above I used olive twist and fine linen inks to add painted areas, stamped text, splatter and blending with a brush.
The flowers above are stamped in pale peony, royal velvet and olive twist and I stuck with fine linen and royal velvet as the inks on the layered areas also.
I've listed all the stamps I used to add texture and interest to the floral panel and the layers underneath. You can see some of my favourite 'filler' stamps including French script and global postmarks. I also splattered water and white paint for some watermarks and subtle blots!
To finish both cards I punched a couple of holes in the top to thread some fabric through. I didn't have a cream silk or sheer ribbon so I ripped some strips of what might be silk but I can't remember. The ripped edge worked fine with my vintage layered look.
(Compensated affiliate links used when possible)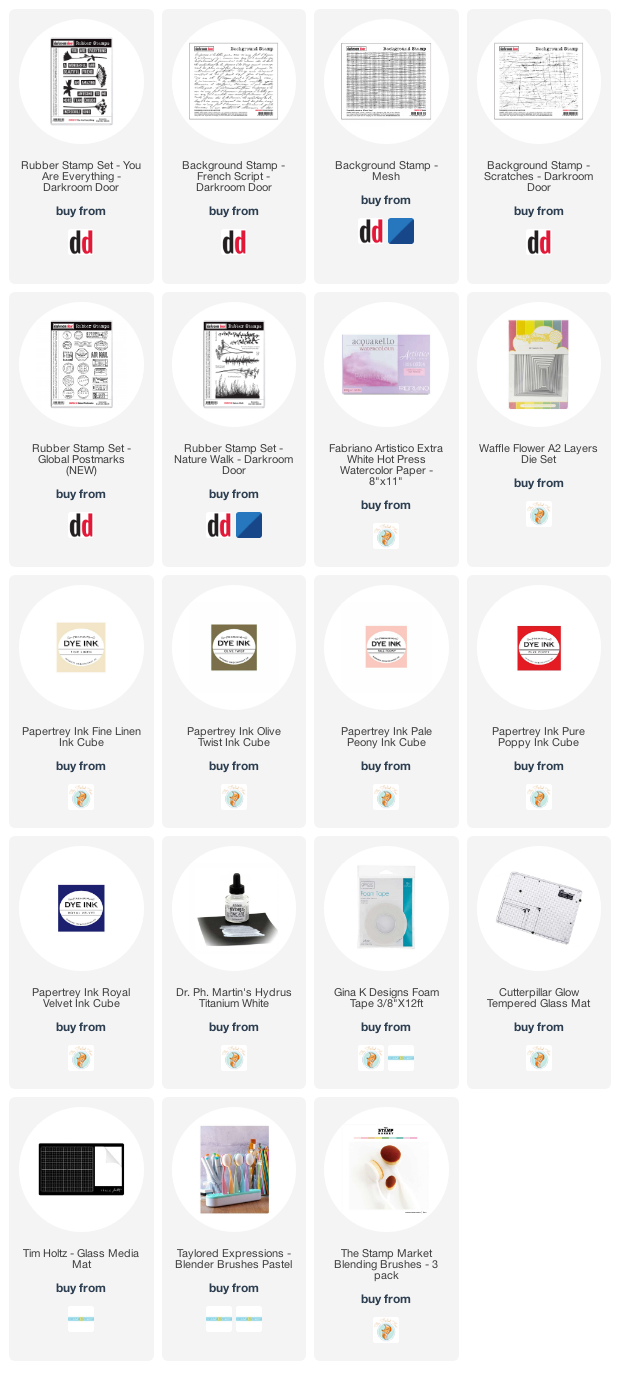 ---
Posted: March 29, 2021
Filed under: Christmas bush, Coliro paints, Darkroom Door, Finetec paints, handwoven, Papertrey Inks, you are everything
| Tags: Coliro paints, Darkroom Door stamps, Fabriano Watercolour Paper, Papertrey ink, Stonehenge black watercolour paper
7 Comments
Today's cards feature the new 'handwoven' background stamp from Darkroom Door it two quite different ways.
To create this first card I inked the handwoven stamp with blue and green papertrey ink cubes, spritzed the stamp then pressed it on hot pressed watercolour paper. The result was some green areas, some blue areas and some pretty blended areas where the inks overlap. The blue-green background created a pretty pattern as it was and I could have just added a sentiment and called it complete but I decided to take the risk of adding some flowers. I would understand if you wish I had left it flower free because it is a busy panel but I like the look of a patterned geometric roof or canopy over the flowers.
The flowers are from the new DD set 'you are everything' as are the words. The words in this set are great; there are eighteen negative space words that can be stamped and cut out to make countless sentiments. I embossed both the flowers and the words to give them more prominence over the busy background.
The second card I am planning to use as an Easter card. Filling the spaces of the handwoven pattern with pearlescent paint reminded me of a stain glass window so I looked through my sentiments and found this one in the DD 'Christmas bush' set and decided it works for many occasions, including Easter. I stamped the handwoven stamp on black watercolour paper in versamark then embossed in clear powder before painting all the little spaces with Coliro paints and a fine point brush. It did take a while and I didn't do it in one sitting as the fiddliness factor was high!
I matted both the patterned circle and the sentiment in gold shimmer cardstock and embossed the front of the card base using the 'subtle' embossing folder from SU.
(Compensated affiliate links used when possible)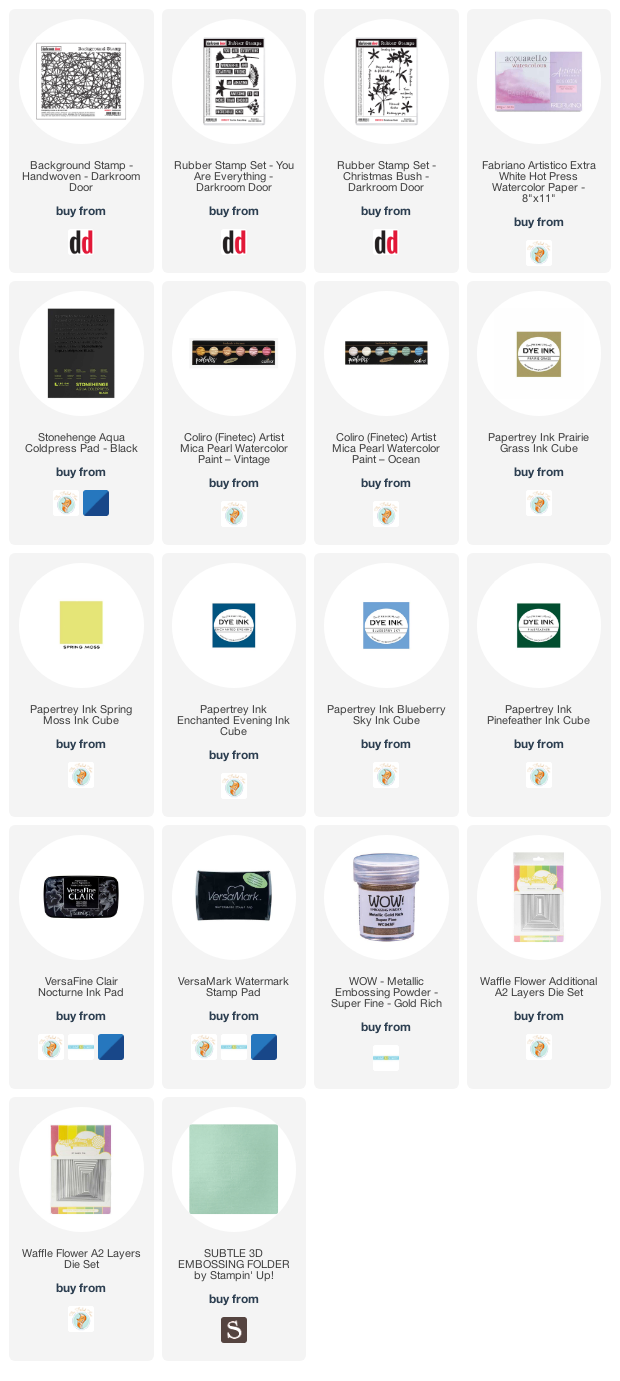 ---
Posted: March 22, 2021
Filed under: Brusho, daisy delight, Darkroom Door, you are everything
| Tags: Brusho, Darkroom Door stamps, Fabriano Watercolour Paper, Tsukineko Versafine inks
5 Comments
When I have a new line-art background stamp my first choice is usually to try emboss resist with brusho paint powders. This new background stamp from Darkroom Door is called 'daisy delight' and has plenty of loops and lines for trapping brusho.
I embossed the stamp in clear powder on hot pressed watercolour paper. With scrap paper spread under the panel I sprinkled brusho powder over the panel, both turquoise and sea green. I spritzed water over the brusho and sat back to watch the magic happen. As the brusho diluted I saw pockets of colour appear which were exactly what I wanted. You can see different shades of blue and green as well as a few pops of yellow. There were a few blank or pale sections so I sprinkled more brusho, spritzed more water and then waited again to see what happened. Once the paint was really soaking in I took a small brush and started filling some of the petals where the colour hadn't reached all the edges. In a few places I took bold colour from a petal and used it to fill a petal somewhere else.
I dried the panel with a heat tool then trimmed it and did a test on a trimmed scrap to see if I would like black background in amongst the flowers. I went with it and coloured in the few areas that are not part of the flowers with a black Karin brushmarker. To finish the card I wrapped white/silver twine around it and popped up some embossed words from the new DD 'you are everything' set.
(Compensated affiliate links used when possible)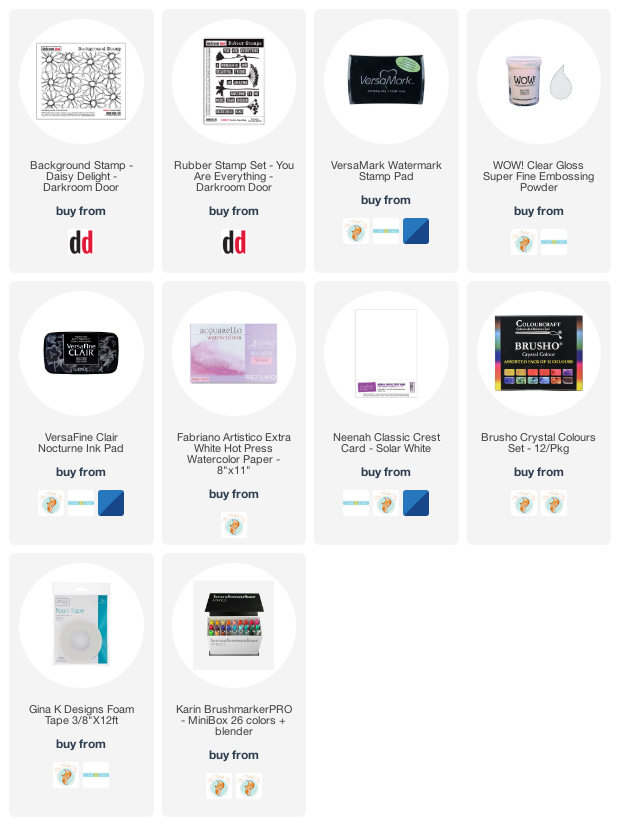 ---