Posted: April 13, 2020
Filed under: alphabet medley, brick wall, classic cars vol 1, classic motorcycles, Darkroom Door, number medley
| Tags: Darkroom Door stamps, distress oxide inks
13 Comments
Recently I posted a classic car card and both my brother and father responded that it was time for a classic motorcycle card. It is my dad's birthday tomorrow so here is a motorcycle themed birthday card. Unfortunately it won't arrive in his mail box anytime soon but we will chat via the interwebs. Happy Birthday, Dad!
To create the card I pulled out the distress oxide inks; I haven't used them lately and had forgotten the cool effects I can get when I layer them. I started by smooshing three colours on my glass mat then spritzing them with water. The three inks were dusty concord, frayed burlap and fossilized amber. The dusty concord looks more pink than purple when it's wet, the amber gives a nice bright pop of colour and the burlap is a neutral that works with both. Before I swiped my watercolour panel through the spritzed ink I had splattered some masking fluid on it and let that dry. The little white spots here and there on the finished card are the results of using masking fluid before adding any ink. I know they are a subtle effect but I like the contrast of a few white spots.
I ended up swiping the panel through the inks several times, letting it dry between swipes so the colours would layer rather than turn to mud. Once all the layering was finished I used the new Darkroom Door small brick wall stencil to blend some bricks over the panel with frayed burlap and fossilized amber inks. I stamped the motorcycle from DD 'classic motorcycles' set in versafine clair nocturne then added some collage numbers and letters using stamps from  DD 'alphabet medley' and 'number medley' sets in black soot and dusty concord oxide ink.
I stamped and embossed sentiments from both 'happy birthday' and 'classic cars vol 1' and die cut them so I could pop them up down the side of the card. The embossing powder is Ranger 'weathered wood' to fit with the slightly grungy style of the card.
I have no idea what kind of motorcycle this is but maybe my brother can fill me in on that. About six months ago he became a Harley owner; that's him and his lovely wife out for their first ride on the new bike. It is certainly not his first bike so maybe he will recognise some distinctive feature of the one on my card.
Thank you for getting in touch on my last post about online church and hope at this time of isolation. I am happy to hear it was an encouragement to so many of you.
Supplies


---
Posted: March 7, 2019
Filed under: alphabet medley, Art Journal, Darkroom Door, mesh, Nature Walk, stone, tall flowers, Woodgrain
| Tags: Art Journal, Darkroom Door stamps, distress oxide inks, Ranger Distress inks
5 Comments
Are you a wee bit surprised to see a journal page here?  I'm surprised myself, surprised but pleased. I really enjoyed dreaming it up and making it. It didn't end up looking as I imagined but that is the way with journal pages is it not?
This art journal is a Fabriano journal; the paper is nice and thick but not watercolour paper so I painted over it with absorbent ground first. Then I grabbed a bunch of stamps from Darkroom Door along with three light coloured oxide inks and stamped mesh, stone and woodgrain texture stamps over the background. I spritzed it with water to soften the edges of the stamped images and dabbed some out too to make it subtler. Even after adding some water it was still bolder than I wanted so I painted another thin layer of absorbent ground over it.
I filled the bottom of the page with repeat stampings of flowers from the Darkroom Door 'tall flowers' set in distress inks then blended some of the big flowers with water. They don't blend as well as they do on watercolour paper but the effect is still nice.
I added grass and flowers from the DD ' nature walk' set, also in distress ink then a border with the mesh texture stamp in black soot oxide ink. It was a bit bolder than I wanted so I spritzed then dabbed with a paper towel ( as you can see I'm a fan of the 'spritz and dab' ). I splattered wild honey, forest moss and dusty concord diluted ink over the whole spread and it ended up looking like confetti. To boost a few of the flowers I outlined them with fine tipped black markers.
I wrote psalm 18:36 with a brush pen leaving a space to stamp the word 'steps' with the DD alphabet medley stamps.  I find choosing words for a journal page tricky, which words and how to add them. But the beauty of a journal page is the experimental nature of it. If I don't like something on this page, I'll try something different on another. Once the ink had dried I sealed the large flowers and the lettering with distress micro glaze.
Do you have any art journallers you would recommend for inspiration? I already follow Rachel Greig from Darkroom Door, Julie Fei-Fan Balzer, Vicky Papaioannou and Maremi SmallArt who all have different styles and inspiring journal pages.
I'm hoping to create in my journals more often and will share pages here if possible. Even if you are not an art journal person the designs can usually be converted to a card and sometimes start out as cards anyway!
Art Supplies (all Darkroom Door stamps are linked in description)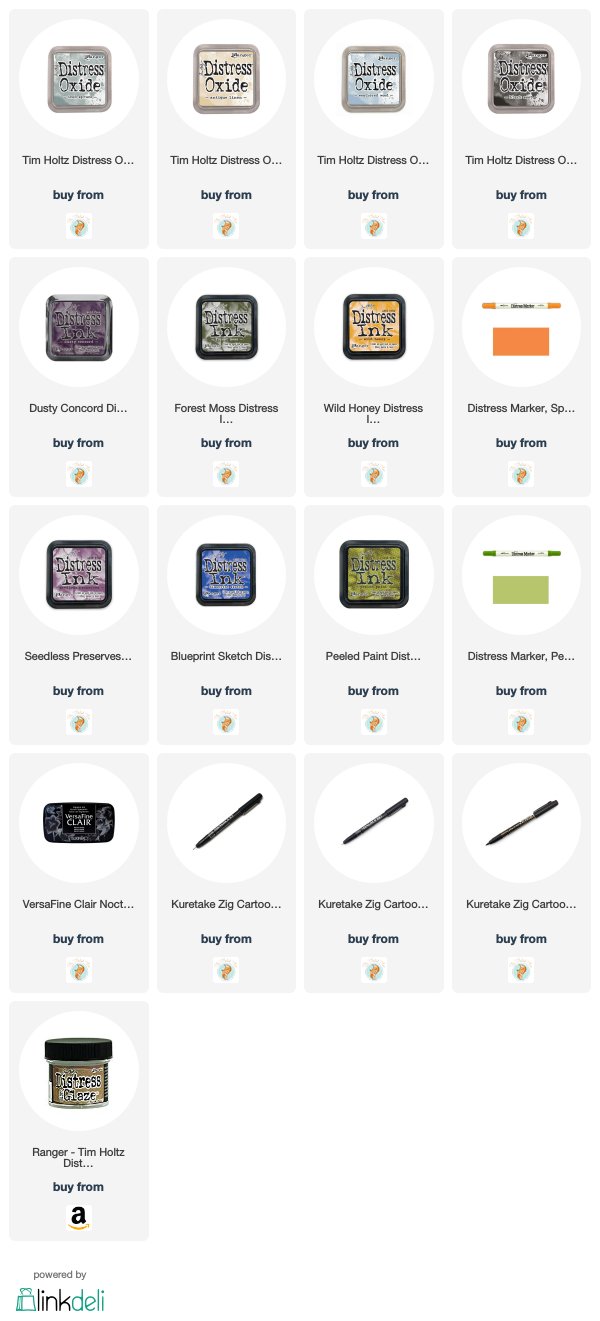 ---