Posted: January 20, 2021
Filed under: alphabet medley, Art Journal, book spines, Darkroom Door, diamonds, handwritten script, plaid, pocket watch, sheet music, teacups, Woodgrain
| Tags: Darkroom Door stamps, Darkroom Door stencils, Ranger Distress inks, Ranger Distress stains, WOW embossing powders
7 Comments
This page is in one of my Fabriano art journals. I've mentioned before that I have a love/hate relationship with these journals as the pages are not really meant for watercolour and I always want to do watercolour. I can't bear to quit though because there are quite a few completed pages in the journals and I want to get to the end.
I began this spread with some inspiration pages open on my Pinterest 'journal' board but no real plan; I was after a look but didn't have a theme. I rarely use my distress stain sprays as sprays; I usually paint with them but this time I taped the edges of the pages then put the book in my recycle paper box and sprayed with vintage photo, faded jeans and wild honey spray stains. I then sprayed some water but as I mentioned, this paper doesn't act like watercolour paper so the stains didn't blend and move.
Next I added some texture with modelling paste through the Darkroom Door diamonds & handwritten script stencils. Once that dried I blended round the edges of the pages with faded jeans, vintage photo, wild honey and black soot distress inks which highlighted the added texture. I was happy with my chosen colours but still didn't know what the focus should be. I coloured some strips of sheet music and added Darkroom Door 'plaid' and 'sheet music' stamping here and there.
Initially I wanted to use the pocket watch and the teacups so I stamped them in vintage photo and swiped them through diluted inks to pick up colour as well as adding colour with a paint brush. Once they were painted and cut out I clear embossed the clock face three times with high gloss embossing powder to look like glass and used normal clear embossing powder for the cups.
To brighten up the centre of the double page I ended up spreading white absorbent ground over the strips of sheet music and out towards the edges. Then began the longish process of turning the page into a composition. After much rearranging I realised that the tower of teacups and the pocket watch need a third element so I tried a floral piece then just a single shelf (stamped with DD woodgrain background stamp) and finally realised the 'book spines' stamp would probably work again. Honestly I'm not trying to put that stamp in every single journal page. Even with the books it still took a while to balance the layout and come up with some words. I finally decided on 'one day at a time' stamped on the shelf with the DD alphabet medley stamps. As Vicky Papaioannou often does on her amazing art journal pages, I finished with both black and white splatter then removed the masking tape before gluing down my elements.
It's nothing like my initial inspiration photos on Pinterest but it did give me some good practice at adding texture and layers to my art journal, two things I don't find easy. I only have one of my art journal pages on youtube as there is so much humming and ha-ing as I work out what I want. If I cut out the pondering parts is an art journal page process something you'd like to see in a video?
(Compensated affiliate links used when possible)

---
Posted: November 6, 2019
Filed under: Cup of tea, Tagged, teacups
| Tags: Darkroom Door stamps, Penny Black creative dies, Ranger Distress inks
10 Comments
I love this little stack of teacups from Darkroom Door. I have some pretty teacups that belonged to my Nanna, some from my Grandma and some from my mother. I don't often use them because I like a much bigger cup of tea but I love having them. There are intricate details on the cups on this stamp but I have chosen not to colour the patterns individually, instead colouring each cup a different colour. I kept my colour scheme muted sticking with inks I have been using to stamp forests and trees lately.
I used a stamp positioner so I could ink one cup at a time. I kept a wet cloth handy to wipe off any ink that ended up on the adjacent cups. after stamping I blended the stamping with a damp brush to gently spread ink into the cup but not dilute the pretty patterns.
The stamp has its own frame so I trimmed with scissors right next to the frame and ran a peeled paint marker along the edge to make sure it was all inked. I chose my sentiment from another DD tea themed set, 'Cup of tea" and cut it out with a PB tag die. I had hemp twine which exactly matched so I added a little bow to the tag. The stamped panel is popped up on adhesive backed foam on a textured cardbase.
Hope you have time for tea today, unless of course you are all about the coffee, but that's a card for another day!
Supplies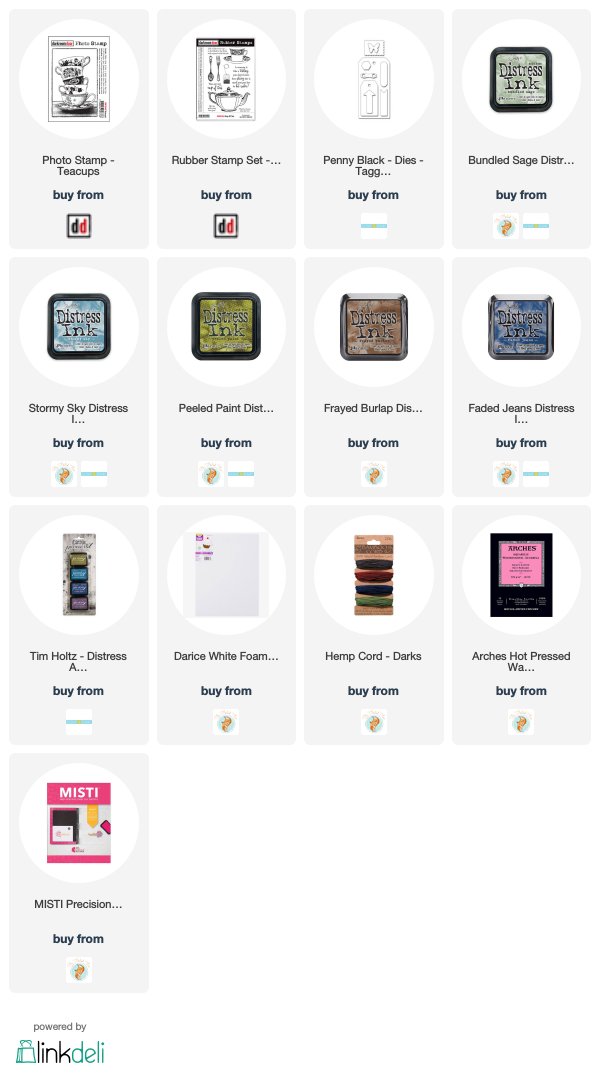 ---