Posted: January 1, 2021
Filed under: book spines, Darkroom Door, Woodgrain
| Tags: Coliro paints, Darkroom Door stamps, Ranger Distress inks
11 Comments
I know 2020 was a very different year from what any of us imagined but I hope you are able to look back on it and see some new habits or achievements that please and encourage you. I've always been a reader but I have to admit I spent more time immersed in stories this year. I read physical books, listened to many audio books as I worked on art and in the last week read e-books on my new e-reader. I was hoping to reach 100 books but fell a little short with a total of 93 and three currently on the go.
It is highly possible that I had years as a child when I read more than 93 but I don't know; I didn't keep a record. I have this year's books written in a bullet journal but I decided to record them on an art journal page as well. This is the second book filled spread in my art journal and who knows, there may be more.
I love the book spines stamp from Darkroom Door and this time stamped it across the pages instead of in piles. After I had coloured all the book spines with watercolour markers and pearlescent paints I drew a shelf underneath and then stamped the DD woodgrain stamp above and below the shelf of books in grey and brown distress inks. I added a few titles to book spines with gel pens then used a scribbly script to fill the surrounding area with all the rest of the books. It soon became apparent that there would not be room for author names so I just did book titles. Once I had filled the space I had to squeeze the last few in between lines. I splattered some black soot distress ink over the page before removing the masking tape and adding the hand lettered title.
I read mysteries, war novels, crime novels, literary fiction, comedy, romance, historical fiction and a thriller. There were books I didn't care to finish so they are not on the list and there were a handful I read twice. I read several series; I do like a good series and I took pains to try and have them arrive in my library holds in the right order or close to it.
The book club I belong to did manage to meet this year, once indoors before the pandemic started then two more times, outdoors around a picnic table then, in late October, around a bonfire. We discussed 'Where the Crawdad's Sing', 'Small Great Things', 'The Lager Queen of Minnesota' and 'The River'. If you know of some good 'book club books' please let me know in the comments below. I have received helpful recommendations from you before which I'm looking forward to reading in 2021.
Happy New Year!
(Compensated affiliate links used when possible)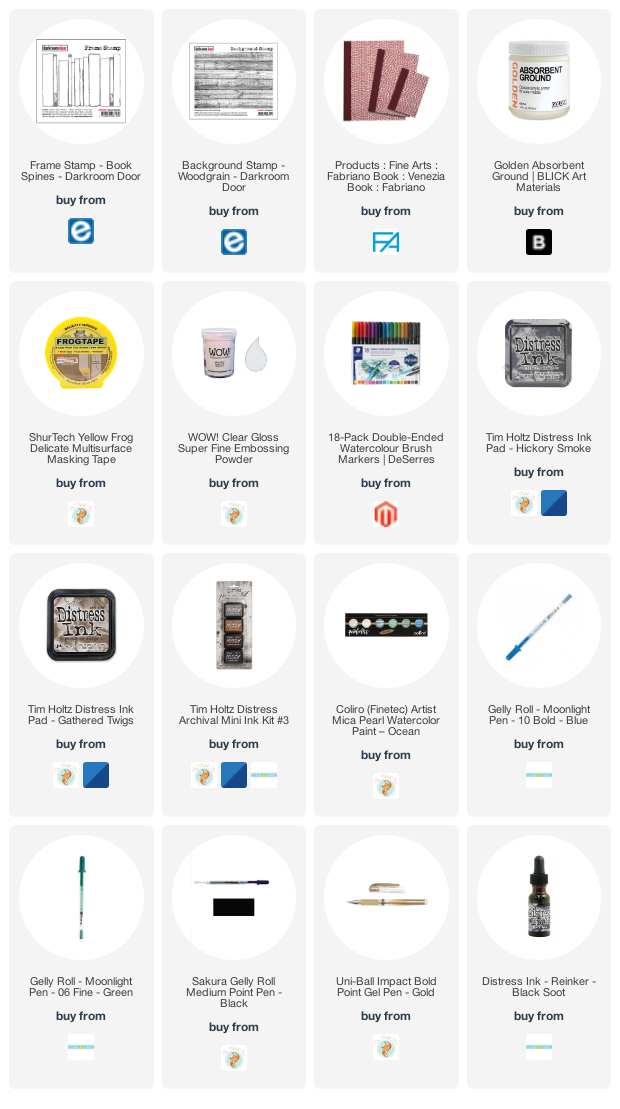 ---
Posted: November 13, 2020
Filed under: book spines, classic motorcycles, Correspondence, Cup of tea, Darkroom Door, Finetec paints, mini open book, sennelier watercolours
| Tags: Darkroom Door stamps, Fabriano Watercolour Paper, Finetec artist mica watercolour paint, sennelier watercolours
7 Comments
Ever since I created a 'what should I read next?' art journal page I've been wanting to do a similar design on a card featuring the Darkroom Door 'mini book' and 'book spines' stamps. This time a teacup joined the party.
What is more delightful than a cup of tea and a good book? Maybe a cup of tea with another book lover?
I stamped the book spines stamp three times in hickory smoke archival ink on a piece of hot pressed watercolour paper (which had been splattered with masking fluid). I set out both my Sennelier watercolour paint palette and a Finetec pearlescent set to paint the books. I mainly used the Sennelier paints but added drops and swipes of pearlescent paints here and there for interest.
Once the paints dried I used a handful of gel pens to add decoration to the book spines. I decided not to add titles (there is other pressing work to be done after all) just patterns. I removed the masking fluid, blended tea dye and vintage photo ink around the edges then splattered some vintage photo ink over the panel.
The mini book is stamped in versafine vintage sepia and then stamped with a script stamp from the DD 'correspondence' set and a sentiment stamp from DD 'classic motorcycles'. The teacup from DD 'cup of tea' set is embossed in gold powder then painted a pale rose. I fussy cut both the book and the cup (I know – I'm surprised too). The book panel is matted in cream then attached to a grey luxe card base. I attached the mini book and teacup to hang over the edges of the panel ever so slightly.
Right now I would love to curl up on the couch with a good book and a cup of tea but I am editing my next online class! I am very excited to get it finished for you as it has a seasonal theme which might interest you right about now.
Supplies

---
Posted: October 1, 2020
Filed under: Art Journal, book spines, Darkroom Door, mini open book, scratches
| Tags: Art Journal, brutus monroe embossing powder, Darkroom Door stamps, Fabriano art journal, Ranger Distress inks, Ranger Distress stains, WOW embossing powders
21 Comments
This book themed page has been in my mind for quite a while and that little open book stamp on the right side of the spread pushed me to make it happen. All the stamps are from Darkroom Door; I used 'mini open book' once, 'book spines' several times and the 'scratches' background stamp for the wall behind the books.
I have three art journals on the go and this one has a literary theme. I've done pages inspired by books and others inspired by quotes. I have a few started but not finished and several in my head.
I taped the edges of the double page spread before doing anything; it really helps keep the book open and stable while I work, it protects the other pages from paint and ink and I think it frames the finished design really nicely.
I embossed all the books on hot pressed watercolour paper in either gold or copper powder then coloured them with markers, distress stains and distress inks smooshed on my glass mat. I really just played with techniques until I had a good selection of colours and patterns. I stuck to jewel tones featuring dark green, bright blue, red and aqua. I've listed all the distress inks below. I also painted over the inking on a few books with Coliro pearlescent paints so they have a bit of shimmer.
I painted the background with 'absorbant ground' as I usually do when I want to work with liquid inks and water then I smooshed some 'peacock feathers and ground espresso inks on a piece of acetate, spritzed it and dragged it across the page multiple times. That gave me some abstract colour but not enough so I used distress stain sprays in the same colours. After it dried I stamped the scratches background stamp a few times in ground espresso stain. When that dried I used a piece of tape to mask edges to sponge vertical lines across the pages.
Arranging the books on the page took a little while. I cut them all out first then cut some of the groups into smaller groups to play with the layout. Once I had it settled I glued them down and started adding titles and decoration with gel pens, embossing pens and embossing powder. I wrote quite a few of my favourites on the spines, nothing particularly new even though I have read some great new books lately. I guess they just haven't stood my test of time yet. I have some empty spines left that I will probably fill another day.
I finished by balancing that open book on one of the piles and added the name of my favourite podcast, 'What Should I Read Next?' I get a large chunk of my book recommendations from Anne Bogel, the host of WSIRN. I could talk about books for several more paragraphs but if you've made it this far you're a champion so I'll save the book chat for another book themed project. I think there will be a spin off card from this journal page.
Oh, and one more thing, please feel free to leave book recommendations in the comments; I'd love to hear your favourites.
Supplies

---