Posted: December 2, 2022
Filed under: book spines, Darkroom Door, gel press
| Tags: Darkroom Door stamps, Fabriano Watercolour Paper, gel press, gel printing, grafix, Ranger Distress inks
7 Comments
Just one more bookish card? Of course not; there will always be more bookish cards, especially as Darkroom Door keeps creating more bookish stamps! Today's card, which of course can be sent to a fellow reader on any occasion, features the new 'reading' sentiment strip as a background wallpaper and as the sentiment. Darkroom Door has a range of sentiment strips each containing 9-10 sentiments. I could cut them up into individual stamps but I have kept them all as strips so I can stamp them all at once if I want to. I did so on today's card to create a background in rusty hinge distress ink on watercolour paper. I painted water over the top of the stamping to blur it but you can still read most of the bookish mantras.
I also used the DD stamp 'book spines' to create my line up of books. I stamped it on three different gel prints and embossed each one in a different metallic ink. I cut up all the prints then rearranged the books to have green, blue, yellow and brown books across the shelf. Even though I chose random gel prints I love the way the texture of plastic lids and packaging has become aged leather on the book spines.
After attaching my books to the background I stamped just one phrase from the sentiment strip by masking above and below the words then added it to the card. A little shading along the top of the books give a bit of dimension.
This turned out to be the perfect card for today because I have been part of the Coptic Challenge at 'The Handmade Book Club' this week. Today is the last day of instruction which covers sewing the book together. When I have completed my book I will post it on the blog. It is the second time I have participated in the five day challenge; both experiences have been very enjoyable and the instruction is fabulous.
So, read one more chapter and have a great weekend.
(Compensated affiliate links from Foiled Fox, Scrap n Stamp)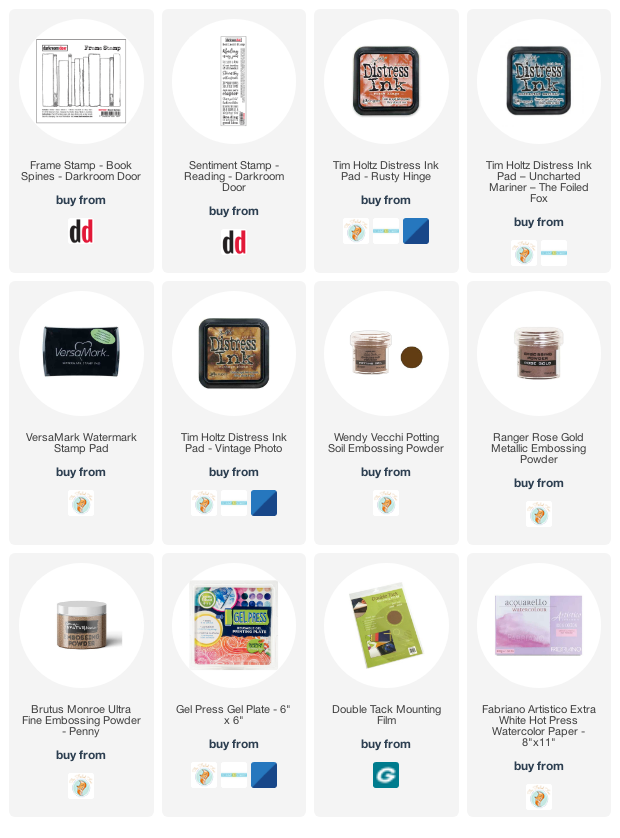 ---