Posted: March 7, 2019
Filed under: alphabet medley, Art Journal, Darkroom Door, mesh, Nature Walk, stone, tall flowers, Woodgrain
| Tags: Art Journal, Darkroom Door stamps, distress oxide inks, Ranger Distress inks
5 Comments
Are you a wee bit surprised to see a journal page here?  I'm surprised myself, surprised but pleased. I really enjoyed dreaming it up and making it. It didn't end up looking as I imagined but that is the way with journal pages is it not?
This art journal is a Fabriano journal; the paper is nice and thick but not watercolour paper so I painted over it with absorbent ground first. Then I grabbed a bunch of stamps from Darkroom Door along with three light coloured oxide inks and stamped mesh, stone and woodgrain texture stamps over the background. I spritzed it with water to soften the edges of the stamped images and dabbed some out too to make it subtler. Even after adding some water it was still bolder than I wanted so I painted another thin layer of absorbent ground over it.
I filled the bottom of the page with repeat stampings of flowers from the Darkroom Door 'tall flowers' set in distress inks then blended some of the big flowers with water. They don't blend as well as they do on watercolour paper but the effect is still nice.
I added grass and flowers from the DD ' nature walk' set, also in distress ink then a border with the mesh texture stamp in black soot oxide ink. It was a bit bolder than I wanted so I spritzed then dabbed with a paper towel ( as you can see I'm a fan of the 'spritz and dab' ). I splattered wild honey, forest moss and dusty concord diluted ink over the whole spread and it ended up looking like confetti. To boost a few of the flowers I outlined them with fine tipped black markers.
I wrote psalm 18:36 with a brush pen leaving a space to stamp the word 'steps' with the DD alphabet medley stamps.  I find choosing words for a journal page tricky, which words and how to add them. But the beauty of a journal page is the experimental nature of it. If I don't like something on this page, I'll try something different on another. Once the ink had dried I sealed the large flowers and the lettering with distress micro glaze.
Do you have any art journallers you would recommend for inspiration? I already follow Rachel Greig from Darkroom Door, Julie Fei-Fan Balzer, Vicky Papaioannou and Maremi SmallArt who all have different styles and inspiring journal pages.
I'm hoping to create in my journals more often and will share pages here if possible. Even if you are not an art journal person the designs can usually be converted to a card and sometimes start out as cards anyway!
Art Supplies (all Darkroom Door stamps are linked in description)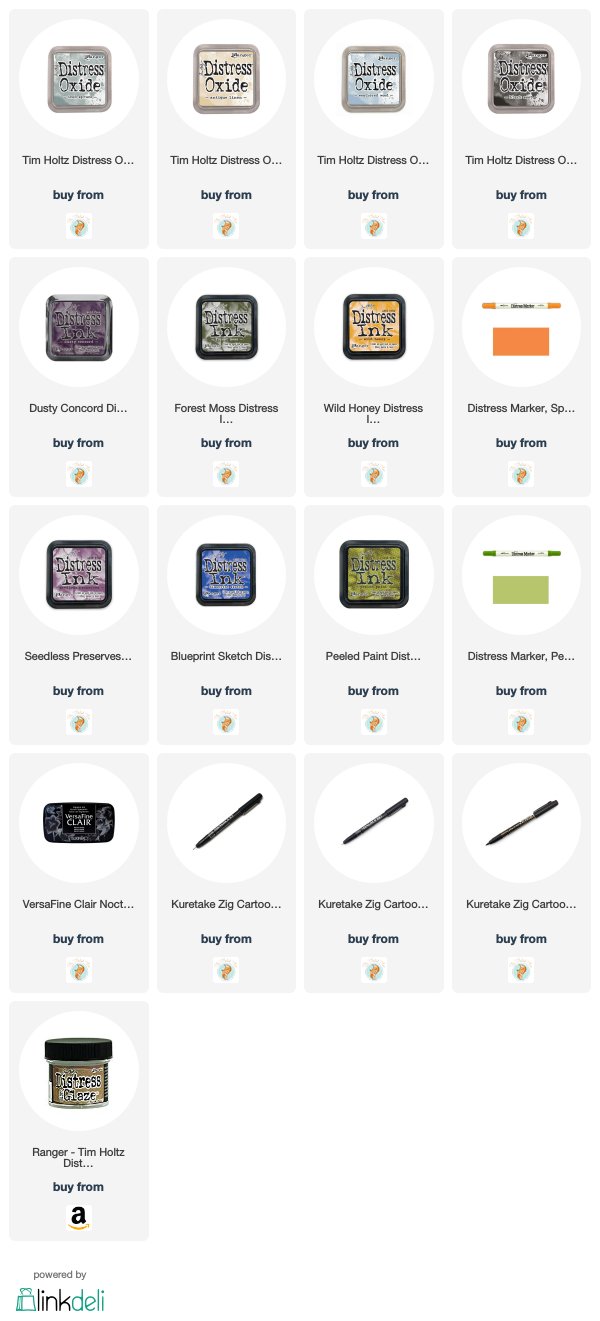 ---
Posted: February 20, 2018
Filed under: French Script, Woodgrain, Woodlands
| Tags: color burst, Darkroom Door stamps, Ranger Distress inks, Tsukineko Versafine inks, WOW embossing powders
4 Comments
I had a lovely time with this new photo stamp from Darkroom Door. It's called Woodlands and was perfect for creating an autumn scene, a winter scene and a sunset. Step by step instructions and a complete list of supplies are available on the Darkroom Door blog
The autumn scene involved brayering and distress inks.
The sunset features the bright hues of colorburst powders over embossing.
The winter scene below, which might be my favourite, was painted with distress inks.
I used a cool technique with a stamp positioner to get a layer of snow on the branches; if you're interested pop over to Darkroom Door and check it out.
---
Posted: November 2, 2017
Filed under: Leaves, Woodgrain
22 Comments
It is nice to be back with my family in Canada, back in my workroom and back on my blog. Before I talk about today's card, however, I would like to thank you, my blog readers for the outpouring of kindness I received in the comment section last month when I let you know my mother had died. I read every message; my dad did also and we deeply appreciate the time you took and the words you wrote to me and my family. I am grateful for your prayers, your thoughts and your words of understanding. Many of you shared that you have been through the same sadness. All you of you wrote to me with such kindness and concern that I feel very blessed to be part of such a caring community. I waited until I returned home to respond as I wanted to make a thank you card to post here on the blog along with my heartfelt thanks. I'm sorry it isn't a real life card turning up in your mail box but it is made especially for you all the same. I recognised many names but there were many others who commented for the first time just to extend their sympathy to me; thank you all for taking the time. My father left his thanks to you, my blog readers, in a comment on that post; it is towards the end of the comments section if you care to pop back and read it.
While I was in Australia I enjoyed some warm weather extending my summer by a few weeks. When I returned to Canada I was surprised to find many trees with leaves still changing colour and a yard full of leaves still to be collected. My first full day back was delightfully warm – sandals weather actually – but that seems to be over now; the temperatures have fallen along with a whole lot of rain! My card is inspired by the season here at home and stamped with Darkroom Door stamps. I used a leaf from the Leaves set and the woodgrain background stamp.
I stamped the leaf three times on hot pressed watercolour paper without re-inking in between, that way I was able to get a dark red, medium and a pale red impression (inks listed below). I stamped the leaf on post-it notes also and cut them out to use as masks. With masks in place I inked the woodgrain stamp in three shades of brown and stamped over the leaves. With all the stamping done I switched to painting using a small watercolour brush and some water to blend the distress inks. As I blended I sprinkled some brusho into the leaves and later onto the woodgrain to add some extra shades of colour and appearance of texture.
The panel is matted with two different browns and the sentiment stamped then embossed with platinum embossing powder. Its the first time I've used platinum and it seems to have co-ordinated well with the brown tones. I hope its one of those magical tones that looks good with a whole range of colours. I finished off the panel by wrapping some vintage French twine around then attached it all to a natural cardbase.
Thank you, again for your kindness; I read through your comments again as I wrote this post and I'm sure will I return to them in the future.
Supplies
Stamps: Leaves, Woodgrain, Thank you (made by Darkroom Door)
Distress Inks: frayed burlap, fired brick, antique linen, vintage photo (made by Ranger)
Paint: brusho sandstone & light brown
Papers: Neenah natural white 110lb, Fabriano hot pressed watercolour paper, brown toned cardstock
Also: versamark ink pad, WOW metallic platinum superfine embossing powder
Watercolour pencil: Faber Castell Albrecht Durer raw umber
---