Posted: August 2, 2022
Filed under: Darkroom Door, fine flowers vol 2, gel press, mesh, Nature Walk, Wildflowers Vol 2
| Tags: Darkroom Door stamps, gel press, gel printing
7 Comments
Another gel print post? Yes indeed, and no apologies. If you have tried gel printing you will know it is a little addictive. Today's post features cards stamped with Darkroom Door flowers. Some are stamped on clean up sheets, others on gel prints. A clean up sheet is thick drawing paper I keep at the right of my gel plate for rolling excess ink off my brayer. As you can see in the panels above and below I can end up with some very colourful sheets.
I stamped flowers from the DD set' 'fine flowers vol 2" and the 'mesh' texture stamp in Ciao Bella Oceania ink. The ink is a pigment ink which stamps beautifully on gel prints and dries quickly so I don't end up smudging it.
This deep red background is also a clean up panel. I am always excited to see landscapes or skies appear in an abstract print or clean up sheet. Those two strips of white added a hint of clouds to a very bold sunset! I stamped the silhouette flowers from the DD set, wildflowers vol 2.
The last two cards are made from gel printed panels not clean up sheets but are very distressed. The print I pulled and cut up to make a couple of garden cards include plenty of distressed texture from a printing session including a little bit of text.
There was some blue in the print so I chose a co-ordinating ink to add the large grassy stamp from the DD 'nature walk' set. I've said it before it is a favourite set which I reach for again and again. I think I used versafine clair paradise ink.
I was crafting with a friend when I made these two cards and she had a tiny butterfly punch so the card below features a few co-ordinating butterflies. I haven't seen many butterflies in my garden this year but there have been plenty of bees in the day and fireflies at night.
None of these cards have sentiments on them at this stage, I like to have blank cards on hand to use for any occasion. Thanks for dropping by today; I know it's been quiet around here lately. I plan to be back soon with more projects and inspiration.
Supplies
(Compensated affiliate links used when possible)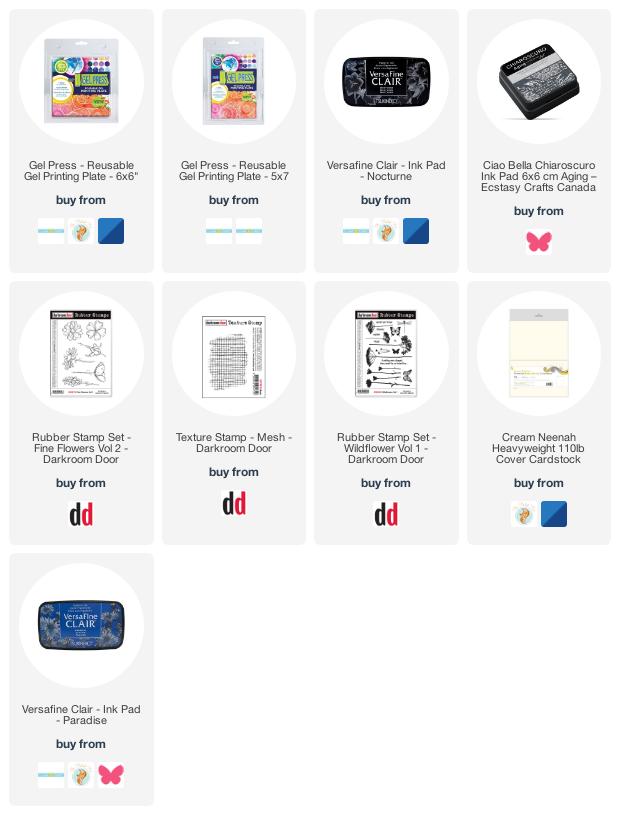 ---