Vintage layers
Posted: April 5, 2021
Filed under: Darkroom Door, French Script, global postmarks, mesh, Nature Walk, Papertrey Inks, scratches, you are everything
| Tags: Darkroom Door stamps, Dr Ph Martin Hydrus watercolor paints, Fabriano Watercolour Paper, Papertrey ink
12 Comments
Today's cards developed bit by bit over a week or so. I worked on flower panels one day, middle layers another day, let them sit a few days, searched for ribbon another day and finally a week later put them together still adding stamping, splattering and blending right up until I called them finished!
I featured the silhouette floral stamps from the new Darkroom Door 'you are everything' set. There are four floral stamps along with eighteen word stamps I mentioned in a previous post. The flowers above are stamped on cold press watercolour paper with papertrey inks. I used pale peony and pure poppy on the petals and olive twist on the stems. I spritzed lightly before stamping then blended further with a paintbrush on the paper. I used the same technique on the purple flowers in the second card but worked on hot pressed watercolour paper.
For the vintage and collage details on the card I above I used olive twist and fine linen inks to add painted areas, stamped text, splatter and blending with a brush.
The flowers above are stamped in pale peony, royal velvet and olive twist and I stuck with fine linen and royal velvet as the inks on the layered areas also.
I've listed all the stamps I used to add texture and interest to the floral panel and the layers underneath. You can see some of my favourite 'filler' stamps including French script and global postmarks. I also splattered water and white paint for some watermarks and subtle blots!
To finish both cards I punched a couple of holes in the top to thread some fabric through. I didn't have a cream silk or sheer ribbon so I ripped some strips of what might be silk but I can't remember. The ripped edge worked fine with my vintage layered look.
(Compensated affiliate links used when possible)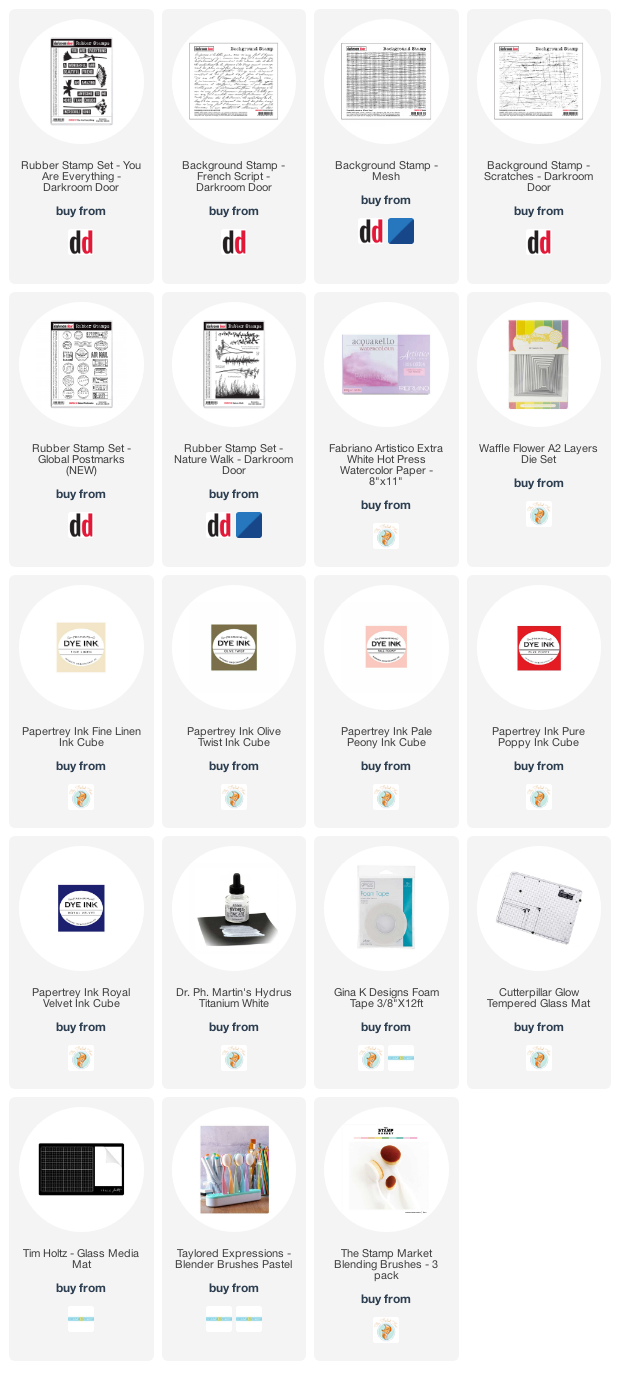 ---