Posted: February 14, 2022
Filed under: Art Journal, gel press, Hand drawn
| Tags: Art Journal, Dr Ph Martin Hydrus watercolor paints, gel printing
6 Comments
While creating art journal pages lately I've noticed that they often look a bit rubbishy until the end or just before the end! It's a good thing to keep in mind throughout the process, especially as the process sometimes stretches over a few days.
I started this page while I was at Crop A While and a friend looked over at me and said, "Heather is having fun playing with toilet paper!" For the record I was having fun with tissue paper not toilet paper! Working in the 6″x 6″ Dina Wakley journal I glued crumpled tissue paper over the whole spread with gel medium, scrunching it as I went to make folds and texture over the pages. (it didn't look at all special at this point)
Later I used my Dr Ph Martin's hydrus watercolours to drop blue, yellow and red ink over the pages. I worked one ink at a time tilting and diluting the ink so it would spread over and around the crumpled paper. (still underwhelming)
I let the watercolours dry and left the page for several days. The colours were bright and there were some nice blends and patterns but too bright for me so I painted over the spread with white gesso. My aim was not to totally cover the watercolours but to soften their impact and highlight the texture of the paper. I used my fingers to move the paint and a baby wipe to remove it where it was too thick. (looking better but still messy)
Settling on a focal point for an art journal page is sometimes hard; I don't always begin with one in mind. You won't be too surprised to see I chose flowers. I have a box of gel printed panels, some on rice paper and some on light card or computer paper. I found several prints on rice paper that matched the colours on the page and doodled flowers and leaves on them with a permanent black marker. I cut them out and started arranging them on the pages. (it was beginning to show promise)
After quite a few rearrangements I glued down the flowers and leaves making sure I didn't cover up all the yummy colour and texture but also didn't cover up the important white space. (it was finally looking ok) With the elements in place I continued to doodle more foliage on the pages including a border around the whole spread. I scribbled some thoughts around the flowers then splattered gold paint over the finished pages.
I am very happy with the final result but had no idea it would end up like this. At one point during the process I thought, "hmmm, I don't think I'll do this technique again…"
But I will.
Supplies
(Compensated affiliate links used when possible)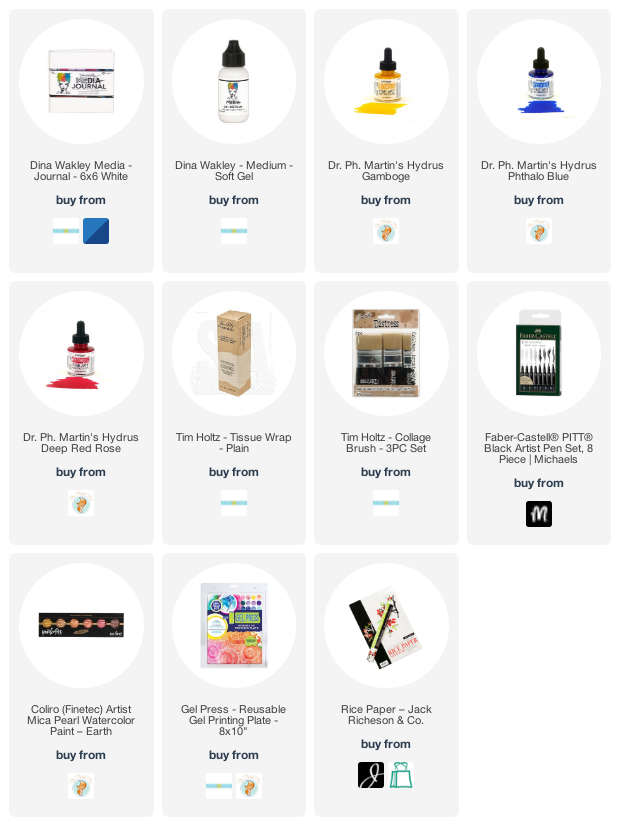 ---