Under the same sky
Posted: March 23, 2021
Filed under: Darkroom Door, long distance, vintage planes
| Tags: Darkroom Door stamps, Dr Ph Martin Hydrus watercolor paints, Fabriano Watercolour Paper, Tsukineko Versafine inks
7 Comments
After pairing the cool new 'long distance' sentiments from Darkroom Door with a map stamp I took another look at the strip of sentiments (there are eleven) and picked out a couple that would work with planes and a sunset sky. I must admit my matchy-matchy side was pretty happy these two sentiments are in the same font and the three on my map card were also in the same font.
I taped a piece of hot pressed watercolour paper to my glass mat and painted six colours from top to bottom of the panel with plenty of water to dilute and mix the colours as I went. I used the Dr Ph Martin's Hydrus watercolours for the sky and the colours are linked below. I put only a drop of each in wells of the palette then added three or four drops of water. Considering the paint brush was also dipped in water before picking up paint you can see these liquid watercolours are highly pigmented. I painted the whole panel twice starting with the phthalo blue each time and finishing with the gamboge. While the panel was still wet I scrunched up a tissue and dabbed paint off. You can see the tissue takes out a lot of colour bringing the dabbed area almost back to white.
Once the panel was totally dry I trimmed it and stamped two planes from DD vintage planes and two sentiments in versafine clair nocturne before embossing over the black ink in clear powder.
I was thinking about a comment my dad left on the long distance + map card about the recipient being able to return the same message to the sender on receipt of the card and I wondered about a 'send it on' idea. It is a bit different to what my dad suggested but instead of writing in the card I will write on a piece of loose paper inside the card and suggest the recipient remove my note and add one of their own before sending the card on to another person. For fun the senders and recipients could note their names on the back of the card. Hmmmm, perhaps I should try it with the map card and maybe this one too.
(Compensated affiliate links used when possible)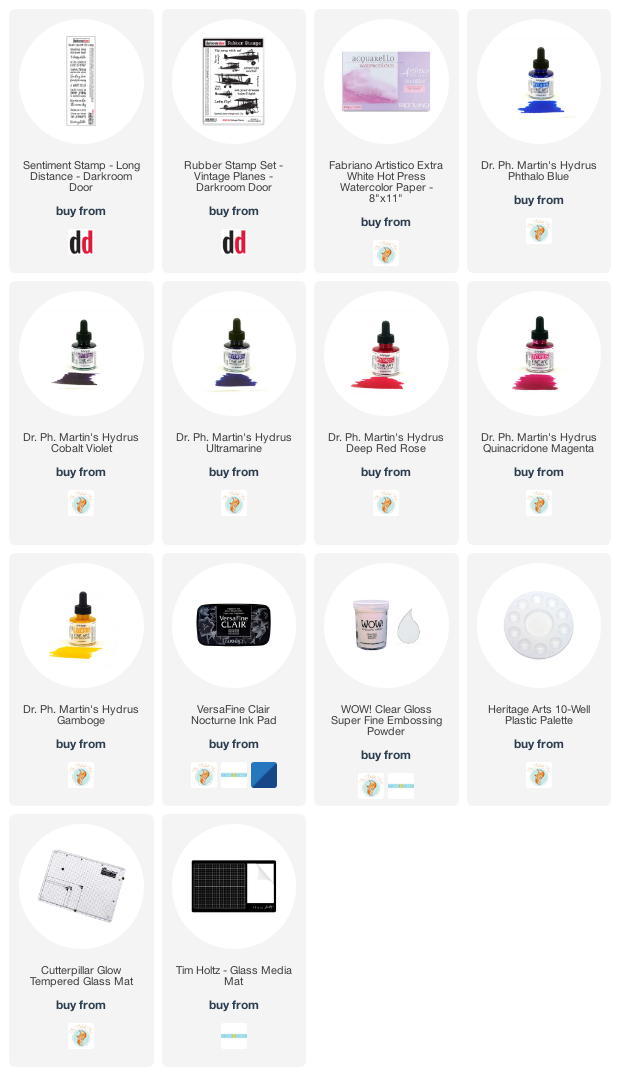 ---