Posted: September 2, 2020
Filed under: Inktense pencils, magnolia blossoms, My Favorite Things, Tutorial
| Tags: Gina K inks, Inktense, My Favorite Things, Tsukineko Versafine inks
11 Comments
This is a card which changed shape and style several times before it turned into the design you see above. The watercoloured flowers and the green stamped flowers are from the same MFT 'magnolia blossoms' set.
I almost didn't keep making the video as I made mistakes and alterations but the point of the video was the no-line colouring not the card layout so I kept going. I used Gina K's 'barely there' amalgam ink to stamp the flowers; the ink is a pale peach colour which almost disappeared with both the purple and the green watercolouring. I used Derwent Inktense pencils for the no-line watercolour shading an area lightly and minimally before blending the ink to fill the petal or leaf.
My initial layout for the painted panel involved both stamps from the set but you see in the video a series of unfortunate events caused me to slice up the first panel, add another flower and come up with the layout you see below.
One thing I didn't initially plan was the simple green stamping behind the coloured panel but I'm glad I tried it. These stamps are definitely stunning when left uncoloured in their simple outline beauty.
Supplies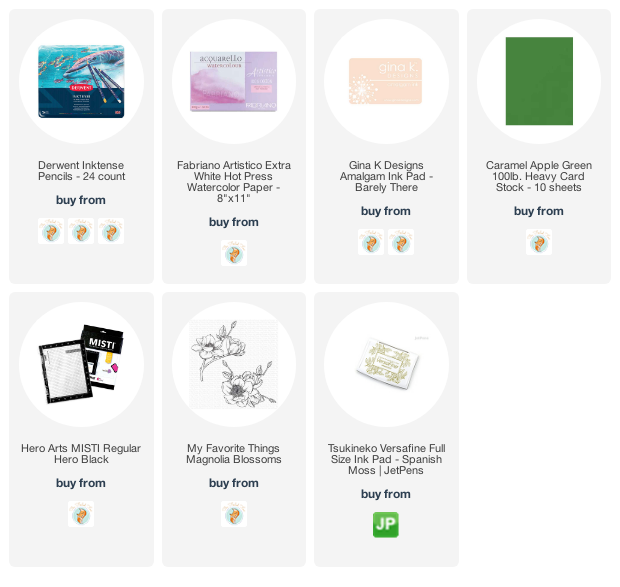 ---
Posted: August 26, 2020
Filed under: magnolia blossoms, My Favorite Things
| Tags: Dr Ph Martin Hydrus watercolor paints, Fabriano Watercolour Paper, My Favorite Things, Tsukineko Versafine inks
6 Comments
I have teamed up with the Foiled Fox again to bring you these pretty purple blooms made with My Favorite Things, 'magnolia blossoms' stamp set. The set contains two stamps; I have used one, stamped three times. To hide one bloom behind another I stamped a mask first on masking paper. I worked on hot pressed watercolour paper, stamped in versafine clair nocturne and embossed in clear powder.
I painted both the sky and the flowers with Dr Ph Martin's Hydrus watercolour paints. They are highly pigmented so I added a droplet of each colour to a palette then added water. I describe the whole process on the Foiled Fox blog today so pop over there to learn more and take a look around.
The sentiment is also from a MFT set, 'brushstroke expressions' stamped in nocturne and embossed in clear for a little shine. See that little pop of yellow in the centre of the blooms, it's what I call a booster in my new 'Colour Clues' class. If you want to know more, click here.
Supplies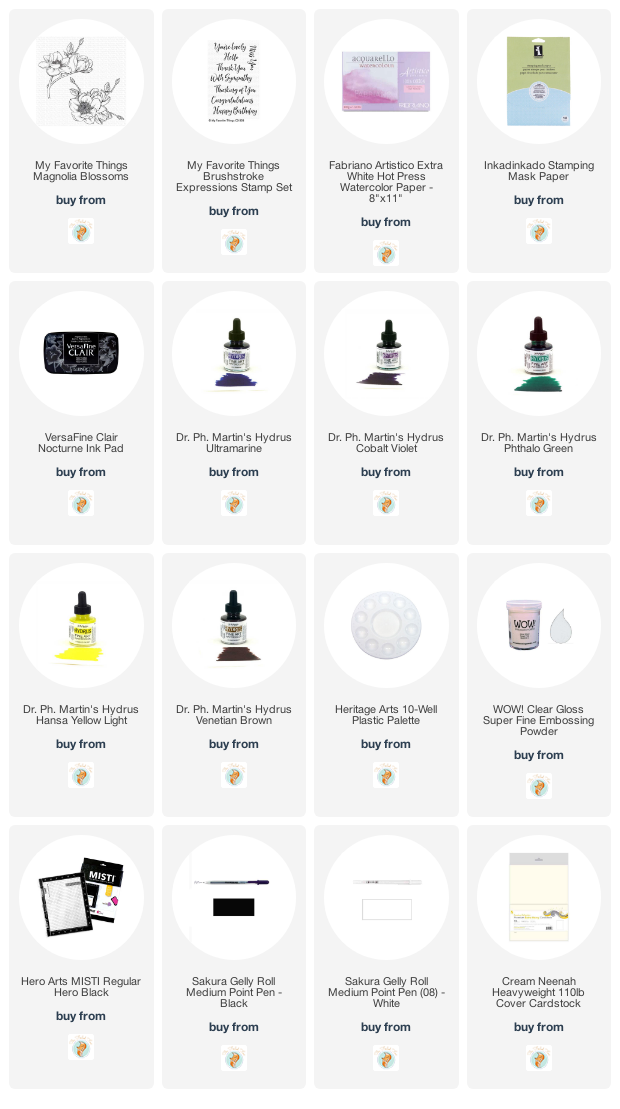 ---