No-line watercolour Magnolias -video
Posted: September 2, 2020
Filed under: Inktense pencils, magnolia blossoms, My Favorite Things, Tutorial
| Tags: Gina K inks, Inktense, My Favorite Things, Tsukineko Versafine inks
11 Comments
This is a card which changed shape and style several times before it turned into the design you see above. The watercoloured flowers and the green stamped flowers are from the same MFT 'magnolia blossoms' set.
I almost didn't keep making the video as I made mistakes and alterations but the point of the video was the no-line colouring not the card layout so I kept going. I used Gina K's 'barely there' amalgam ink to stamp the flowers; the ink is a pale peach colour which almost disappeared with both the purple and the green watercolouring. I used Derwent Inktense pencils for the no-line watercolour shading an area lightly and minimally before blending the ink to fill the petal or leaf.
My initial layout for the painted panel involved both stamps from the set but you see in the video a series of unfortunate events caused me to slice up the first panel, add another flower and come up with the layout you see below.
One thing I didn't initially plan was the simple green stamping behind the coloured panel but I'm glad I tried it. These stamps are definitely stunning when left uncoloured in their simple outline beauty.
Supplies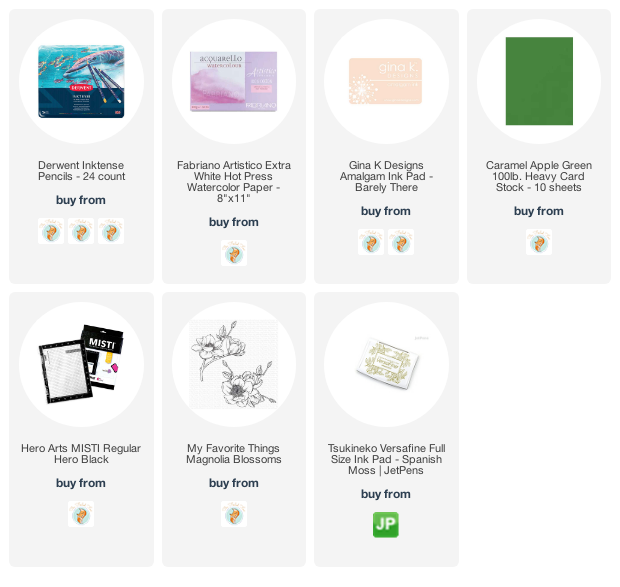 ---