Posted: April 17, 2019
Filed under: Art Journal, Concord & 9th, dots and hearts, Feathered stamp set, fine line florals, Inktense pencils, songbird
| Tags: Art Journal, Concord & 9th, Fabriano art journal, Inktense
5 Comments
I've been experimenting in my journal again featuring some new and old stamps from Concord & 9th. Once again I had an idea in my head and although this does not look like my original idea, I'm very happy with the vibrant look of the massed flowers. I haven't put any words on this page yet and possibly wont. Now if you are not an art journal type of person, hang in there, I have cards made with the new 'fine line florals' set coming over the next few weeks.
As I mentioned last time a couple of my journals do not have watercolour pages, this one is drawing paper. Sometimes I paint my pages with gesso or absorbant ground before I start or glue other papers to the page. I've also glued two pages together a few times to make sure liquids don't soak through the page. The glued pages are very bulky and bumpy though so I don't think I'll keep that up. With this page I wanted to see if I could add watercolouring to an untreated page without it soaking through, breaking down the page or seeping outside the stamped images. Even though I love watercolouring with distress inks or stains I thought they might be too wet. I decided instead to used inktense pencils as I hoped to get vibrant colour with limited water.  I tried picking up colour from the pencil lead with a wet brush and painting it into my stamped images as well as colouring the image with the pencil then adding the water over the top. I preferred the look of the former method. When I coloured directly on the page it was more likely that I would end up with shading lines or the colour would seep outside the stamping once I added water. I did get some paint soaking through the next page of the journal so I'll cover that up with my next spread.
The big flowers are part of a large multiflower stamp from the new C&9 set, fine line florals. I stamped it three times on my journal double page but the page doesn't sit flat so I was not able to get perfect prints. I was using the fiskars stamp press on the flatter right hand page but used my hand to press the stamp on the bumpy left hand page and tried to do the stamping across the centre of the two pages in two steps while masking the left then right. I kept going even with my patchy stamping and used micron pens to add in missing lines and trace over the pale stamping. I wondered whether the lines I added would be obvious but once all the colour was added it was hard to tell the difference between the stamped and the hand drawn outlines.
The other stamps in my floral explosion are a feather from the C&9 'feathered' set and leaves, flowers and little sprays from the C&9 'songbird' set. I did several layers of colour on the large flowers, letting it dry after each one but just one layer on the leaves, little flowers and feathers. The dots were distress inks sponged through a homemade die cut vellum stencil made with C&9 'dots and hearts' die.
I also did quite a bit of splattering by flicking a wet brush across the lead of the inktense pencils. I added black outlines as I did the watercolouring but when all the painting was finished I went over the centre of the flowers drawing little circle centres with the micron pens and adding little white dots here and there with a white gel pen. To frame the spread I drew a squiggly frame with in black then added some black soot distress stain splatter here and there.
I had fun with this spread and learnt a few things along the way. Hope you are having a great day; thanks for spending some of it here on my blog.
---
Posted: March 15, 2019
Filed under: bouquet ballet, Inktense pencils, Penny Black, Uncategorized
| Tags: Hand lettering, Inktense, Kuretake Gansai Tambi watercolour paints, Penny Black stamps
16 Comments
This little bouquet is one of my favourites from the recent Penny Black release. With its combination of flowers I thought it was perfect for wrapping up my current giveaway with the Foiled Fox. All you have to do to enter is visit my earlier post or The Foiled Fox post and leave us a comment telling use your favourite flower. We will close the comments on Sunday night and announce two winners next Tuesday.
I'm not absolutely sure what the flowers are in this bouquet, perhaps a hydrangea, a couple of poppies and some little bell shaped flowers. Once again I embossed the outline stamp with platinum powder; it's so classy, I just keep choosing it. I stamped off the edge twice to get a border design and used Inktense pencils for the watercolouring.
I built up colour on the pink flowers and leaves in layers letting each one dry before adding another. On the blue flower I painted it all pale blue then added dots of the same blue pencil to the centres. I painted around the outside of the bouquets with a mustard pencil and blended it out to nothing with water. I added some fine splatter over the flowers using the same pencils.
Inspired by a beautiful hand lettered sentiment on of Shauna's recent cards I used a dip pen and wrote the sentiment in gold ink on a strip of co-ordinating cardstock. I splattered some of the same champagne gold gansai tambi ink over the panel before putting the card together with a gold mat and a burgandy card base.
Supplies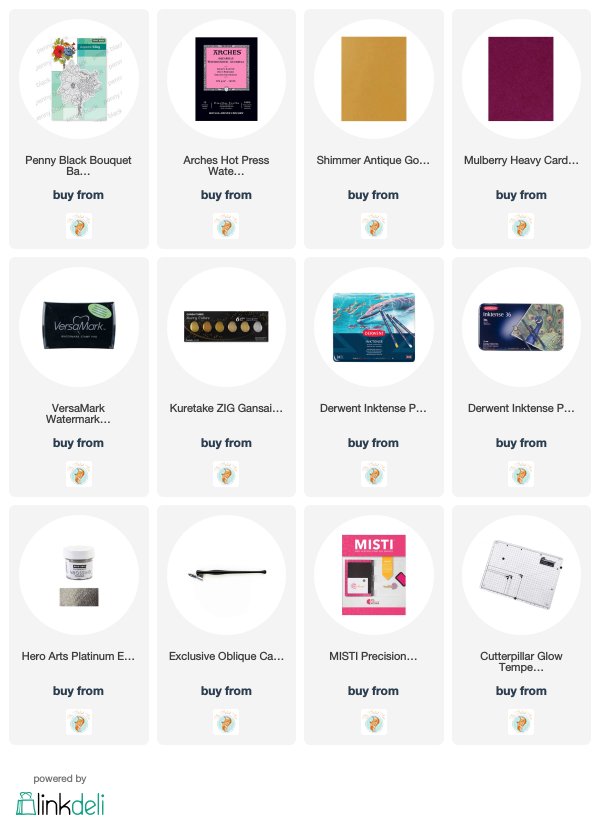 ---
Posted: February 21, 2019
Filed under: Inktense pencils, Penny Black, rose garden
| Tags: Inktense, Penny Black stamps, Tsukineko Versafine inks
7 Comments
I am hanging out on the Foiled Fox blog today with some new Penny Black floral loveliness along with some new to me inktensity!
I have been trying out some inktense pencils lately. Friends have raved about them and Shauna from the Foiled Fox loves them and kindly sent me some to try. Inktense pencils and blocks are permanent once dry so it is possible to blend then add another layer without diluting the first layer. Some watercolours are not permanent so they blend with subsequent layers applied. I was happy to see how easy it is to 'paint' with these pencils.
I stamped the roses on cold pressed watercolour paper in versafine clair nocturne ink. I picked out four inktense pencils in red/pink tones and painted each rose in one colour starting with a pale wash then gradually adding more of the same color to build up shadows around the petals.I painted the leaves in green again adding a second layer for extra depth. The planter pot is painted with charcoal grey and bark inktense pencils. I was rather happy with the combination of these colours which I chose randomly. I wanted the planter to look a bit like galvanised iron.
To create the look of wood paneling in the background I ruled some lines with the charcoal inktense pencil then blended the lines with a paintbrush and water. To ground the tub of roses I ruled some lines to look like a table or bench and again blended between the lines and painted shadow around the planter.
To finish off the card I added a sentiment from the new 'PB 'grateful sentiments' set in  nocturne ink. I love sets like this one; there are two large words then a whole bunch of phrases that co-ordinate. So many options!
Supplies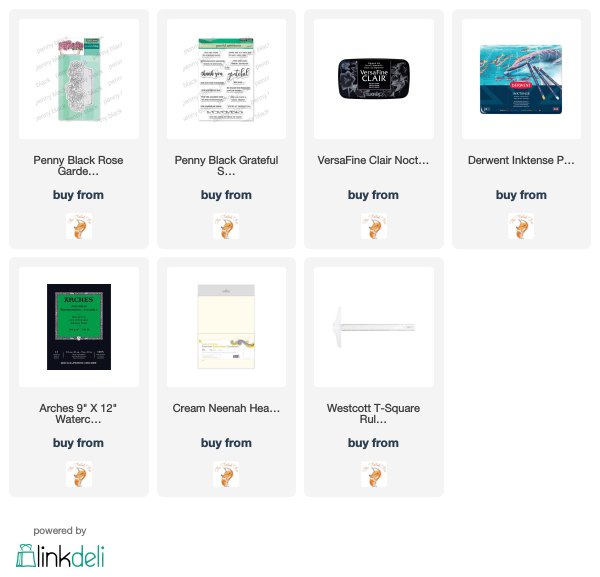 ---