Meadow blossoms gone tropical
Posted: April 15, 2020
Filed under: Inktense pencils, meadow blossoms, Peerless watercolours
| Tags: Concord & 9th, Gina K inks, Inktense, Peerless Transparent Watercolors
9 Comments
I am over on the Foiled Fox blog today sharing these pretty flowers from Concord & 9th and some no-line watercolour. Make sure you head over there for more details, then take a little stroll through the inspiration on their blog.
It wasn't my intention to create a tropical looking card but that is absolutely what happened wouldn't you agree? I chose three colours, geranium pink and alizarine pink from my set of Peerless watercolours and sea blue from my Inktense pencil set. All three colours ended up being bolder than I expected. I stamped flowers from the C&9th 'meadow blossoms' set in Gina K's amalgam ink, 'barely there' which is a pale buttery colour, great for no-line watercolour.
There are various methods for no-line watercolour; here I  painted water on each petal first then dropped in a little geranium pink at one end of the petal and alizarine pink at the other then blended the two. The leaves I did by colouring one end of each leaf with the inktense pencil before blending blue into the whole leaf. I also used an inktense yellow, to fill the flower centres and a pink to add veins to the petals after painting. I added little black dots to the flowers with a fine tip pen
I embossed the sentiment from the same C&9 set and did some die cutting with nesting circles to add a little interest with a co-ordinating blue cardstock. I hope you enjoyed this little taste of the tropics; as I write this post it is snowing outside. Yep, a little April snow, just to keep us guessing.
As always I love connecting with you in the comments below or over on the Foiled Fox blog.
Supplies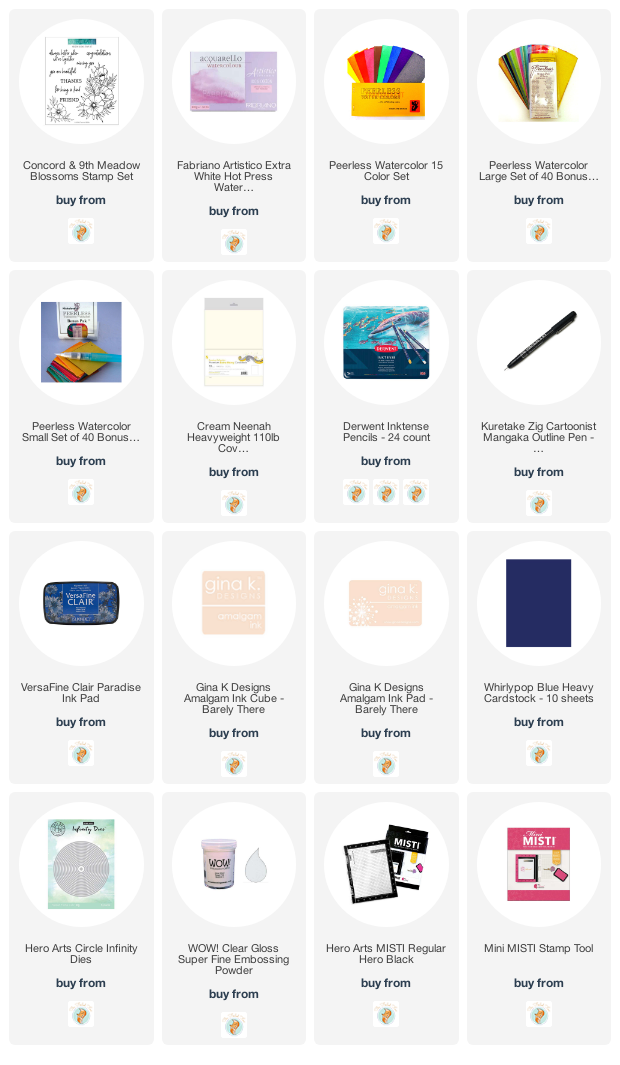 ---