Posted: June 4, 2021
Filed under: Bullet Journal, delight, Dingbat notebooks, Penny Black
| Tags: Bullet Journal, Dingbats notebook, Gina K inks, Penny Black stamps, Staedtler watercolour brush pens
3 Comments
New month, new bullet journal theme. I chose the PB delight stamp because it is just that, delightful. I also tried colouring with markers, just colouring no water blending! The journal pages are very smooth and a decent weight but nothing like watercolour paper so I've been hesitant to do much blending with water. I used Staedtler brush pens which are water-based ink and coloured the flowers and leaves as minimally as possible.
The red tended to go through the paper a bit but only where I had layered ink over ink. I stamped the image first in Gina K obsidian amalgam ink which doesn't bleed when water based ink touches it. Stamping without a stamp positioner is not something I do very often any more, it was a bit nerve wracking but it worked ok. I didn't put the stamp on an acrylic block, I just pressed it down with my hand, that way I could apply pressure to the whole stamp bit by bit.
For the wish & to do list I just stamped in Papertrey 'new leaf' ink and repeated the butterflies for list items. By the way for the first time this year I completed all items my wish & to do list in May! Of course the big item was launching the new online course but there were birthday cards made and sent on time which is rather surprising for me!
I used 'new leaf' ink again on the calendar page along with a pilot fineliner for the grid, a micron pen for the days of the week and staedtler brush pens for the shadows over the letters.
(Compensated affiliate links used when possible)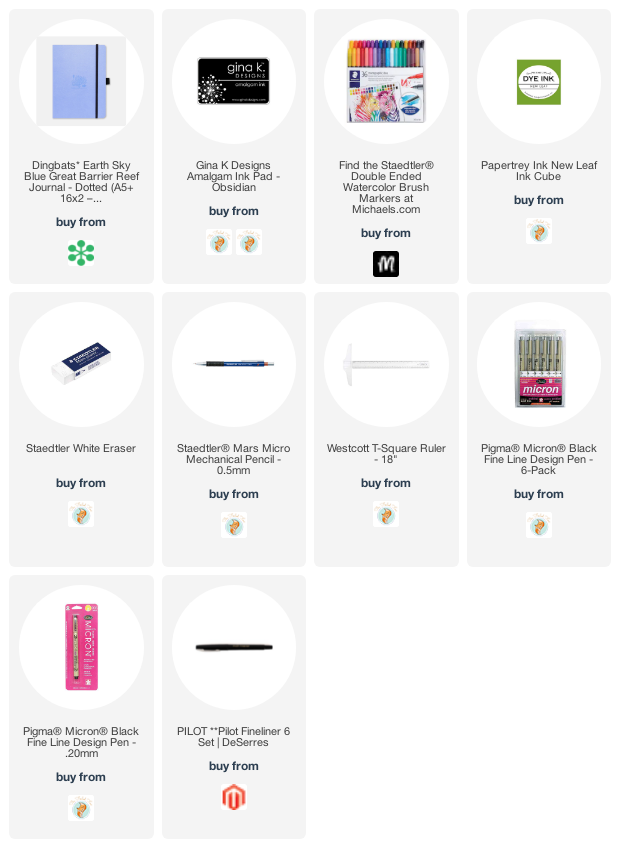 ---
Posted: September 2, 2020
Filed under: Inktense pencils, magnolia blossoms, My Favorite Things, Tutorial
| Tags: Gina K inks, Inktense, My Favorite Things, Tsukineko Versafine inks
11 Comments
This is a card which changed shape and style several times before it turned into the design you see above. The watercoloured flowers and the green stamped flowers are from the same MFT 'magnolia blossoms' set.
I almost didn't keep making the video as I made mistakes and alterations but the point of the video was the no-line colouring not the card layout so I kept going. I used Gina K's 'barely there' amalgam ink to stamp the flowers; the ink is a pale peach colour which almost disappeared with both the purple and the green watercolouring. I used Derwent Inktense pencils for the no-line watercolour shading an area lightly and minimally before blending the ink to fill the petal or leaf.
My initial layout for the painted panel involved both stamps from the set but you see in the video a series of unfortunate events caused me to slice up the first panel, add another flower and come up with the layout you see below.
One thing I didn't initially plan was the simple green stamping behind the coloured panel but I'm glad I tried it. These stamps are definitely stunning when left uncoloured in their simple outline beauty.
Supplies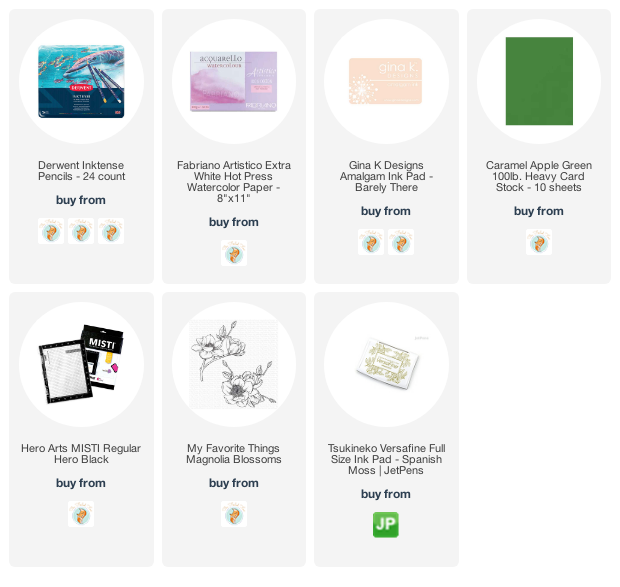 ---
Posted: April 15, 2020
Filed under: Inktense pencils, meadow blossoms, Peerless watercolours
| Tags: Concord & 9th, Gina K inks, Inktense, Peerless Transparent Watercolors
9 Comments
I am over on the Foiled Fox blog today sharing these pretty flowers from Concord & 9th and some no-line watercolour. Make sure you head over there for more details, then take a little stroll through the inspiration on their blog.
It wasn't my intention to create a tropical looking card but that is absolutely what happened wouldn't you agree? I chose three colours, geranium pink and alizarine pink from my set of Peerless watercolours and sea blue from my Inktense pencil set. All three colours ended up being bolder than I expected. I stamped flowers from the C&9th 'meadow blossoms' set in Gina K's amalgam ink, 'barely there' which is a pale buttery colour, great for no-line watercolour.
There are various methods for no-line watercolour; here I  painted water on each petal first then dropped in a little geranium pink at one end of the petal and alizarine pink at the other then blended the two. The leaves I did by colouring one end of each leaf with the inktense pencil before blending blue into the whole leaf. I also used an inktense yellow, to fill the flower centres and a pink to add veins to the petals after painting. I added little black dots to the flowers with a fine tip pen
I embossed the sentiment from the same C&9 set and did some die cutting with nesting circles to add a little interest with a co-ordinating blue cardstock. I hope you enjoyed this little taste of the tropics; as I write this post it is snowing outside. Yep, a little April snow, just to keep us guessing.
As always I love connecting with you in the comments below or over on the Foiled Fox blog.
Supplies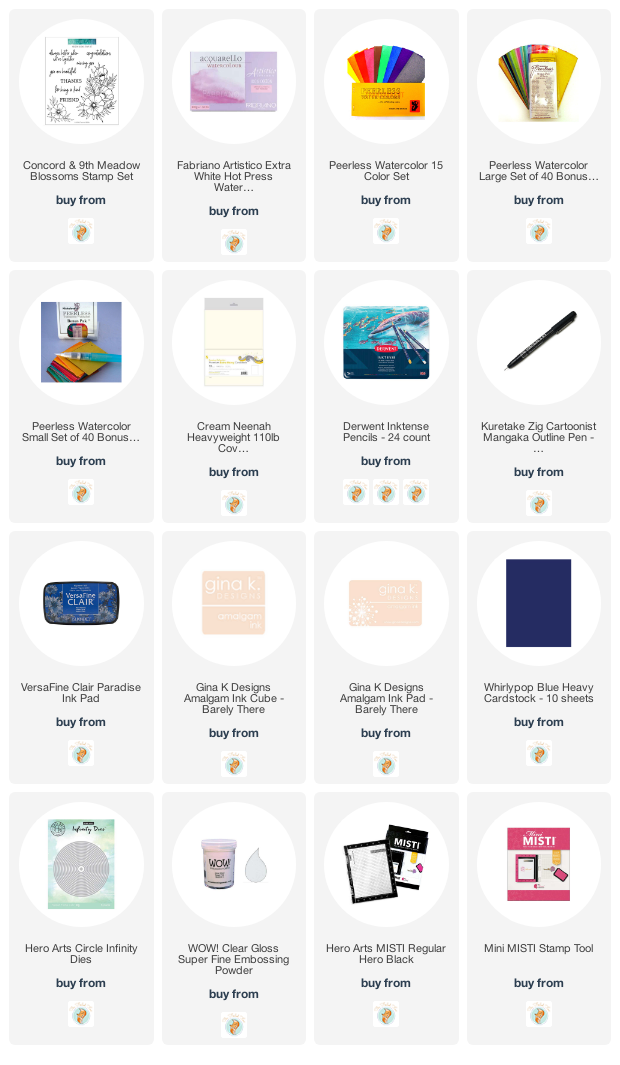 ---