Posted: June 7, 2023
Filed under: good day bouquet, Penny Black, Time
| Tags: Fabriano Watercolour Paper, Penny Black stamps, Ranger Distress inks, Staedtler watercolour brush pens
3 Comments
Good day bouquet is a pretty vase stamp from Penny Black. I used a strip of hot pressed watercolour paper and kept the deckled edge which is on the large sheets I buy then cut into smaller pieces for card panels and other projects. I smooshed uncharted mariner and lost shadow distress inks on my glass mat, diluted it with water then swiped the watercolour panel through the ink. There was a fine splatter of masking fluid on the panel which is most noticeable on the side of the vase.
I chose to use water-based brush markers to colour the stamp. As the distress markers are being discontinued I have been testing out alternatives for inking stamps. Water-based markers can be helpful in inking small areas on a stamp. For the flowers, leaves and stems I used Staedtler water-based markers; the pack I bought has 36 colours so I was able to use three different pinks for the flowers and a couple of greens for the stems. I used uncharted mariner for the vase and then later for the 'time' stamps I added to the background. When I ink my stamps with markers I spritz the stamp before pressing it onto the panel and sometimes blend the stamped image with water also. I inked the centres of the flowers with black, then after stamping used the small tip end of the black marker to add more detail.
To finish I added some water splatter which I dabbed away with a paper towel and some ink splatter because you know I love to splatter! If you are in Ottawa don't forget you have the opportunity to pick up some crafty bargains this weekend at the Saturday garage sale, details below.
(Compensated affiliate links from Foiled Fox & Scrap n Stamp)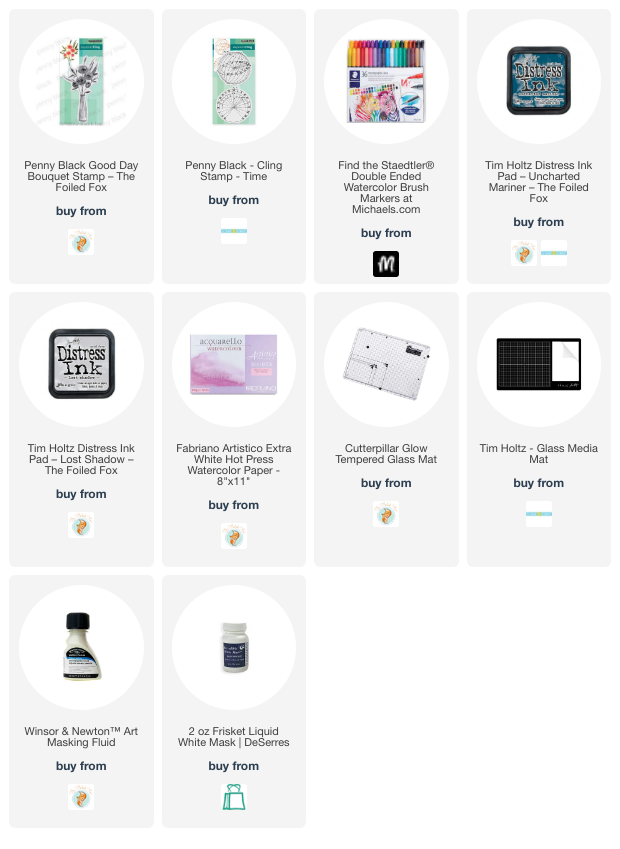 ---