Posted: June 29, 2020
Filed under: Finetec paints, grafix, My Favorite Things, Penny Black, the ride
| Tags: Finetec artist mica watercolour paint, grafix craft plastic, My Favorite Things, Penny Black stamps
4 Comments
What better subject for shimmer on black than a shiny little scooter. 'The Ride' is a PB rubber stamp. Once again I had trouble catching the real shine on camera but there is shimmer and shine in real life when the light catches it. I embossed with alabaster embossing powder from Brutus Monroe and made sure I kept the heat tool moving while I embossed so as to not buckle the craft plastic.
I used the new black craft plastic from Grafix to show off the little scooter and painted with pearlescent paints from the Finetec Artist Mica Watercolor Pearlescent paint set.
Painting on the craft plastic is very smooth and particularly straightforward with an embossed image. I also did some detail on the tires and black sections with a grey pencil but it was hard to capture that in my photo.
I wanted to highlight the little orange flowers so cut a mat and a sentiment strip from orange cardstock. The words are from the MFT 'All About You' set.
Supplies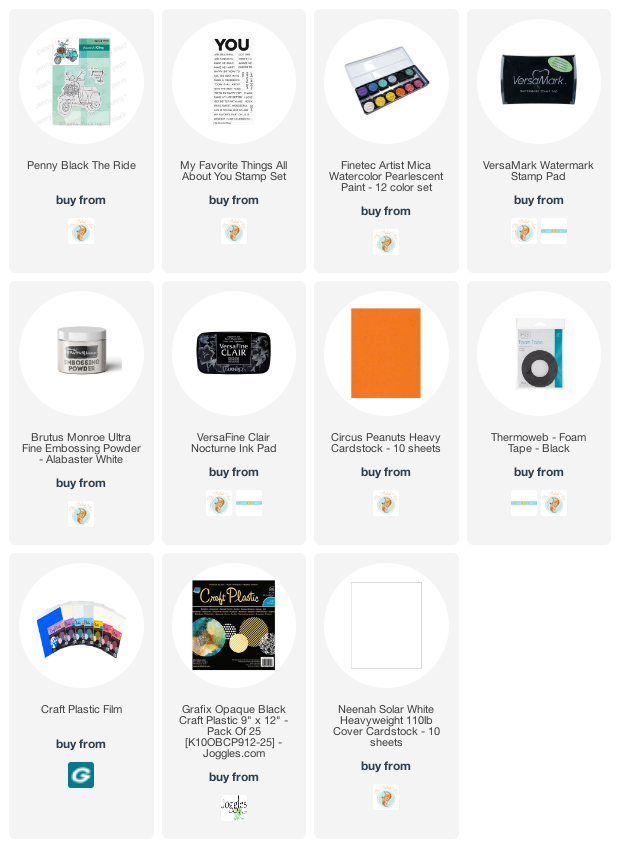 ---
Posted: June 19, 2020
Filed under: Coliro paints, Finetec paints, grafix, Penny Black, splendiferous
| Tags: brutus monroe embossing powder, Coliro paints, grafix craft plastic, Penny Black stamps
12 Comments
Introductions are necessary, I have a new crafting surface to share with you. Opaque black craft plastic has just been released by Grafix and I found it to be a perfect base for pearlescent paint. It was tricky to photograph but I think you can see the shimmer in the both the paint and the gold card base. Here is a video of my process.
The craft plastic also comes in white which I've used successfully with alcohol inks. I can't wait to try the new Ranger Alloy inks on the black.
Grafix gave me the opportunity to try the black craft plastic and I had fun with the alcohol inks and paint markers as well as the pearlescent paints shown here. I'll be sharing more projects in the future and I will be asking my favourite stores if they can carry this new product.
Supplies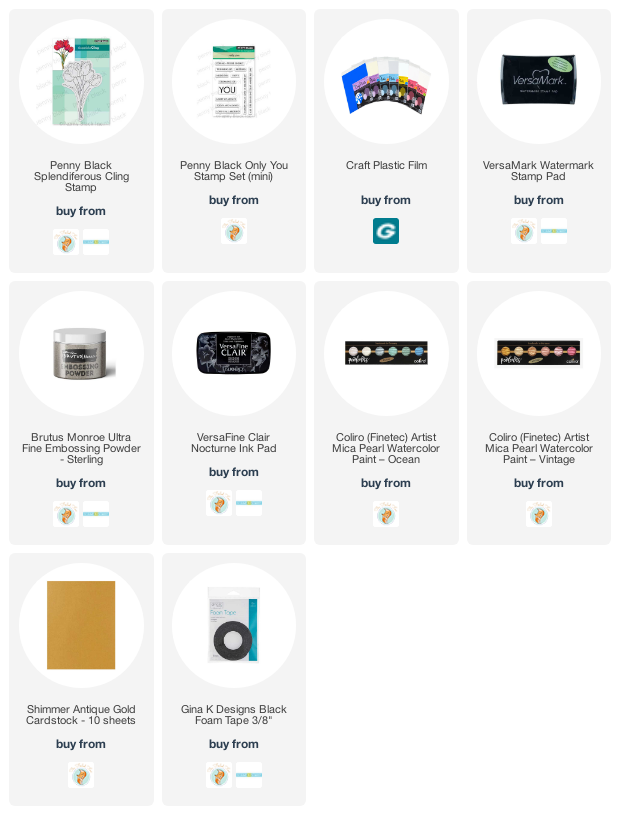 ---