Posted: June 17, 2021
Filed under: Art Journal, gel press, Waffle Flower
| Tags: Fabriano art journal, gel press, gel printing, gelli plate, Waffle Flower dies
5 Comments
Continuing my week of gel prints you might see a resemblance between yesterday's projects and todays. I posted large cityscape projects yesterday made by masking areas of the gel plate with paper rectangles cut from stiff magazine paper. Some of the masks had little shapes cut from them with dies. I used the magazine masks over and over on several prints and experiments so by the end they were covered in paint and way more interesting than they started out.
Rather than save the masks or throw them away I turned them into a city scape art journal page. Once again my scraps are prettier than some of my prints! Every time I brayered a new colour onto the gel plate I lay the rectangle masks paint side down so they ended up picking up paint, pattern and texture while occasionally letting a bit of text or photo show through.
The background sky was done with distress sprays, a few blues and a black (listed below) spritzed over the open spread to cover the top half of both pages.
Once the sky was dry I arranged and rearranged the 'buildings' so I would have contrasting heights and colours across the scene. Some of the tiny shapes die cut from the masks also had paint on them so I used a few as doors on this scene. The windows are all cut outs revealing some of the prints underneath. I used matte medium and a Tim Holtz collage brush to glue everything down then decided to outline the shapes with gel pens to separate them a little more.
This art journal design was one of those rare ones that turned out as I imagined it might. Doesn't always go that way!
I mentioned a couple of days ago I am appearing on Craft Roulette Live Improv show on Friday night. I'd love to see you there if you are free. You can hop on the chat and say hello. The details are here and here
(Compensated affiliate links used when possible)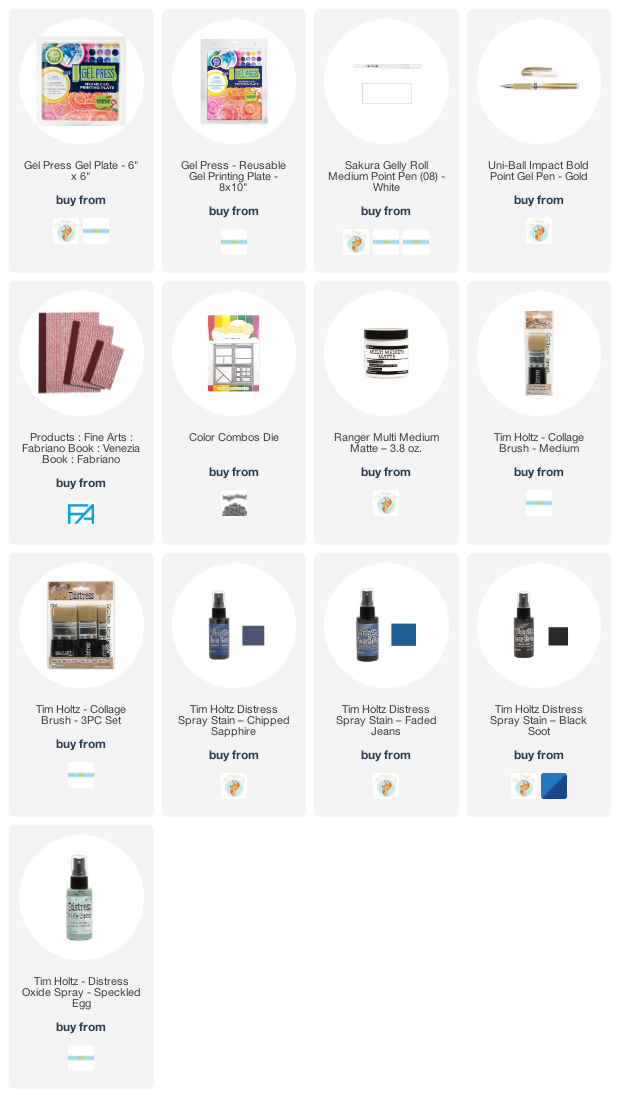 ---