Posted: November 2, 2020
Filed under: all the birthdays, Brusho, Colorado Craft Company, Concord & 9th, Daisy & Dahlia, Papertrey Inks
| Tags: Colorado Craft Company, Concord & 9th
7 Comments
This bunch of flowers is a single large stamp from the Colorado Craft Company and I'm over on the Foiled Fox blog today describing how it inspired me. It's called 'daisy & dahlia' and it is from the 'big and bold' collection.
For this square card I chose autumn tones, because despite that sprinkle of snow we had last week it is definitely still autumn. I used Papertrey ink cubes which are very juicy and blend well with water after they're stamped on watercolour paper.
I used one of the inks from the floral panel to stamp a bold birthday square with one of the stamps from Concord & 9th's 'all the birthdays' set.
On my second card I used a similar colour scheme but threw in the contrast of purple paint. I embossed the stamp on a rectangular panel with platinum embossing powder then sprinkled four different colours of brusho powder strategically on the panel.
If you have used brusho powders at all you will know you can't really be very strategic; it goes where ere it will! I still ended up with a red flower, an orange flower and a purple flower but my favourite bits are the ends of the petals that ended up multicoloured.
Once again I chose stamps from the C&9 'all the birthdays' set to create a purple sentiment band trimmed in quartz shimmer cardstock.
An idea I have yet to try with this big beauty is to stamp it in one colour to highlight the detail of the design. Make sure you pop over to The Foiled Fox for more details and tips on these cards and techniques.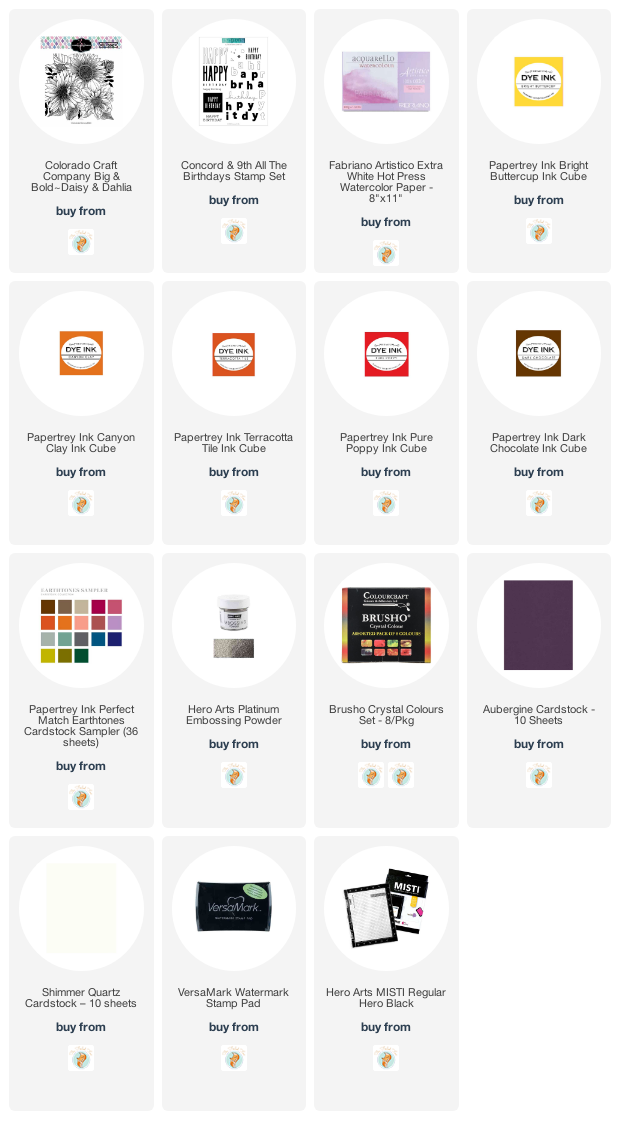 ---
Posted: October 16, 2020
Filed under: all the birthdays, Brutus Monroe, Concord & 9th, meadow blossoms, Papertrey Inks
| Tags: Concord & 9th, Fabriano Watercolour Paper, Kuretake Zig clean color real brush markers, Papertrey ink
4 Comments
Even as my flowers fade and disappear I am still inspired to make floral cards. I've teamed up with the Foiled Fox today to share a blog post here and over there. If you are looking for all the creative process details pop over to the Foiled Fox blog. Today's card features the C&9 'all the birthdays' set again. It has only been in my house a week or so and already it has helped me out several times. Having one set with at least ten different ways to stamp happy birthday is a winner. There are probably more than 20 combinations when you look at all the separate word stamps and single letters in the set.
I wanted to combine a background image with a sentiment and ended creating my own background by repeat stamping with two stamps from the Concord & 9th 'meadow blossoms' set. Before heating the panel I stamped the word HAPPY from the new C&9 'all the birthdays' set. I embossed with copper powder then coloured with ink from Papertrey ink cubes. The ink cubes are very juicy so I often smoosh them on my glass mat then pick up ink with a paint brush.
I filled the background with a grey zig clean color real brush pen and blended it with water. To complete the card I matted with with the dark blue cardstock I keep reaching for and finished the sentiment on a strip of the same blue. Having this new birthday set has got my birthday card production back on track. I have no excuses for not sending out birthday cards. Thank you Foiled Fox!
Supplies
---
Posted: October 7, 2020
Filed under: A2 layers, Additional A2 layers, all the birthdays, CAS, Concord & 9th, nesting squares, Waffle Flower
| Tags: Concord & 9th, gel press, gel printing, Ranger archival inks, ranger embossing powders, Tsukineko Versafine inks, Waffle Flower dies, WOW embossing powders
4 Comments
I made a short stack of birthday cards yesterday with a new Concord & 9th set, 'All the Birthdays'. I pulled out several prints from earlier gel printing sessions and chose some which would work as panels for birthday cards.
On the card above I used ranger blue embossing powder and the card below versafine tulip red was the perfect match for my printed background.
Some were printed using the petite set A gel presses so they were already shaped as squares. Others I cut from larger prints. I used stencils and lace to make the prints and a range of acrylic paints.
One of the stamp combinations from the C&9 'all the birthdays' is a pair of stamps that overlap to spell 'happy birthday'; there are outline stamps that frame the solid letters also. That is what I used on the card below with gold and brown inks then clear embossing powder.
I also added some texture to a few of the card bases or mats with embossing folders and stencils.
The printed panel below included such pretty blues and purples I wanted to match them in the sentiment so I stamped with archival dusty concord and faded jeans then, before the ink dried embossed in clear powder.
The card below features rose gold embossing powder; it looks a little darker than expected on this panel, maybe because of the depth of colour in the print.
I really enjoyed pairing sentiments from the C&9 set with my leftover gel prints. I did have some embossing challenges though; I'm just not an embossing champion. Stray powder, over heating, underheating, even when I use a powder tool and preheat the heat tool I still make mistakes. This lot took me all afternoon but I am very happy with them and I'm pleased to have boosted my birthday card stash. Now if I can just remember to send them…
Supplies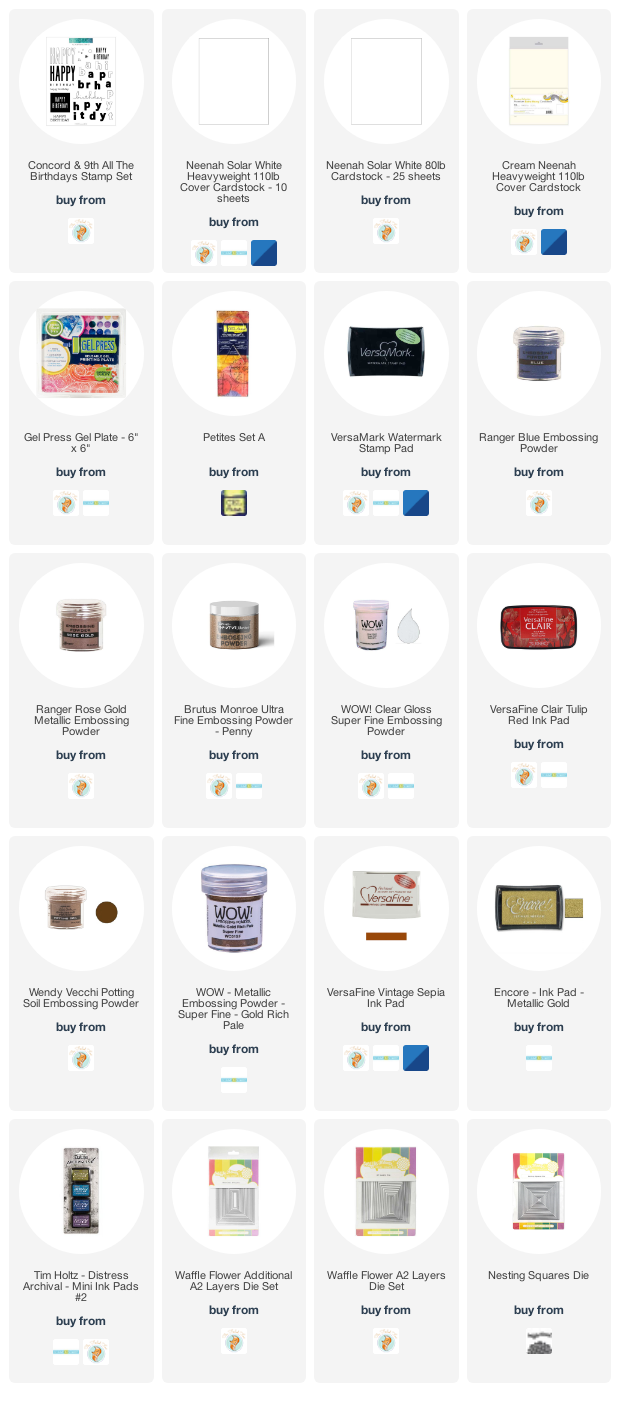 ---