Posted: July 20, 2021
Filed under: companions, Finetec paints, gel press, mountain magic, Penny Black
| Tags: gel press, gel printing, Penny Black stamps
9 Comments
Yesterday I posted a gel printing video where I used both an egg carton and a piece of corrugated cardboard to add texture to my prints. I used a couple of the corrugated cardboard prints to make today's cards.
You can see how I printed this panel in the video. To turn it into a card I used a couple of new stamps from Penny Black. I stamped the mountain stamp five times in browns and blue then inked the rushes with a brown and a blue ink. I love the way it looks like a sunset or sunrise because of the background print. It wasn't something I tried to create but a possibility I saw when looking at the prints.
The print below was made with the same piece of corrugated cardboard pressed down on the gel press twice to create a grid pattern. You can see the process in yesterday's video. I decided to stamp flowers on it as an experiment. I knew it might be too much pattern but I wanted to try. I stamped and embossed the Penny Black 'companions' stamp in versafine clair nocturne ink and it looked bold just as an outline.
By painting inside the flowers I was able to separate them from the background enough to make them a feature not a competitor with the very busy grid pattern. I used a couple of layers of pearlescent paint on the flowers but quite diluted pearlescent black on the leaves and jug.
Tell me what 'recycled' items you have used for gel printing. I am keen to print with 'all the things'! To be honest gel printing is top of my list of techniques right now. I hope you enjoyed the two recent gel printing videos. I will definitely make more. Tomorrow I have a couple of cards made from the piece of cardstock I used to clean my brayer. I showed a glimpse of it at the end of the video.
See you soon.
(Compensated affiliate links used when possible)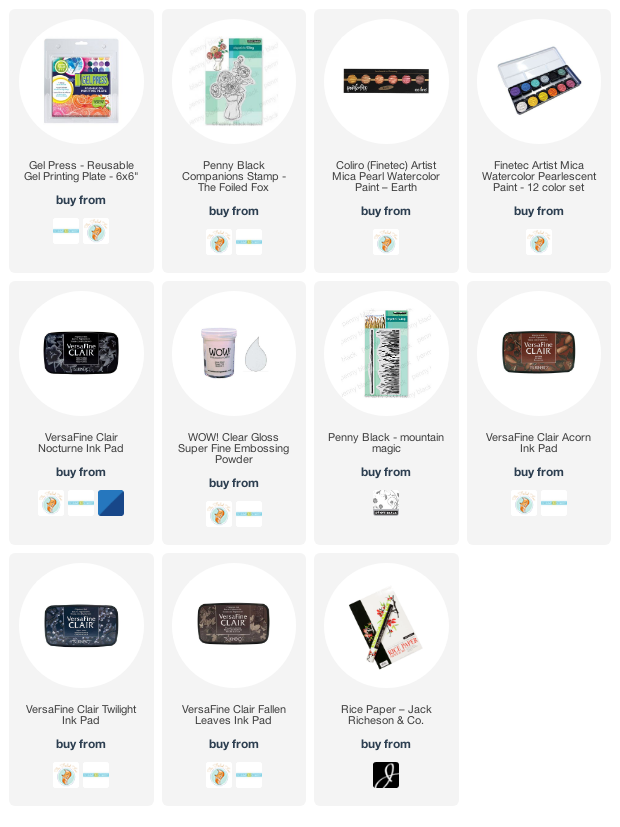 ---
Posted: May 24, 2021
Filed under: Classes, companions, Karin brushmarkers, online class, Penny Black, Tutorial
| Tags: Karin brushmarkers, online class, Penny Black stamps, Tutorial
4 Comments
I have a video and a prize winner to share today but first thank you for participating in the giveaway. I really enjoyed reading what your favourite flower stamps are and I'm planning to go back and read through again and feature some of them in upcoming posts. Several of you named stamps that have been on the blog recently, some of which feature in the new online class FLORAL FAVES. Others mentioned older classics which I hadn't thought about in a while. Dancing Daisies came up several times so I pulled it out and made a sample for the class. But without further ado let me announce the winner of a registration in my new FLORAL FAVES class!
Denise Bryant
Gorgeous card! I love the design and colors! The effect of the layering to frame the design is so pretty!
My favorite flower stamp is Penny Black's 'Together'. It reminds me of the agapanthus plants my grandmother grew in her yard.
Congratulations, Denise, I will be in touch by email.
Another stamp mentioned among the favourites was PB companions which features in today's video.
After watercolouring on bristol cardstock I can recommend it. I wouldn't choose it over hot pressed watercolour paper but it worked well and is more of a bright white, if you like that for your stamping.
Flowers continue to my focus right now as I proof read for the 15th time and put the finishing touches on the lessons in the FLORAL FAVES class ready for Wednesday (when the lessons will be available). I also planted more flowers in the garden over the weekend. I transplanted the morning glories I grew from seed; they look rather spindly but they started out that way last year and ended up a big success.
(Compensated affiliate links used when possible)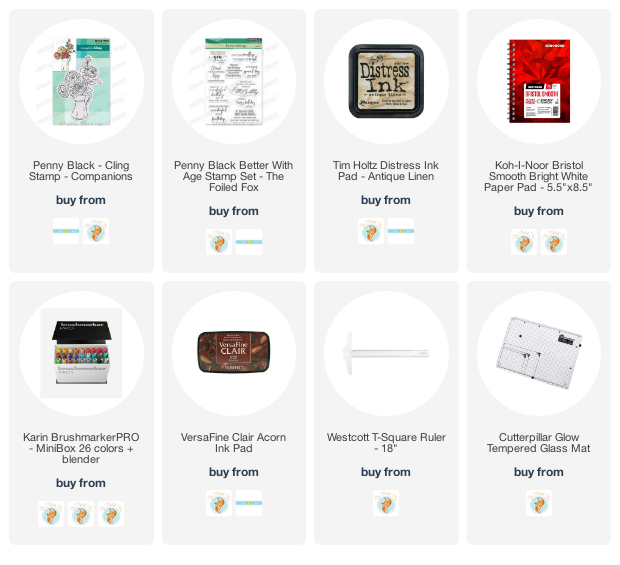 ---
Posted: April 21, 2021
Filed under: companions, Penny Black
| Tags: distress markers, Papertrey ink, Penny Black stamps, Ranger Distress inks, Tsukineko Versafine inks
6 Comments
Today's jug of flowers is yet another lovely floral from the new Penny Black 'Delight' release. I went for something of a vintage effect with this one by painting the jug in muted brown and grey tones and adding some woodwork in the background.
To begin I stamped the whole image on hot pressed watercolour paper in papertrey soft stone ink. I chose mustard seed and abandoned coral distress inks to make colour blends to paint all the flowers and buds. I used a mix of pine needles and forest moss inks for the leaves and stems then stamped and painted the flower centres with gathered twigs ink. For the look of an old metal or ceramic jug I used pumice stone and gathered twigs inks doing some restamping and blending with both inks to define and fill the jug.
Once the jug and flowers were complete I painted a shadow underneath with pumice stone ink then dropped some of the flower and jug colours into the wet shadow. To ground the image I ruled both a base line then vertical 'wood panel' lines with a t-ruler in pumice stone ink. I used pumice stone ink to paint shadow and shading on the wood then realised I needed another colour to lift the whole vintage toned panel. I chose chipped sapphire ink to add some blue to the panels and the jug as it is the complement to yellow mustard seed ink used on the flowers. It definitely made a difference so I stayed with the blue in choosing a dark blue cardstock to frame the panel. (I demonstrate how I make colour choices for stamping and painting in my online class COLOUR CLUES) I finished the card with by adding splatter and a sentiment from the new PB 'thinking of you' set.
(Compensated affiliate links used when possible)

---