Posted: February 1, 2021
Filed under: A blizzard, Art Journal, Brusho, Classes, Dies, fir tree, Heather lowercase die set, online class, Penny Black, Pink Fresh studio, Skis 'n' sled, Snow time, winter trees, winter wardrobe
| Tags: Brusho, online class, Penny Black creative dies, Pink Fresh studio
6 Comments
After my son and I finished filming the stop animation intro for my Winter Wonder online class I didn't know what to do with the painted background and all the die cuts we'd used. They lay on a tray still in their snowy formation for a few months gathering dust until I realised I could keep the scene if I transferred it to my art journal.
The initial spread was bigger than art journal page so I cut down the watercoloured background panel, cut new snowdrifts out of lighter weight cardstock and added ink blending to help them stand out. I saved the trees, sled, skis, mitts, snowflakes and bird all cut using the Penny Black dies listed below and glued them on. Yes the gluing almost finished me but I persevered and even glued the outline letters from Pink Fresh studio. I found that I do have a glue pen that works if you are patient and take note that enough glue if coming out.
If you haven't scene the stop motion animation it is part of the promo for my WINTER WONDER class which teaches my methods for making cards with a northern winter theme. I'll include the promo below just for fun and in case you're new around here.
The scene shown in the journal page is mirrored outside right now; we have plenty of snow, we've been skiing and enjoying winter wonder all around us. Back in October-November when we filmed the class there was little to no snow!
(Compensated affiliate links used when possible)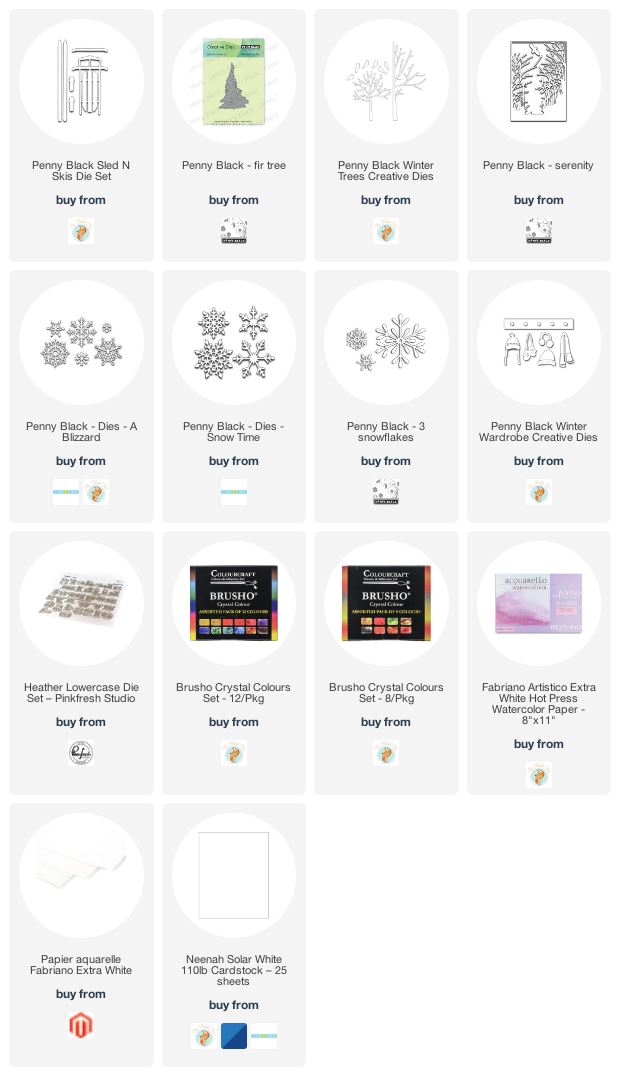 ---
Posted: November 18, 2020
Filed under: Darkroom Door, online class, Penny Black, Pink Fresh studio
| Tags: online class
30 Comments
I'm excited! I have a new online class which will be available on Friday, November 20 and registration is open now! My new class is full of snowy scenes, winter skies, frosty leaves and berries. I've created the class to provide step by step instruction for some of my favourite techniques along with plenty of inspiration for you to make your own winter wonder cards.
I think it might be best if you watch the promo below; you will get glimpses of all the projects and you'll see the delightful animation my son and I made with Penny Black dies and Pink Fresh Studio alphabet dies.
If you would like to join me in creating winter themed cards for Christmas, New Year, Thank You or Birthday cards then click over to the course site to register or learn more. WINTER WONDER
I will be giving away a registration here on my blog. To enter you need to leave a comment below telling me your favourite thing about winter! (If you win but have already registered I'll refund your registration fee) I will randomly draw a winner on Sunday evening (Nov 22) so you have a few days to enter.
I will also do two random draws from the first 50 registrations for gift cards from either Foiled Fox or Crop A While.
---
Posted: August 5, 2020
Filed under:
Classes
| Tags: colour clues, online class
4 Comments
I am pretty much beside myself with excitement and nerves as I tell you about my new online class COLOUR CLUES! I have wanted to create an online class for years and it has finally happened. My son Ben and I have been working on this for a few months and it's finally time to share it with you.
In the class I focus on how we choose and use colours in our card making projects. We'll do plenty of experimenting with blending, diluting and placing colours in combinations that will really catch the eye. We use stamps and dies to create backgrounds and foreground images on ten different cards.
I use a range of my favourite techniques throughout the class working with dye inks, watercolour paints and oxide inks. There are three complete lessons and each features three or four projects with additional suggestions and photos for further inspiration and experimentation.
There will be prizes and surprises so register early to be in the running!
---