Posted: May 8, 2023
Filed under: Darkroom Door, French Script, Gazette, gel press, pocket watch, tickets, Wildflowers Vol 1
| Tags: Darkroom Door stamps, gel press, gel printing
13 Comments
Now the grass has turned green I am looking forward to gel printing with fresh plants again. I have used some dried ones over the winter and also some I purchased but nothing beats pulling a few grasses, leaves or flowers from the yard to print immediately. On the card above and below I pressed grasses into blue paint on a gel plate, removed the surrounding paint with paper then picked up the whole print with white and yellow.
To turn the printed panel into a card I added stamping with Darkroom Door stamps in a collage style with a dark blue ink and attached the paper print to the card base with double sided adhesive sheets.
I used the same process to create another collage card adding stamping over a feather gel print. The Darkroom Door fine detail stamps once again add to the grungy printed background.
I left the cards blank to be used for any occasion. As you can see in both cards, the gel print isn't the main feature, nor is the stamping; it's the combination of grungy background and stamped elements that make these work for me. Depending on the size of the gel printed sheet it is usually possible to add a co-ordinating strip of the print to the envelope as well.
There are lessons on gel printing with grasses and feathers in my soon to be released online Gel Printing Journey class; I can't wait to invite you in!
(Compensated affiliate links from Foiled Fox, Scrap n Stamp & Ecstasy Crafts)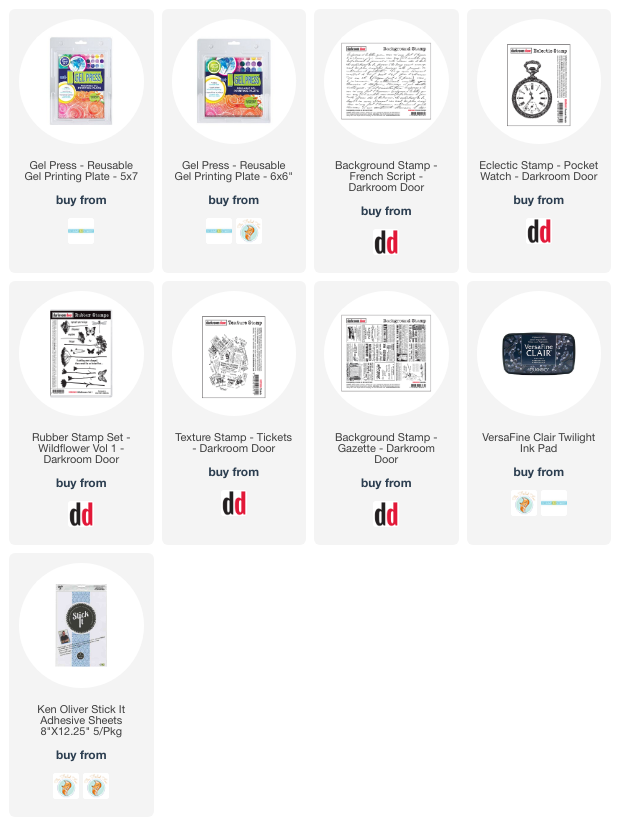 ---