Posted: May 1, 2023
Filed under: Brusho, Echidna Studios, lattice blooms, Paper Rose, Taylored Expressions
| Tags: Brusho, distress oxide inks, Echidna Studios, Paper Rose, Taylored Expressions
3 Comments
If you have used them you will have recognised at once that this is a brusho background and so is the next card with yellow, orange and red. To create a background like this with brusho you have to be patient and watch the brusho powder slowly react with spritzed water from above. If you don't spritz enough water the powder stays dry; if you spritz too much water the diluted powders all run together giving you a blended background but not a confetti one like you see here. I worked on a panel of hot pressed watercolour paper and sprinkled brusho sparingly over it before spritzing with water.
The lattice with blooms cut from black cardstock is another image I designed to be cut or printed. So far I have just used it on the cards featured today but I will also be using it as a stencil on my gel plate. The digital file can be found in the Echidna Studios etsy store.
To complete both brusho cards I used sentiments cut from the Paper Rose Studio 'so extra' supporting sentiments panels. There are loads of words and phrases to choose from.
The card below also has a watercolour background but this one was done with oxide sprays. I have only recently dipped my toe in the oxide spray pool (just picture that literally for a minute!) With many oxide inks and many many distress sprays I didn't think I needed the oxide sprays as well. To be clear I only have seven but with those seven I can get some very pretty backgrounds. Because the oxide formula reacts with water it also reacts with other sprays when you layer them. The pigments make them less transparent so the effect is quite speckly as you can see in the close up.
I cut the lattice blooms bigger for this card so it stretches from edge to edge. The card is finished with a Taylored Expressions sentiment strip embossed with gold. Those sentiment strips are still one of the cleverest ideas I've seen in stamp and die design.
(Compensated affiliate links from Foiled Fox, Ecstasy Crafts & Scrap n Stamp)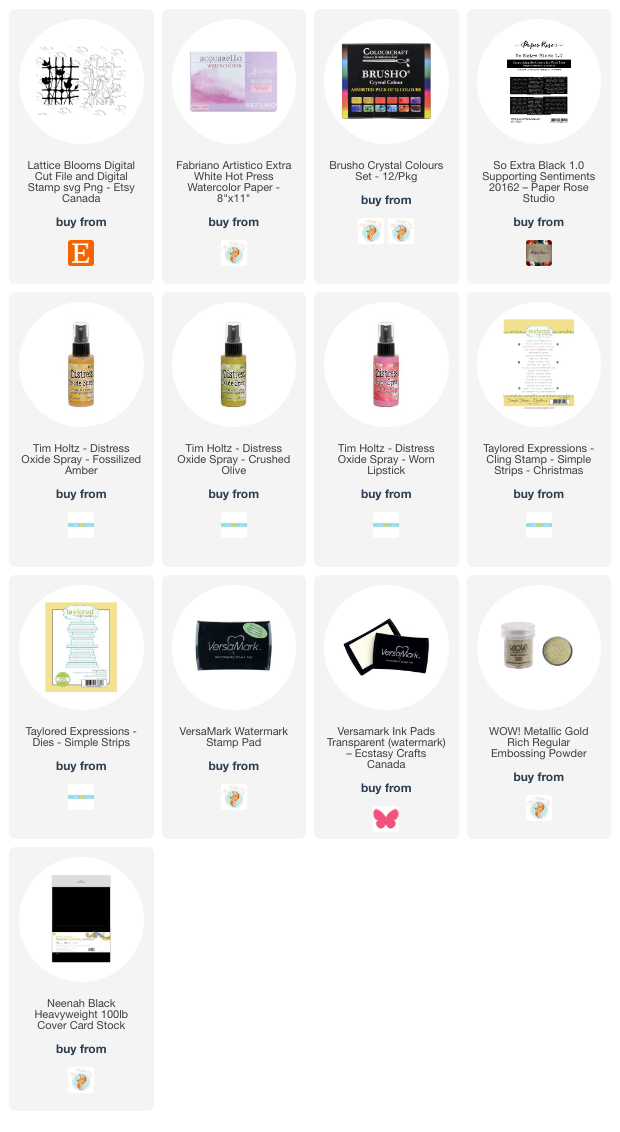 ---