Posted: December 29, 2020
Filed under: fragments, Giraffe, glasses, Penny Black, perspective, Pink Ink Designs
| Tags: Paper Rose, Penny Black creative dies, Penny Black stamps, Pink Ink Designs
4 Comments
Children's cards are something of a rarity for me but this one ended up being so much fun I might try them more often. I've had this gold embossed giraffe image sitting round for a while. The stamp, from Pink Ink Designs is called 'giraffe', no surprises there! It's a large stamp so I cropped a bit of the neck off so it would fit on a 6×6 card.
I used Staedtler watercolour markers and papertrey ink cubes to watercolour the giraffe and the amethyst ink cube for the blended background. I decided on the stencil background after I'd finished watercolouring the giraffe so I cut a giraffe shaped mask and positioned it over the giraffe while I used blending brushes and the Paper Rose studio 'fragments' stencil.
The giraffe stamp set comes with a pair of glasses stamp but I went bigger and sparklier with a die cut from Penny Black. I embossed the purple glasses in clear sparkle powder first then clear gloss ultra high to seal the sparkle and make them shiny. The sentiment is from the PB set 'perspective'. Pink Ink Designs has some beautiful big animal and fantasy stamps. They totally captured my imagination when I saw them. I've already shared a card with the dragon stamp and have one with a sea turtle still to come. Not my usual themes that's for sure.
(Compensated affiliate links used when possible)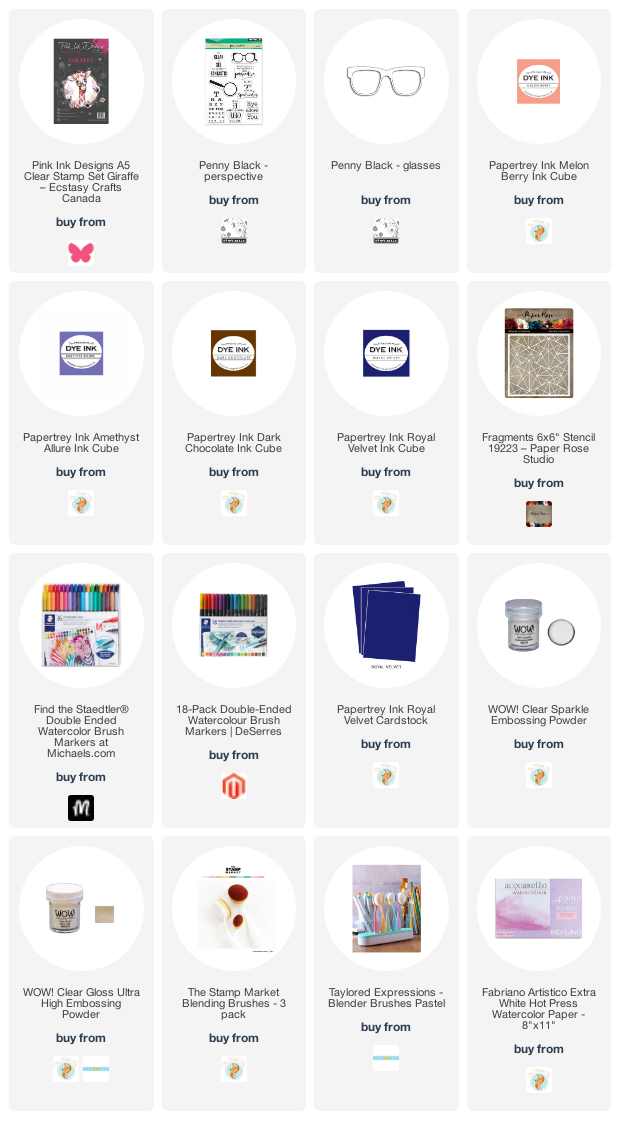 ---
Posted: September 9, 2019
Filed under: Paper Rose, thanks a bunch
| Tags: Paper Rose
15 Comments
Some of you will be familiar with the flower featured on this card. It's the Australian waratah, state flower of New South Wales. When I was in NSW recently I visited 'Alice in Paperland' in Port Macquarie and picked up this beauty. Due to my recent class I'm still on a no-line watercolour kick so that's the method I chose for the stamp's first inking. The set is called 'Thanks a bunch' and includes this large stamp, the sentiment I used and some little ones. I stamped in antique linen distress ink, kept the stamp and hot pressed watercolour panel in my stamp positioner then searched the interwebs for photos of waratahs. Even though I found plenty of bold red ones I chose a slightly more muted colour scheme and painted it with diluted aged mahogany ink. As usual I smooshed the aged mahogany ink pad on my glass mat so I could dilute the ink easily and pick it up with a paint brush. I worked petal by petal which took a while but I mixed up the process by switching to leaves while petals dried and also taking snack breaks.
I wanted the bluey greens of eucalyptus leaves so I used shabby shutters ink mixed with evergreen bough for one branch of leaves then bundled sage plus evergreen bough for the others. The remaining flower I painted in antique linen. For the stems I used the same greens and added some tea dye ink for a brown tinge. I used markers to ink the tiny gum blossoms and gumnuts, gathered twigs, festive berries and wild honey. Because I kept the stamp and panel in the positioner I was able to ink the centre of the waratahs with an aged mahogany marker which helped retain the fine detail. I think I accidentally inked the centre with gathered twigs once also, oops!
For the sentiment I used stazon claret because it matched the flowers so well. You might be able to see the texture on the finished panel; I achieved that look with the clever 'subtle' embossing folder by sizzix for Stampin' Up.
This is the first card I've made with Paper Rose stamps but  I do have a couple more of their stamps waiting in the wings.
Supplies

---