Posted: December 29, 2020
Filed under: fragments, Giraffe, glasses, Penny Black, perspective, Pink Ink Designs
| Tags: Paper Rose, Penny Black creative dies, Penny Black stamps, Pink Ink Designs
4 Comments
Children's cards are something of a rarity for me but this one ended up being so much fun I might try them more often. I've had this gold embossed giraffe image sitting round for a while. The stamp, from Pink Ink Designs is called 'giraffe', no surprises there! It's a large stamp so I cropped a bit of the neck off so it would fit on a 6×6 card.
I used Staedtler watercolour markers and papertrey ink cubes to watercolour the giraffe and the amethyst ink cube for the blended background. I decided on the stencil background after I'd finished watercolouring the giraffe so I cut a giraffe shaped mask and positioned it over the giraffe while I used blending brushes and the Paper Rose studio 'fragments' stencil.
The giraffe stamp set comes with a pair of glasses stamp but I went bigger and sparklier with a die cut from Penny Black. I embossed the purple glasses in clear sparkle powder first then clear gloss ultra high to seal the sparkle and make them shiny. The sentiment is from the PB set 'perspective'. Pink Ink Designs has some beautiful big animal and fantasy stamps. They totally captured my imagination when I saw them. I've already shared a card with the dragon stamp and have one with a sea turtle still to come. Not my usual themes that's for sure.
(Compensated affiliate links used when possible)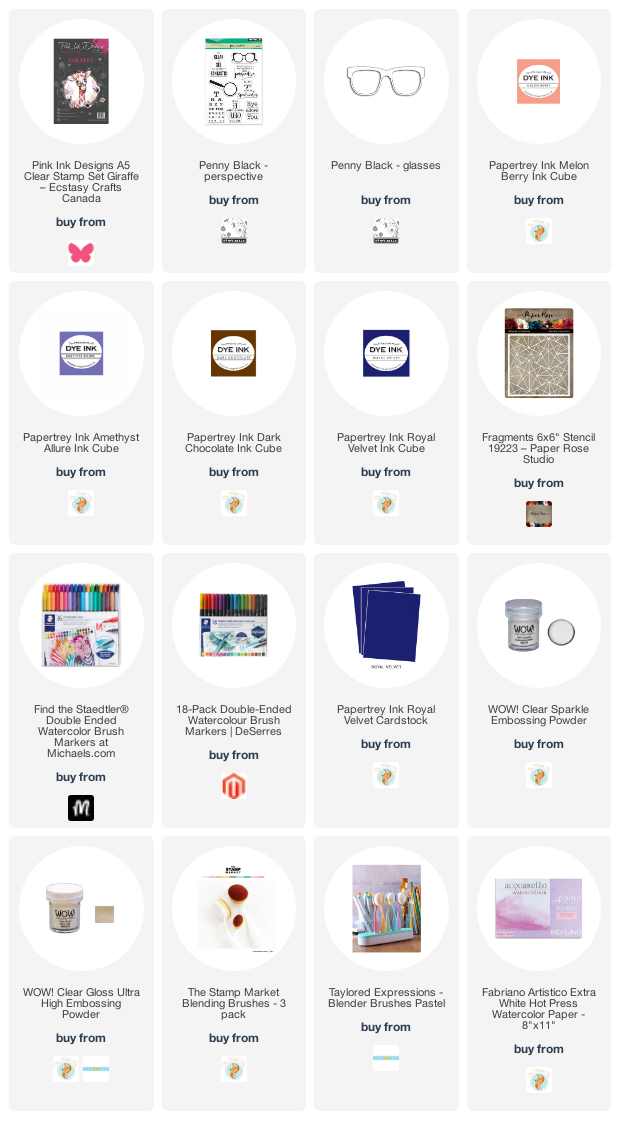 ---
Posted: October 13, 2020
Filed under: Dragon, Finetec paints, Pink Ink Designs
| Tags: Ranger Distress inks, WOW embossing powders
6 Comments
I've had this Pink Ink Designs dragon stamp for a quite a while and even started a couple of watercoloured panels with it but I was inspired to finally complete a card for an eight year old I know.
I did the stamping and embossing ages ago so I can't remember if it is platinum or silver embossing powder. I used a mix of watercolour markers and finetec shimmer paint to colour the dragon then some distress ink to add shading and swirls to the edges. The wing is made from two stamps, the main body of the dragon plus an extra extension of wing. I have attached the extension with a little blue brad so it can fold in when the card fits goes in an envelope. I framed the design with a piece of dark blue metallic cardstock I bought from Crop A While along with matching envelopes.
I first saw this stamp at Crop A While, my local scrapbooking store and fell in love with it straight away. I remember my friend and store owner, Carole being quite surprised that I would even take a second glance at a dragon stamp and then from the same brand, a sea turtle stamp. I admit it is a bit out of character for me. The initial appeal of this dragon stamp set was to make an art journal page with it. It hasn't happened yet but the design has been simmering in my mind for a while now.
Crop A While has an online store, curbside pick up and in-store shopping available right now and the owners, Tom and Carole are happy to help you with orders, just phone or email them.
Supplies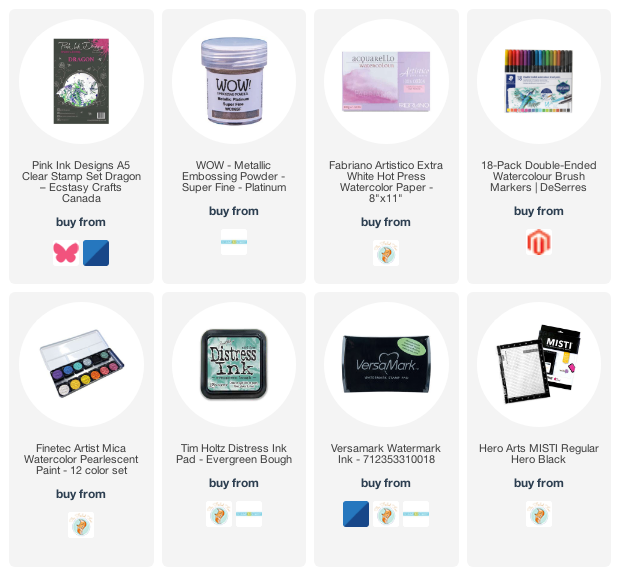 ---