Pretty fantastic
Posted: December 29, 2020
Filed under: fragments, Giraffe, glasses, Penny Black, perspective, Pink Ink Designs
| Tags: Paper Rose, Penny Black creative dies, Penny Black stamps, Pink Ink Designs
4 Comments
Children's cards are something of a rarity for me but this one ended up being so much fun I might try them more often. I've had this gold embossed giraffe image sitting round for a while. The stamp, from Pink Ink Designs is called 'giraffe', no surprises there! It's a large stamp so I cropped a bit of the neck off so it would fit on a 6×6 card.
I used Staedtler watercolour markers and papertrey ink cubes to watercolour the giraffe and the amethyst ink cube for the blended background. I decided on the stencil background after I'd finished watercolouring the giraffe so I cut a giraffe shaped mask and positioned it over the giraffe while I used blending brushes and the Paper Rose studio 'fragments' stencil.
The giraffe stamp set comes with a pair of glasses stamp but I went bigger and sparklier with a die cut from Penny Black. I embossed the purple glasses in clear sparkle powder first then clear gloss ultra high to seal the sparkle and make them shiny. The sentiment is from the PB set 'perspective'. Pink Ink Designs has some beautiful big animal and fantasy stamps. They totally captured my imagination when I saw them. I've already shared a card with the dragon stamp and have one with a sea turtle still to come. Not my usual themes that's for sure.
(Compensated affiliate links used when possible)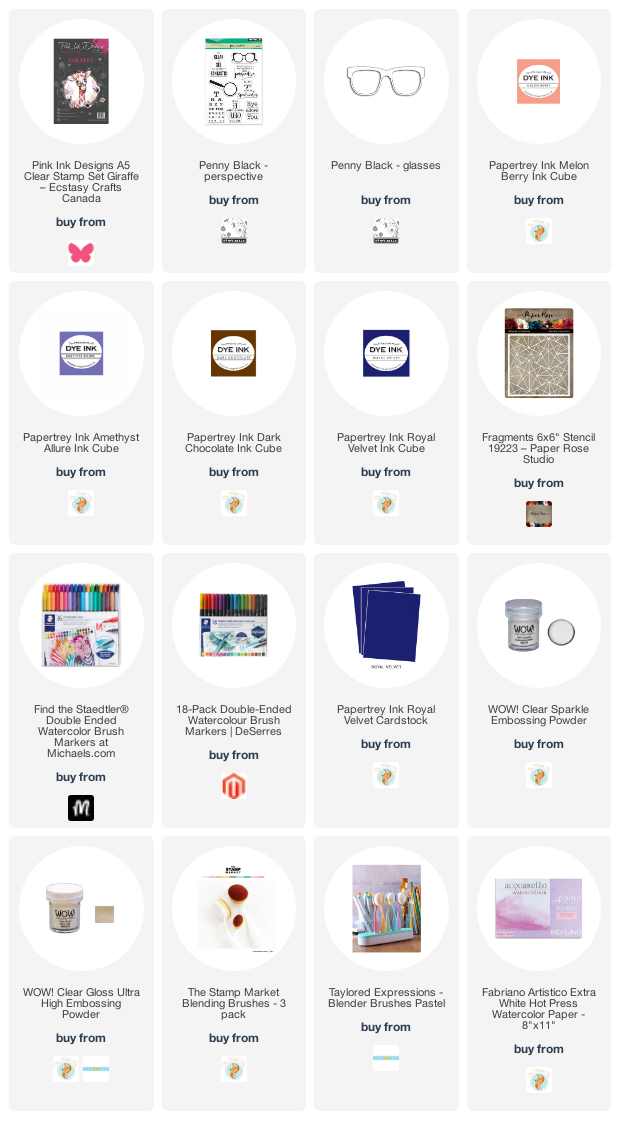 ---