Blue Dragon
Posted: October 13, 2020
Filed under: Dragon, Finetec paints, Pink Ink Designs
| Tags: Ranger Distress inks, WOW embossing powders
6 Comments
I've had this Pink Ink Designs dragon stamp for a quite a while and even started a couple of watercoloured panels with it but I was inspired to finally complete a card for an eight year old I know.
I did the stamping and embossing ages ago so I can't remember if it is platinum or silver embossing powder. I used a mix of watercolour markers and finetec shimmer paint to colour the dragon then some distress ink to add shading and swirls to the edges. The wing is made from two stamps, the main body of the dragon plus an extra extension of wing. I have attached the extension with a little blue brad so it can fold in when the card fits goes in an envelope. I framed the design with a piece of dark blue metallic cardstock I bought from Crop A While along with matching envelopes.
I first saw this stamp at Crop A While, my local scrapbooking store and fell in love with it straight away. I remember my friend and store owner, Carole being quite surprised that I would even take a second glance at a dragon stamp and then from the same brand, a sea turtle stamp. I admit it is a bit out of character for me. The initial appeal of this dragon stamp set was to make an art journal page with it. It hasn't happened yet but the design has been simmering in my mind for a while now.
Crop A While has an online store, curbside pick up and in-store shopping available right now and the owners, Tom and Carole are happy to help you with orders, just phone or email them.
Supplies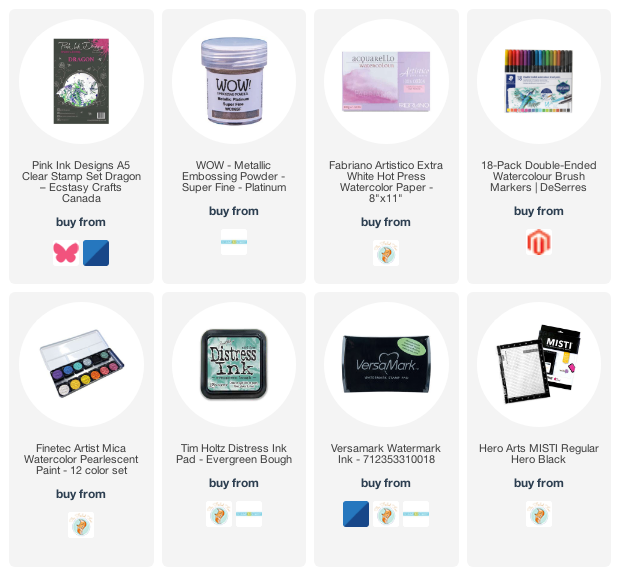 ---