Posted: February 15, 2023
Filed under: Finetec paints, leaf trio, nature's garlands, Penny Black
| Tags: Finetec artist mica watercolour paint, Penny Black stamps, Ranger Distress inks
3 Comments
I am sharing this project on the Foiled Fox blog today. It's a lovely place to visit; make sure you drop in and browse their blog and online store.
I know today's card is completely unseasonal but occasionally I stamp outside my climate zone! I used a couple of Penny Black transparent sets to create a simple masked and watercoloured birthday card. Most of the leaves stamped were from the PB 'leaf trio set' which has three leaf sprays (I used two). The twiggy stamp is from the PB 'nature's garlands' set.
I worked on hot pressed watercolour paper which had some liquid frisket splattered on it. I kept the panel in my stamp positioner but you could easily do this technique without. I placed a strip of washi tape across the panel to mask the centre for a sentiment later. I stamped each leafy spray in one of four greens first with the panel facing one way then again with the panel flipped 180°.
Once I had stamped all the leaves in greens I used a paintbrush and water to blend ink into all the leaves. Once that was dry I stamped the twiggy stamp in uncharted mariner ink. Even though it was a green card uncharted mariner still demanded to be included!
With the washi still in place I blended some shabby shutters ink over the stamping to give a crisp edge to the masked area. I might have been a little impatient and smudged some of the blue ink. I removed the washi to add the gold embossed sentiment but then wanted gold splatter so replaced the washi. I am making these mistakes so you don't have to! I was happy with the fresh look to the card. It reminded me of an art journal page you can see if you scroll down to the end of another post here. I have said before that sometimes cards inspire art journal pages or vice versa. Today's card was inspired by an art journal page which was in turn inspired by a card in my 'Wreaths – Stamped & Painted' class.
Are you already creating springy cards? Have you left winter stamping behind?
(Compensated affiliate links from Foiled Fox)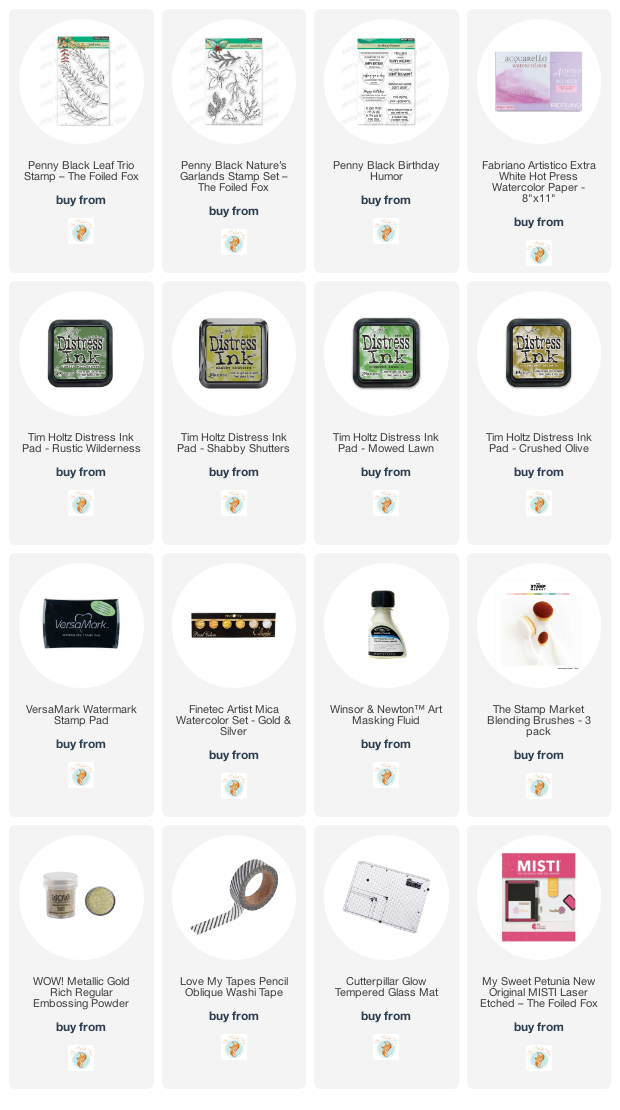 ---