Posted: November 26, 2021
Filed under: Penny Black, winter blooms
| Tags: Catherine Pooler inks, distress markers, Penny Black stamps
5 Comments
I am happy to be a guest on the Foiled Fox blog today so I hope you will pop over there and check out all the inspiration they share. I am also happy to tell you they are having a Friday – Monday sale, all the more reason to visit!
This lovely new floral arrangement from Penny Black is called 'winter blooms'. I think the blooms are Helleborus; when I looked them up I discovered they come in many colours including pinks, reds and purples. I chose to stamp with juicy Catherine Pooler inks then blend the ink to fill the petals and leaves.
I inked all the elements except the dark centres before doing any stamping. To ink the petals and the leaves without getting ink in the wrong places I press the ink pad on the stamp then wipe the areas that don't need that colour then do the next colour. Occasionally I end up with colours mixing or spaces with no ink. Neither of those issues cause a problem because when I spritz the stamp the inks move and dilute a little.
Once I had stamped I used water and sometimes extra ink to fill all the elements. I dried the panel before stamping the centres with dark brown ink (applied with a distress marker). I dried the panel again before blending ink over a post-it note mask to create a background and ground the vase. I added a sentiment from PB 'festive snippets' set stamped in both shady lane and rainforest versafine clair inks; sometimes I stamp one ink over another to match a colour in my design. As I look at these photos I notice I did not paint a shadow underneath the vase. I think I meant to…
Make sure you visit The Foiled Fox blog and store and use the code JOY2021 for a 15% discount at check out.
Three of my online classes are also on sale until the end of November. Use the code HTNOV to get a 25% discount on the Floral Faves class, Winter Wonder class and the Colour Clues class. Have a delightful weekend.
(Compensated affiliate links used when possible)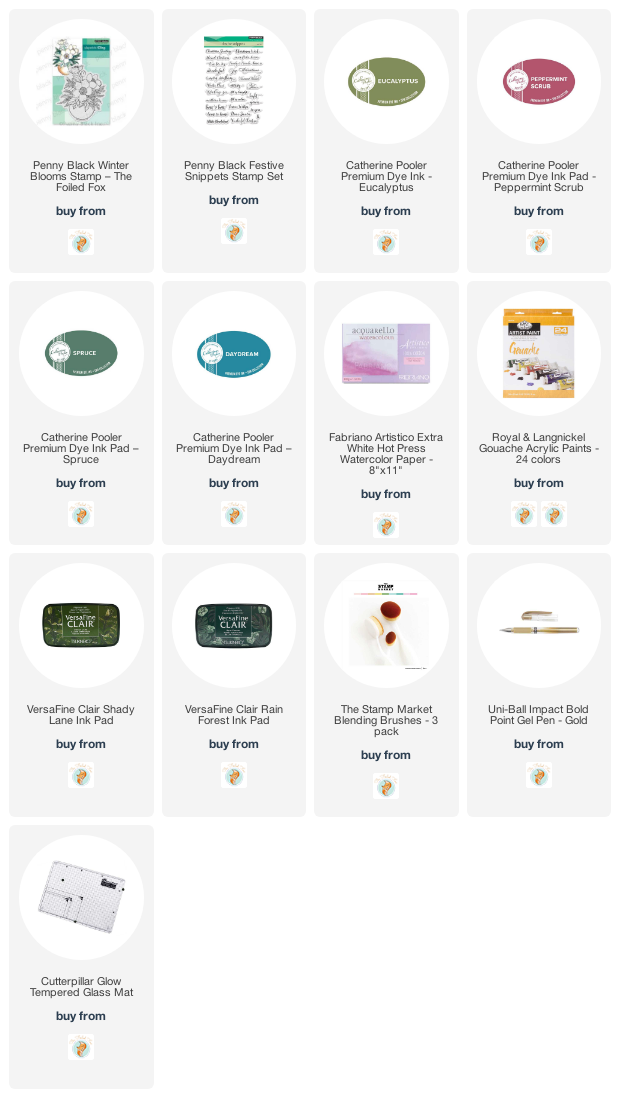 ---