Posted: May 14, 2021
Filed under: Cow's it going?, Pink Ink Designs, Stampin Up, subtle
| Tags: Fabriano Watercolour Paper, Pink Ink Designs, Stampin Up
18 Comments
How much do you love this big highland cow? I hope you don't mind this departure from my usual subject matter but there is something about this cow (and some other beauties from Pink Ink Designs) that amuses and inspires me! When I saw this stamp I knew it would make the perfect birthday card for someone I know who finds highland cows adorable. Although confused by my behaviour, Crop A While here in Ottawa ordered it for me and I'm so glad.
This card is stamped and painted with dye inks, classic kraft papertrey ink as a base colour then four distress colours to highlight, shade and add personality to the beautiful face and hair-do. I worked in a stamp positioner so I could add the colours bit by bit to build up the image. I did some painting and blending with a paint brush but kept white areas also as they add so much to the design.
After I had completed the painting part I decided not to add anything more but instead ran the panel through the die cut machine inside the SU subtle embossing folder. If you look at the close up image you might just see the linen texture achieved. The 'cow's it going' stamp set includes eleven smaller stamps along side this one including some distinctly Scottish ones so I'm looking forward to following that theme another time. My name is Heather after all, Heather McDonald originally!
Hope you are having a good hair day, like this cow obviously is!
(Compensated affiliate links used when possible)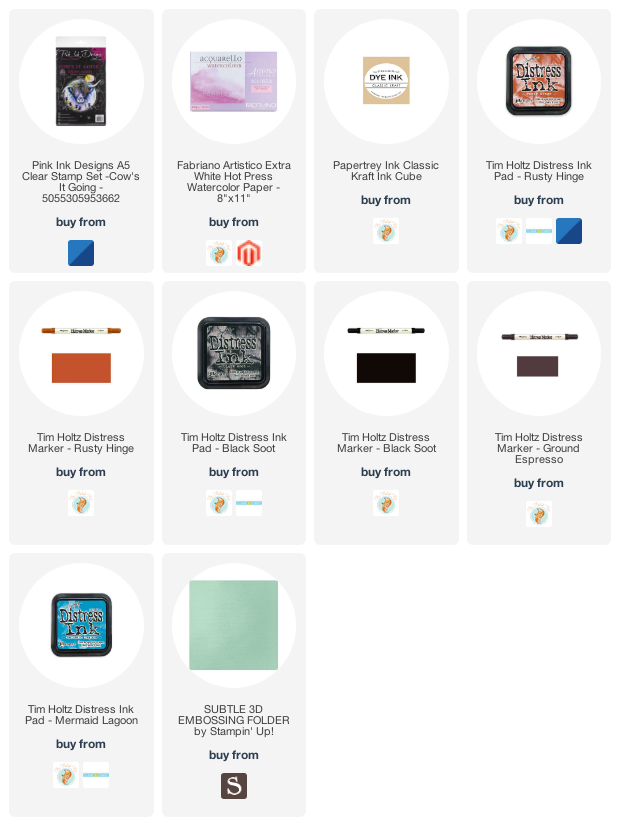 ---
Posted: May 13, 2020
Filed under: Papertrey Inks, Penny Black, secret garden, subtle
| Tags: Papertrey ink, Penny Black stamps
10 Comments
Before I chit chat about today's cards I just want to thank you for your feedback on my wreath card. I loved reading your kind words and thoughts on the sentiment question. In the end I left the front of the card sentiment free (I really didn't want to mess it up!) and made a envelope out of watercolour paper onto which I will add roses and hand-lettering. When I do another wreath I will hand letter the sentiment first then proceed with the flowers, that way I won't be afraid of messing up a finished wreath with a wonky letter. Now, back to our scheduled programming.
Last week I created a couple of abstract watercolour background panels to create coffee themed cards; I used the same approach for today's floral cards. My method for creating the background was the same, I smooshed three colours of dye ink on my glass mat then spritzed them generously with water to make them move and blend a little. I had a large panel of hot pressed watercolour paper ready with some masking fluid already dotted over it. The colours I used were papertrey ink cubes lemon tart, enchanted evening and stormy sea (yellow, blue and grey).
I cut the panel into four and chose to work with stamps from the PB 'secret garden' clear set. My plan was to stamp the flowers in the same colours I used for the background, maybe use all three colours or just one or two. After fiddling around with some stamping I decided I liked just the flowers in the blue, stamped and restamped for paler impressions. I guess you're not surprised I settled on blue, the lemon is very pretty but too pale to stand out and the grey was, well, not quite pretty enough.
Both floral stamps I chose had long skinny stems that I was able to rearrange on the lid of the MISTI to go in the directions I wanted. I did some water stamping too which just means misting the stamp with water and pressing it down on an inked area (the darker the better) and holding it there for a little longer than normal to let the water soak in then dabbing away the water to reveal a stamped 'watermark'.
Once I had the flowers all stamped the panels still didn't look quite finished so I turned to two elements I like to add when a card needs a little something. I used the PB 'script' stamp down the side of both panels in blue, grey and watermark then ran the panels through my diecutting machine with a rather cool embossing folder from Sizzix (sold by SU) called 'subtle'. It gave the panels a canvas look. To add sentiments I used the ever useful 'million thanks' set and the lovely 'SHE builder' set both from Penny Black.
Supplies


---