Posted: October 28, 2022
Filed under: Papertrey Inks, winter barn
| Tags: Fabriano Watercolour Paper, Penny Black stamps, Ranger archival inks, Ranger Distress inks
11 Comments
We've been having such warm pleasant weather lately this scene seems like a very distant prospect. The tide is turning though; it was rather chilly out today, not snow-covered-barn chilly but, could-have-worn-a-jacket chilly. This stamp is called winter barn and it's new from Penny Black. I worked on hot pressed watercolour paper in a stamp positioner and started by stamping the whole scene in soft stone ink, a pale grey which gives me the whole scene in a pale tone which won't interfere with the colours I add over the top. I used barn door distress ink (of course) for the barn, black soot archival and distress ink for the trees, ground espresso distress for the fence and uncharted mariner for all the sky and shadows in the driveway.
I stamped the barn with just the red ink first then as I blended added brown shadows both by re-stamping and with a paint brush. I stamped the tree in archival ink and amalgam ink (both waterproof) so I could paint the sky over the stamping. I did paint carefully around the snow laden branches to leave some areas white. I stamped the fence in ground espresso but used black soot when blending the ink to give shadows to the fence posts. I blended some areas of the driveway but left some sections unblended which seemed to work well to suggest the ruts in the snow after it's been driven on.
When I was happy with the scene I splattered on some white paint to look like snow.
Just a quick question for those of you with barns or experience with barns, do they often have chimneys? I would have thought the hay might be a fire risk…
(Compensated affiliate links from Foiled Fox & Scrap n Stamp)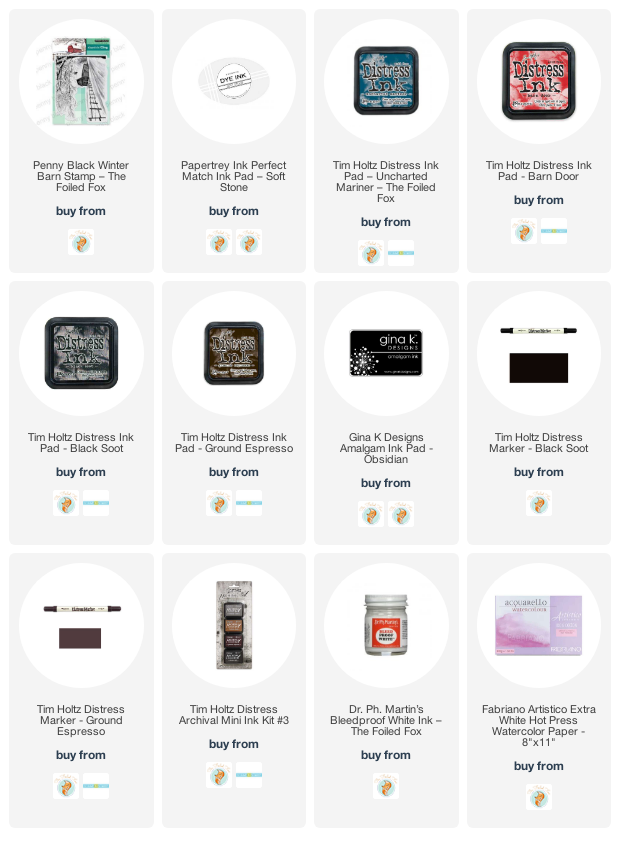 ---