Posted: December 2, 2019
Filed under: misty melody, Papertrey Inks, Penny Black, Wendy Vecchi
| Tags: Papertrey ink, Penny Black creative dies, Penny Black stamps, Ranger Distress inks
6 Comments
I am thrilled to be over  on the Foiled Fox blog again, sharing these sweet little birds. They are from a new Penny Black set, 'Misty Melody' and I've paired them with one word from  the PB '…bright' die for a wintry scene. By the way there happens to be a 15% discount sale happening until the end of Dec 2 so now is a good time to visit.
I worked on hot pressed watercolour paper as I planned to do a bit of blending on the birds. I made a mask for the birds on the branch by stamping it on some masking paper and cutting it out. For someone who dislikes fussy cutting I seem to have warmed to it a little. With the stamp in my positioner I stamped the birds on branch stamp on the watercolor paper in smokey gray versafine ink and on masking paper.
I chose the Papertrey ink cubes that I have been using over and over to stamp little wreaths and foliage patterns. To watercolour with them I squished dark chocolate, Americana and scarlet jewel onto the glass mat where I could add a drop of water and pick up colour with a paintbrush.  I found an image of a European Robin as my guide and painted the breast with the two red inks, the Americana was too brown, the scarlet jewel too pink but the mix was ideal.  For the wings and tales I used a mix of Americana and dark chocolate and the rest of the body I painted with distress hickory smoke. I went over the beak and eyes with a black micron pen and then painted the branches in a mix of dark chocolate and black soot. Once that dried I went over the birds' feet with the micron pen.
With all the bird and branch painting done I had to decide whether to paint the background sky or blend it with blending brushes or sponges. As I had the mask ready to go I chose blending brushes and positioned the mask to protect the painted birds and branch. I splattered masking fluid over the whole panel and let it dry. To create snow banks in the foreground I tore the edge off a piece of post-it note to mask just under the birds.
I stuck with the Papertrey ink cubes for the blended sky using mainly 'blueberry sky' and a bit of 'royal velvet'.  As I blended over the masking fluid I could see I was going to have a nice snowy sky. Once the sky color was a deep blue I repositioned the torn mask lower down three more times and blended over it for a soft 'snowbank' look. I didn't have to pick up more ink as there was plenty still on the bristles of the blending brush.
Once all my painting and blending was complete I removed the masking fluid gently by rubbing it with my fingers; it is always very satisfying to see the snowy sky appear. To finish the card I cut two layers of the word MERRY from red cardstock backed with stick-it adhesive sheet and stuck them over the snowbanks. As you can see the letters come out of the die individually, I used the negative piece of cardstock and my magnetic 'staytion' and ruler to position them all correctly.
Thank you for dropping by today, all the supplies I used are linked below. I will be back here and on the Foiled Fox blog very soon.
Supplies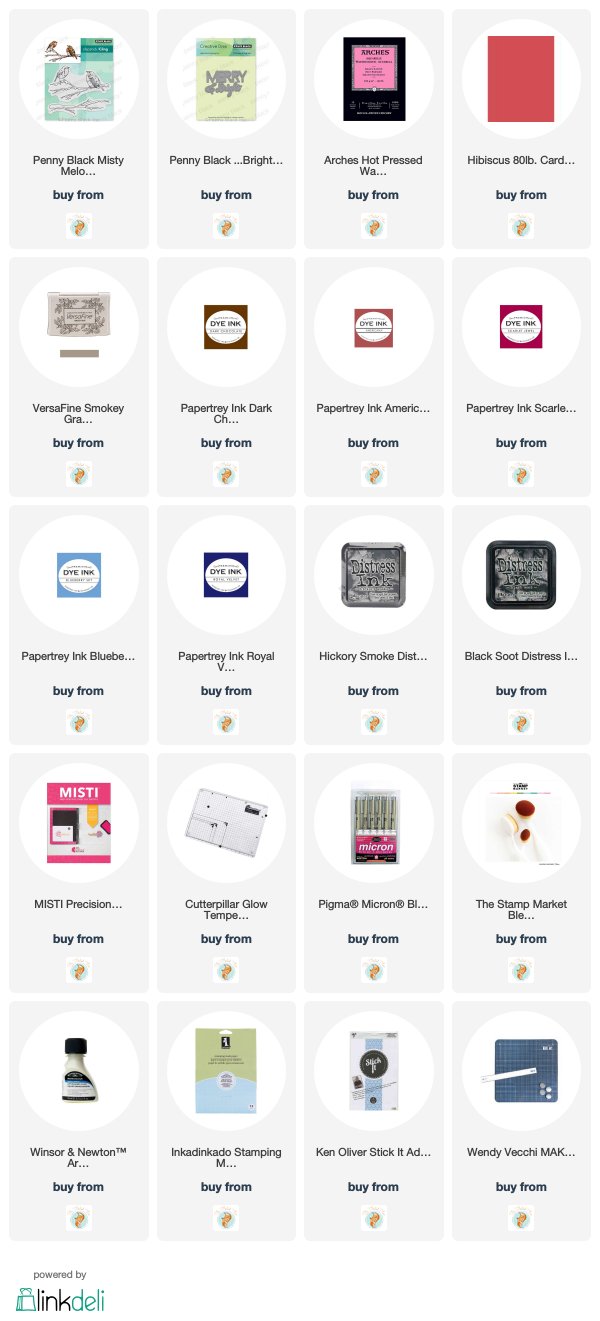 ---
Posted: November 8, 2019
Filed under: floral Christmas, framing florals Christmas, Ink to Paper, Papertrey Inks
| Tags: Finetec artist mica watercolour paint, Ink to Paper, Papertrey ink
9 Comments
I am having fun with two sets from 'Ink to Paper'. When I first saw the 'floral Christmas' and 'framing florals' sets I knew exactly what I wanted to do with them: a little wreath making! I also have in my hands some new inks from 'Papertrey Ink' so I put them to work on these two wreaths. So far I'm impressed but they will of course need to go through watercolour testing too!
Even though I didn't need to I stamped both these wreaths on hot pressed watercolour paper, habit I guess. I drew a light pencil circle as a guide for the wreath above and used the pine circle stamp to start the wreath below. The stamps are all small enough to fit on a little acrylic block so I used that rather than a stamp positioner. On the pine cones above you can see that I didn't get the second outline stamp lined up perfectly with the filler stamp, I actually like it a little offset as it looks like snow on the pine cone (something I now have in my driveway!) I stamped the berries in 'Americana' ink but then painted over the top with some shimmer red from my Finetec pearl set of paints. The red frame is also shimmer cardstock . To complete the card I added a little red bow and a sentiment banner popped up over the top.
For this second wreath I stamped the pine circle stamp from the ' framing florals Christmas stamp set' but I didn't ink the whole circle. I left gaps which gave me spaces to stamp the pine cones. I used all 'ink to paper' inks again except for one twiggy element I stamped in golden glitz delicata. All the inks are listed below. Once again I finished off the wreath with a little bow and some gold shimmer cardstock.
The sentiments for both cards are from ink to paper's 'Be Merry mini' set. Oh, and they both got the splatter treatment too.
Stay tuned because you will be seeing more from these sweet sets!
Supplies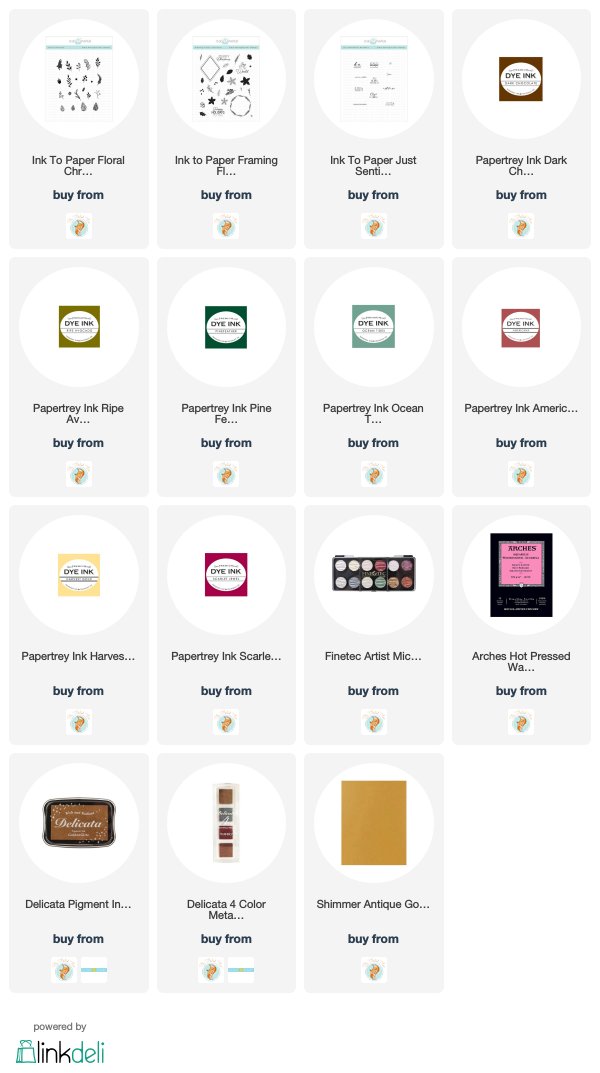 ---