Posted: June 5, 2023
Filed under:
vintage beetle
| Tags: Echidna Studios, Fabriano Watercolour Paper, Kuretake Zig clean color real brush markers
3 Comments
Isn't she a beauty? This digital stamp 'vintage beetle' is one from a new set in the Echidna Studios etsy store. My daughter took a photo of a VW beetle convertible recently and turned it into this digi stamp. There is stamp in the set. I haven't coloured it yet but it is a cute rear view.
I rarely make slimline cards but this stamp definitely called for one. I think it would make a delightful fathers' day card. It isn't fathers' day until September in Australia which has caught me off guard many times! I printed the car on hot pressed watercolour paper using the 'manual feed' and 'heavyweight settings' that pop up on the computer. I then created a very soft watercolour background by smooshing lost shadow and uncharted mariner ink on my glass mat, spritzing it with water to dilute and move it then swiping my watercolour panel through the ink.
I used mainly Zig clean color real brush pens to watercolour the car along with Kuretaki metallic silver on the hubcaps and black Koi coloring brush pen for the black watercoloured sections. For some fine black lines I use F-C Pitt artist pens. I do have a weakness for markers, especially waterbased ones so it was good to put some to work on this card.
Just between you and me I am pretty pleased with the way it turned out and would now like to take a little drive in one! Hope your Monday is off to a good start.
(Compensated affiliate links from Foiled Fox & Scrap n Stamp)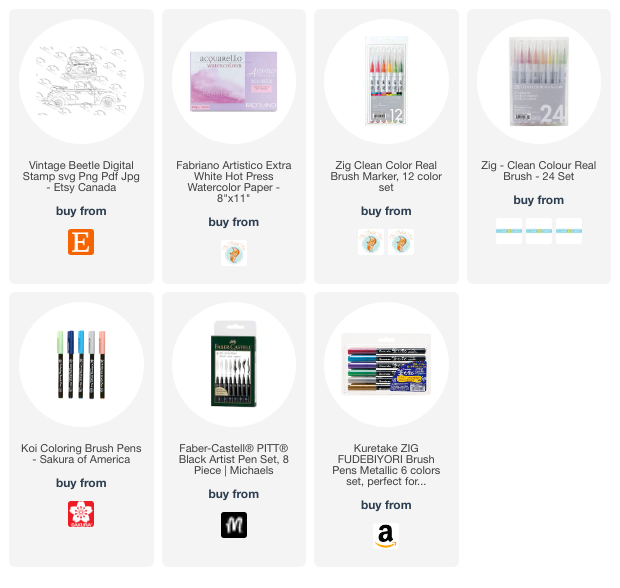 ---