Posted: April 13, 2023
Filed under: Echidna Studios, garden fence
| Tags: Echidna Studios, Fabriano Watercolour Paper, Kuretake Zig clean color real brush markers, Penny Black stamps
2 Comments
This is the second card I've made with the Echidna Studios 'garden fence' set of digital stamps. On the first card the images were smaller to fit on an A2 card and the arrangement was a little different. These digital images are great fun to work with as they are not transparent so when I position each pot it masks what ever is behind it.
I printed the image on hot pressed watercolour paper then did all the colouring with zig clean color real brush pens. Those pens are juicy! I added only small dabs of ink to the foliage and flowers and blended it with a waterbrush. I blended blue and green between all the fence posts to make the white pop and added a line of grey as shadow.
The sentiment is from an old faithful Penny Black set, banner sentiments. The curve of the stamp fitted nicely over the curve of the gate. The finished card is 7¼" x 4⅛" which is not a standard size I know. I will either make a custom envelope or put it in a slightly larger one.
Most of my garden is out from under the snow now so not too long before I can be working with real pots not digital ones!
(Compensated affiliate links from Foiled Fox, Scrap n Stamp)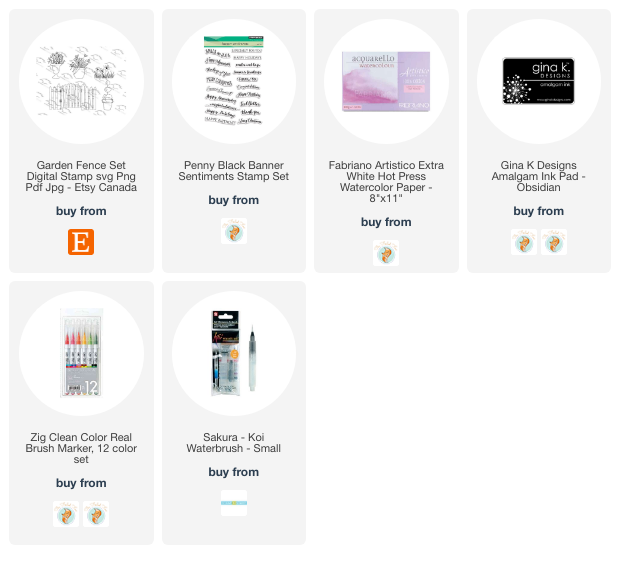 ---
Posted: March 24, 2023
Filed under: Echidna Studios, garden fence, Inktense pencils
| Tags: digital stamps, Echidna Studios, Inktense, Penny Black stamps
4 Comments
This little front fence is a new digital stamp from Echidna Studios. It's a set of five images that you can arrange yourself. Each image is opaque (or stackable) which means when you arrange them before printing you can put the plants in front of the fence and in front of each other. The five stamps are the fence, the triple topiary, the flowers in the grass, the flowers in the pot and another pot not featured on this card.
I had great fun arranging these images to create this little scene. After finalising the scene I printed it on hot pressed watercolour paper and coloured the images with Derwent inktense pencils. I use inktense pencils it two ways; sometimes I colour directly on the paper then blend with a wet paintbrush, other times I pick up ink from the sharpened tip of the pencil with a paintbrush and then paint.
After colouring the pots and the plants I had to decide how to colour the fence and gate because it wasn't going to stand out if I left it white. The problem was that I wanted a white picket fence. I ended up colouring the fence and gate with an embossing pen then embossed with Ranger weathered white embossing powder which is textured and creamy coloured. It's subtle but it does make the fence stand out a little. I coloured the hinges with a gold gel pen.
To add some sky I blended speckled egg distress ink here and there, then splattered some over the scene. The sentiment is from Penny Black's 'only you' set and all the links can be found below.
Thank you to all of you who have left such kind messages about my daughter's digital design etsy store. Thank you to those who have popped over to purchase some of her digital stamps. We would both love to see what you have done with the images. You can attach an image when you comment in the store or even use the contact button to send her a message.
(Compensated affiliate links from Foiled Fox, Scrap n Stamp)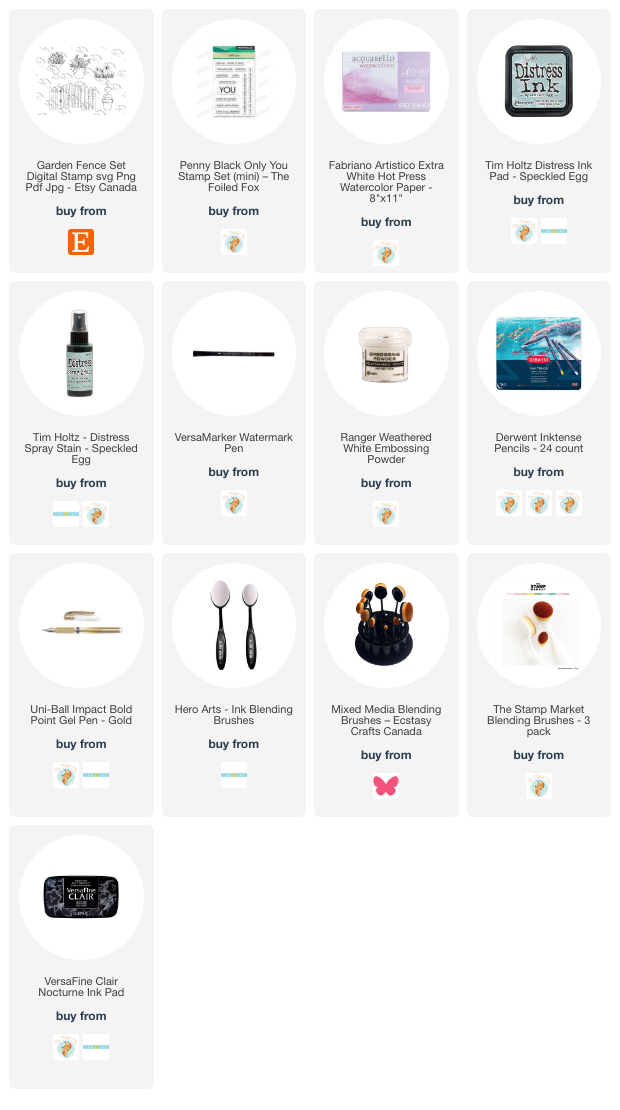 ---