Posted: February 11, 2023
Filed under: Alcohol Ink, baby blue leaf embossing folder, Branch 9 die, cricut, Dies, grafix, Moda Scrap, my designs, ornate tile embossing folder, Paper Rose, Penny Black, Pink & Main, scripty, silhouette birds, so extra supporting sentiments, Stampin Up, thank you squares, Tim Holtz, Tutorial
| Tags: cricut, grafix, grafix craft plastic, Penny Black creative dies, Penny Black stamps, Ranger Alcohol Ink, Stampin Up, Tim Holtz
6 Comments
If you have been visiting this blog for a while you will know I had a youtube channel for many years. In 2022 after ten years of adding videos and gathering a community of 7000 subscribers my channel was deleted. In recent weeks I have started again with a new channel and some videos 'from the archive'. My new channel is called Heather Telford Art and I would be very happy if you decided to like, subscribe and tell your friends! There is content on there that you may remember from the last few years and starting today there is new content also! The new '2 for 1 Alcohol Ink Panels' is freshly filmed for my new channel and I hope it will be the first of many!
There are quite a few photos in this post because, well, this is a 2 for 1 technique and I created three panels which of course became six panels and one was cut in half so there are seven cards to show you in this blog post! Grab a cup of tea. I have added a linked supply list at the very bottom of this long post.
As well as a new youtube channel I am also a new Cricut owner. The stencil used on the card below was designed by me and cut on my Cricut. It is available as a cutting file from Echidna Studios etsy store.
Most of the 2 for 1 smooshed panels I left as a full card fronts adding only a sentiment or some die-cutting. As the panel below reminded me of the ocean, the PB wavy scallop border seemed a nice touch.
The panel below is a half panel from the first one I showed on the video. I love the patterns from the isopropyl alcohol ink spray even though they don't stay distinct. Even when die-cutting the word from the panel I couldn't leave it off so I popped it up. Not so funny story: I guess I haven't popped up a die cut word in a while because I flicked those little shapes inside the letters into the garbage when I poked the word from the die. So yes, I had to hunt through my garbage to complete the card.
I don't know why I hadn't tried it before but seeing how well Grafix craft plastic responds when put in an embossing folder has been a revelation! I thought it might crack but it doesn't so you can have the subtle impression of your embossing folder on a panel or the bold inked pattern as I've done on the card below. Sentiments in circles might be a little fad I go with for a while too; they look cute!
You can see the soft look of embossed script on the panel below, especially in the close up. This detailed embossing folder is from Stampin' Up and is called 'scripty'. I don't think it is available anymore but you might something similar.
For this final card I cut six little birds from the panel and played with layouts for quite a while. I ended up just using two which means I have four birds in hand for another project. (pun definitely intended)
The intricate half circle cut out behind the birds is also one of my new cricut cutting files but more about that in another post. If you got this far, you're a champion. Thank you for supporting me here on my blog and I would love to see you over on youtube as well.
(Compensated affiliate links from Foiled Fox, Scrap n Stamp)

---
Posted: May 12, 2022
Filed under: Hand painted, scripty, sennelier watercolours, Stampin Up, Taylored Expressions
| Tags: Hand painted, sennelier watercolours, Staedtler watercolour brush pens, Stampin Up, Taylored Expressions
17 Comments
I spent a little while painting florals the other day. My watercolour paints were on my table so I painted two precut card panels with a few blues. I started the flowers on both cards by putting five little dabs of paint in a circle then blending them out with a wet paint brush. After blending I added dots to the centres with black and yellow markers.
Both the bold and the soft florals looked ok but the leaves I'd added didn't work. I set the panels aside, happy that I had practised but not planning to use either pieces. When I came back to them a day or so later I did some extreme cropping which took out the leaves I didn't like and left me with some nice blends and a configuration which had some balance.
Even if I had not cropped them and put them on cards the exercise was worthwhile. Even after years of making, practising and learning I still have the niggling feeling that everything I work on should 'work out'! I know it is unrealistic and I am getting better at spending time practising and playing just to grow and enjoy.
The pale blue 'washy-er' panel is my favourite but I love the colours in both. After cropping them I added them to an embossed panel (SU scripty) and popped up some Taylored Expressions sentiments over the top.
Supplies
(Compensated affiliate links used when possible)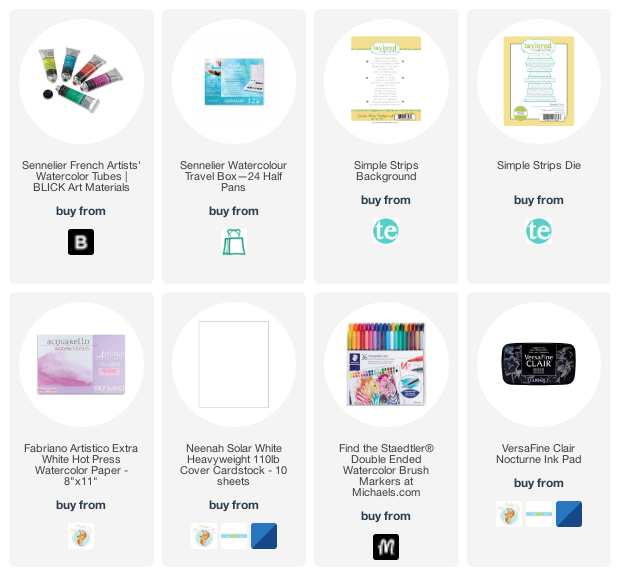 ---
Posted: January 17, 2022
Filed under: Penny Black, Stampin Up, subtle, trilling trio
| Tags: Penny Black stamps, Stampin Up
15 Comments
Trilling Trio from Penny Black arrived on the scene late last year and features three different birds. My card today uses just the cardinal stamp but I have coloured it two ways so as to have the male and the female on my panel.
I worked with distress inks and watercolour pencils on hot pressed watercolour paper and I kept the panel in the stamp positioner so I could build the colours gradually. I stamped the female cardinal first in antique linen ink so it gave me a pale outline then I used tea dye, vintage photo and barn door inks to add colour. I spritzed the stamp lightly before stamping so the colours would blend but then did more blending with a paintbrush. I added black around the eye and beak both by stamping and by colouring directly on the panel. To add texture to the feathers I used sharpened watercolour pencils. I added the male cardinal behind using more barn door ink along with the tea dye and black soot inks.
Once the birds were completed I drew a small branch with watercolour pencils, blended it and then used a blending brush and a torn piece of post-it note to add shadow in the background. I ran the panel through with the 'subtle' embossing folder from SU; it adds such nice canvas texture! There are two more delightful bird stamps in the set which I hope to feature soon!
We are getting much snow today so I will be hunkered down in the work room or maybe taking a turn clearing the path and driveway!
Supplies
(Compensated affiliate links used when possible)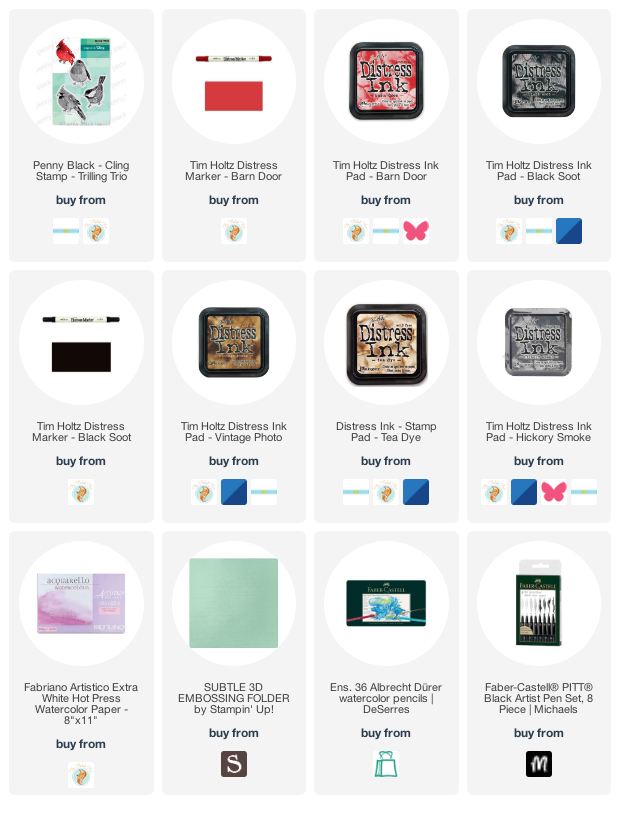 ---
Posted: January 3, 2022
Filed under: Penny Black, rustic birdhouse, Stampin Up
| Tags: Penny Black creative dies, Stampin Up
8 Comments
When I do any art journalling these days I do so with a large sheet of watercolour paper on my work surface. It is not the most expensive brand and it does have a bit of texture, currently I am using Canson XL. As I create any blending off the edge of an element ink ends up on the large sheet. Excess paint or ink is wiped off on the sheet. I try out a pen, ink or marker on the sheet to make sure it is the colour I want and has plenty of juice left in it. Consequently pattern and colour builds up on the sheet over time as journal projects are finished.
The most recent page I made involved brown and black paints so I often wiped the brush off on the large sheet. When painting strips of paper for tree trunks I lay those strips on the large sheet. I ended up with a rough painted area resembling woodgrain so I cut it off the larger sheet and die cut birdhouses from it with the PB 'rustic birdhouse' die.
I die-cut the frames from deep red and petrol blue, blended ink on white die-cut birds then put together two birdhouses.
The large piece of 'clean-up/practice' paper provided me with unique patterned paper for the birdhouses. The embossed background was created with the 'evergreen forest 3D folder' from SU.
Happy New Year everyone, I'm looking forward to sharing all sorts of things here on the blog this year and I can't wait to chat with you along the way.
Supplies
(Compensated affiliate links used when possible)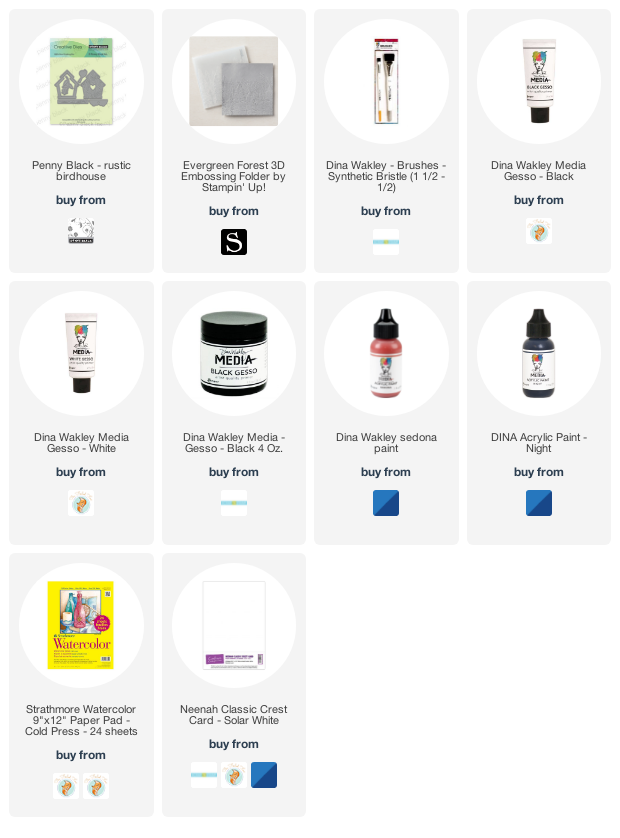 ---
Posted: September 20, 2021
Filed under: gilded wheat, Penny Black, Stampin Up, subtle
| Tags: Faber-Castell Albrecht Durer Watercolour pencils, Penny Black stamps, Ranger Distress inks, Stampin Up
14 Comments
This beautiful wheat stalk, 'gilded wheat' is new from Penny Black. You know that feeling when you think maybe a project is complete but you're not sure so you keep going? I had that feeling after I had finished stamping, painting and highlighting the wheat stalks. I just wasn't sure whether to add a background or not.
I stamped the wheat in scattered straw and wild honey distress inks then blended with a paint brush. To add shadow to the sides of the leaves and the base of the wheat berries I used iced spruce ink. After painting I switched to watercolour pencils and added more shadow with a similar grey-green spruce colour.
I could have stopped there and not added the background painting which is kind of patchy but I liked the contrast of the gold colours and the grey so I kept going. Before putting the card together I stamped a sentiment from the PB 'choose happy' set and ran the panel through the die cutting machine in the SU 'subtle' embossing folder. Sometimes people ask me how I settle on my colour combos; this one was inspired by the small leaves at the top of the previous card. Who knew grey and gold would be so happy together?
(Compensated affiliate links used when possible)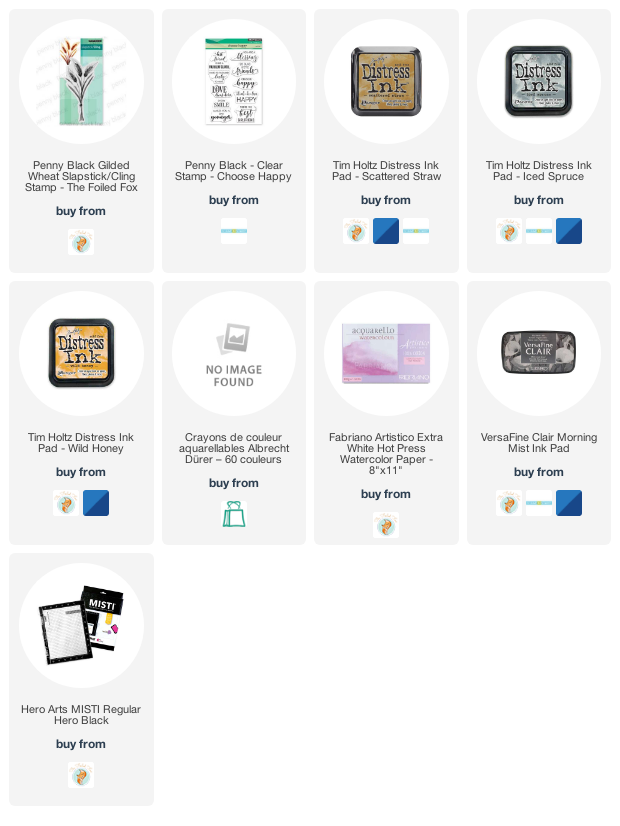 ---
Posted: May 17, 2021
Filed under: daisy delight, Darkroom Door, French Script, scratches, scripty, Stampin Up, you are everything
| Tags: Brutus Monroe, Darkroom Door stamps, distress oxide inks, Stampin Up, Tsukineko Versafine inks
5 Comments
I have in my workroom a few new items to try but with one thing and another I haven't had a chance. I recently bought two new pads of paper, one is rice paper and the other is mixed media paper from Fabriano, that's the one I used for today's cards. I'm very taken with Fabriano 100% cotton watercolour paper so I wanted to see what I thought of the mixed media.
It is quite a while since I've done anything with my oxide inks so I pulled them out to make a blended background. After blending I did some water-stamping with both the DD 'daisy delight' background stamp and the floral silhouettes from the DD 'you are everything' set. The paper worked brilliantly for both steps. After drying the panels I stamped again with versafine clair inks and, as I hadn't moved the stamps, the inked images landed inside the watermark images.
I dried all the stamping with a heat tool before adding background stamps over the top for added texture. I used white ink for both the DD 'French script' stamp and the DD 'scratches' stamp. The daisy stamp ended up with a double dose of script when I embossed a white base layer with the SU 'scripty embossing folder.
I gave both cards a little birthday label and pronounced the mixed media paper a success. Of course I will put it through it's paces with gel printing and a few other processes but so far so good.
(Compensated affiliate links used when possible)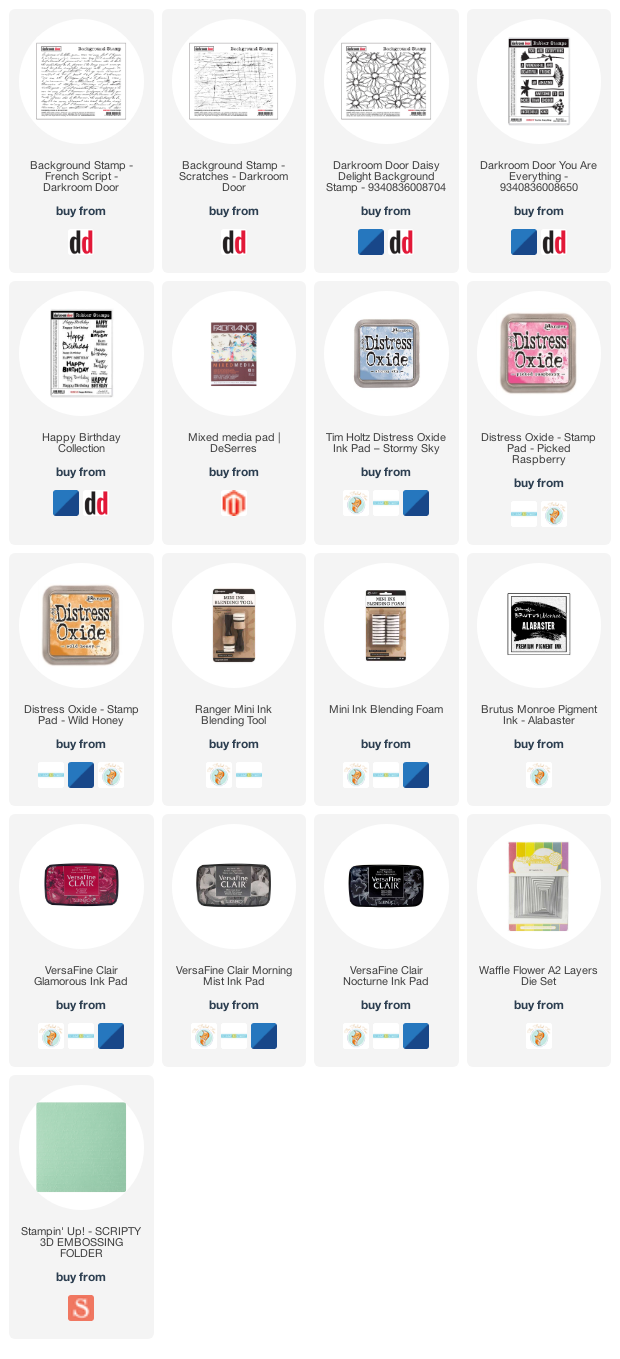 ---
Posted: May 14, 2021
Filed under: Cow's it going?, Pink Ink Designs, Stampin Up, subtle
| Tags: Fabriano Watercolour Paper, Pink Ink Designs, Stampin Up
18 Comments
How much do you love this big highland cow? I hope you don't mind this departure from my usual subject matter but there is something about this cow (and some other beauties from Pink Ink Designs) that amuses and inspires me! When I saw this stamp I knew it would make the perfect birthday card for someone I know who finds highland cows adorable. Although confused by my behaviour, Crop A While here in Ottawa ordered it for me and I'm so glad.
This card is stamped and painted with dye inks, classic kraft papertrey ink as a base colour then four distress colours to highlight, shade and add personality to the beautiful face and hair-do. I worked in a stamp positioner so I could add the colours bit by bit to build up the image. I did some painting and blending with a paint brush but kept white areas also as they add so much to the design.
After I had completed the painting part I decided not to add anything more but instead ran the panel through the die cut machine inside the SU subtle embossing folder. If you look at the close up image you might just see the linen texture achieved. The 'cow's it going' stamp set includes eleven smaller stamps along side this one including some distinctly Scottish ones so I'm looking forward to following that theme another time. My name is Heather after all, Heather McDonald originally!
Hope you are having a good hair day, like this cow obviously is!
(Compensated affiliate links used when possible)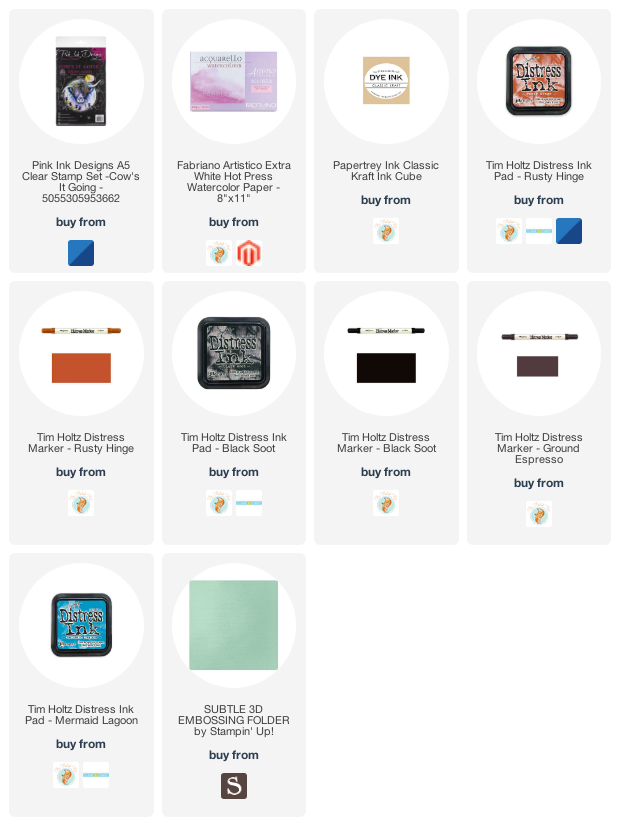 ---
Posted: April 28, 2021
Filed under: garden fresh, scripty
| Tags: distress markers, Fabriano Watercolour Paper, Papertrey ink, Penny Black stamps, Ranger Distress inks, Stampin Up
7 Comments
Inspiration for today's card came from a watercolour artist I saw on Instagram. Her name is Garima Srivastava and she paints loads of florals sometimes in cute little jars and vases. I saw one of her paintings then pulled out the new Penny Black 'garden fresh' clear set to create my own little trio.
I stamped on hot press watercolour paper with Papertrey soft stone ink, a pale grey that works well for no line watercolour. To paint inside the outline images I used a mix of distress inks and markers, sometimes picking up smooshed ink off my glass mat, other times inking the stamp with a marker to add some definition.
To finish the panel I stamped a sentiment from the new PB 'ever thanks' set in versafine clair morning mist ink then popped it up over the embossed mat made with one of my new embossing folders. (SU 'scripty'). I'm looking forward to filling jars and jugs with flowers. Right now the daffodils are making a fine effort but a little too sparse to cut any for indoors.
(Compensated affiliate links used when possible)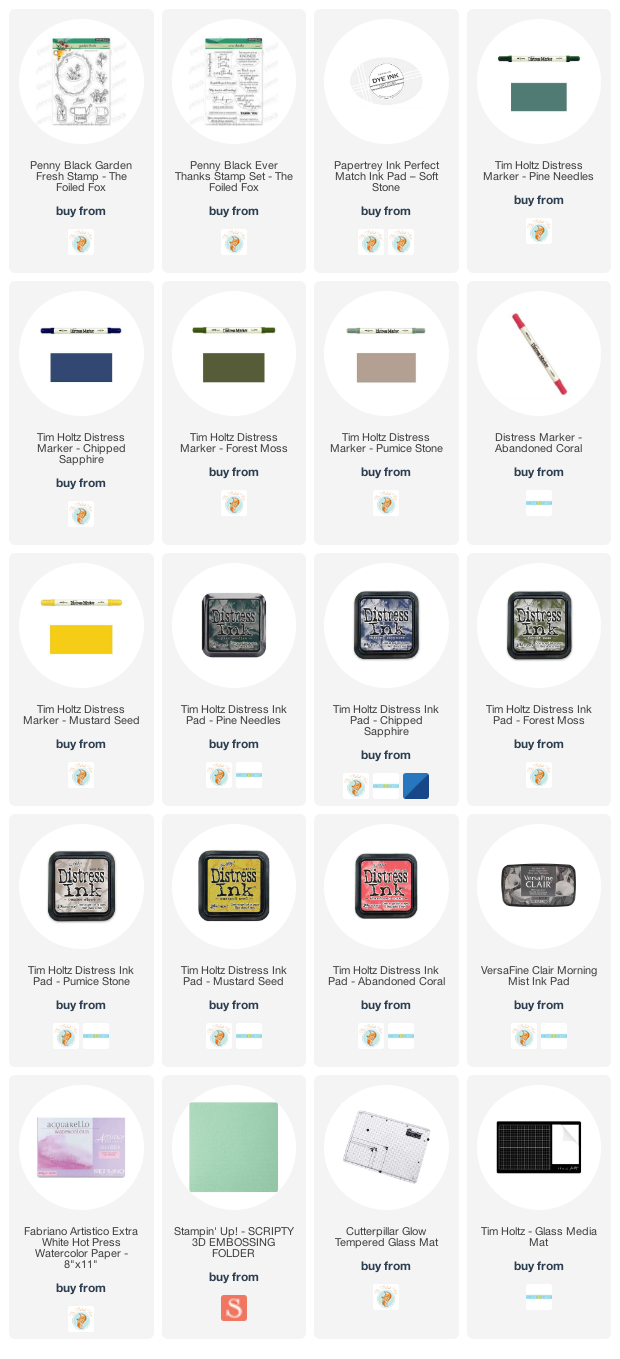 ---
Posted: May 13, 2020
Filed under: Papertrey Inks, Penny Black, secret garden, subtle
| Tags: Papertrey ink, Penny Black stamps
10 Comments
Before I chit chat about today's cards I just want to thank you for your feedback on my wreath card. I loved reading your kind words and thoughts on the sentiment question. In the end I left the front of the card sentiment free (I really didn't want to mess it up!) and made a envelope out of watercolour paper onto which I will add roses and hand-lettering. When I do another wreath I will hand letter the sentiment first then proceed with the flowers, that way I won't be afraid of messing up a finished wreath with a wonky letter. Now, back to our scheduled programming.
Last week I created a couple of abstract watercolour background panels to create coffee themed cards; I used the same approach for today's floral cards. My method for creating the background was the same, I smooshed three colours of dye ink on my glass mat then spritzed them generously with water to make them move and blend a little. I had a large panel of hot pressed watercolour paper ready with some masking fluid already dotted over it. The colours I used were papertrey ink cubes lemon tart, enchanted evening and stormy sea (yellow, blue and grey).
I cut the panel into four and chose to work with stamps from the PB 'secret garden' clear set. My plan was to stamp the flowers in the same colours I used for the background, maybe use all three colours or just one or two. After fiddling around with some stamping I decided I liked just the flowers in the blue, stamped and restamped for paler impressions. I guess you're not surprised I settled on blue, the lemon is very pretty but too pale to stand out and the grey was, well, not quite pretty enough.
Both floral stamps I chose had long skinny stems that I was able to rearrange on the lid of the MISTI to go in the directions I wanted. I did some water stamping too which just means misting the stamp with water and pressing it down on an inked area (the darker the better) and holding it there for a little longer than normal to let the water soak in then dabbing away the water to reveal a stamped 'watermark'.
Once I had the flowers all stamped the panels still didn't look quite finished so I turned to two elements I like to add when a card needs a little something. I used the PB 'script' stamp down the side of both panels in blue, grey and watermark then ran the panels through my diecutting machine with a rather cool embossing folder from Sizzix (sold by SU) called 'subtle'. It gave the panels a canvas look. To add sentiments I used the ever useful 'million thanks' set and the lovely 'SHE builder' set both from Penny Black.
Supplies


---
Posted: January 29, 2012
Filed under: Branch Out, CAS, Lovely as a Tree, Stamped Landscapes
44 Comments
The Less is More challenge this week is a sketch challenge. It just happens to be a sketch of a layout I use fairly often so I was once again keen to play along. We have had ice, snow, rain, snow, freezing rain, snow…etc this week which, while treacherous for walking around, is very pretty to look at. When I got up yesterday the sun was not quite up but there was a line of yellow on the horizon and the rest of the world was snow laden and bluey grey.
This card is my attempt to recreate the scene.  I must say the scene was way more beautiful but it was fun to have a go. I masked the sides first and then stamped a row of trees in the background, the trees from Lovely as a Tree in the middle ground and the tree from Branch Out in the foreground.  I embossed the black trees and then drew the snow on the branches with a versamarker before embossing a second time. I added the colour by sponging and masking.
Thank you for all your lovely comments about the Berry Branch set of cards I made. I know there were several questions about how I made the winter card. I will try and do a tutorial soon or failing that at least give you some instructions – stay tuned!
Supplies:
Stamps: Thank You Kindly,  Branch out, Lovely as a Tree (SU)
Inks:  Versafine Onyx Black, Not Quite Navy,Going Gray, Summer Sun
Cardstock: MFP  Snow Storm Smooth Heavy
Also:  white e.p.
---