Posted: February 11, 2023
Filed under: Alcohol Ink, baby blue leaf embossing folder, Branch 9 die, cricut, Dies, grafix, Moda Scrap, my designs, ornate tile embossing folder, Paper Rose, Penny Black, Pink & Main, scripty, silhouette birds, so extra supporting sentiments, Stampin Up, thank you squares, Tim Holtz, Tutorial
| Tags: cricut, grafix, grafix craft plastic, Penny Black creative dies, Penny Black stamps, Ranger Alcohol Ink, Stampin Up, Tim Holtz
6 Comments
If you have been visiting this blog for a while you will know I had a youtube channel for many years. In 2022 after ten years of adding videos and gathering a community of 7000 subscribers my channel was deleted. In recent weeks I have started again with a new channel and some videos 'from the archive'. My new channel is called Heather Telford Art and I would be very happy if you decided to like, subscribe and tell your friends! There is content on there that you may remember from the last few years and starting today there is new content also! The new '2 for 1 Alcohol Ink Panels' is freshly filmed for my new channel and I hope it will be the first of many!
There are quite a few photos in this post because, well, this is a 2 for 1 technique and I created three panels which of course became six panels and one was cut in half so there are seven cards to show you in this blog post! Grab a cup of tea. I have added a linked supply list at the very bottom of this long post.
As well as a new youtube channel I am also a new Cricut owner. The stencil used on the card below was designed by me and cut on my Cricut. I will chat about my new passion for creating stencils in another post.
Most of the 2 for 1 smooshed panels I left as a full card fronts adding only a sentiment or some die-cutting. As the panel below reminded me of the ocean, the PB wavy scallop border seemed a nice touch.
The panel below is a half panel from the first one I showed on the video. I love the patterns from the isopropyl alcohol ink spray even though they don't stay distinct. Even when die-cutting the word from the panel I couldn't leave it off so I popped it up. Not so funny story: I guess I haven't popped up a die cut word in a while because I flicked those little shapes inside the letters into the garbage when I poked the word from the die. So yes, I had to hunt through my garbage to complete the card.
I don't know why I hadn't tried it before but seeing how well Grafix craft plastic responds when put in an embossing folder has been a revelation! I thought it might crack but it doesn't so you can have the subtle impression of your embossing folder on a panel or the bold inked pattern as I've done on the card below. Sentiments in circles might be a little fad I go with for a while too; they look cute!
You can see the soft look of embossed script on the panel below, especially in the close up. This detailed embossing folder is from Stampin' Up and is called 'scripty'. I don't think it is available anymore but you might something similar.
For this final card I cut six little birds from the panel and played with layouts for quite a while. I ended up just using two which means I have four birds in hand for another project. (pun definitely intended)
The intricate half circle cut out behind the birds is also one of my new cricut cutting files but more about that in another post. If you got this far, you're a champion. Thank you for supporting me here on my blog and I would love to see you over on youtube as well.
(Compensated affiliate links from Foiled Fox, Scrap n Stamp)

---
Posted: August 25, 2022
Filed under: 6"x 6" journal, Art Journal, Ciao Bella, clockwork stencil, mechanical dies
| Tags: Art Journal, Ciao Bella, Mixed Media, Tim Holtz
3 Comments
Not a leaf, tree or flower in sight on this journal page but it was made my me, just in case you are wondering. The day I created this page I claimed to have come over all Tim Holtzish; you can probably see the connection.
I began with a few strips of Ciao Bella rice paper glued to the left and right edges of the the journal pages. Over the rice paper I added texture paste through the Tim Holtz 'clockwork' stencil then filled the rest of the background with brown and black distress inks and sprays.
I cut a stack of gears from black and olive cardstock then arranged them both flat and stacked across the pages. The stars of this double page spread for me were the Finnabair metallic waxes. I applied them over the gear die-cuts and the stencilled clockfaces creating metallic edges and highlights. Adding old silver wax over black cardstock transforms it immediately.
To complete the page I cut a couple of labels from black cardstock and rubbed wax on the edges. I used some little typewriter letters stamps to stamp, 'the wheels are always turning'. When it comes to art journal pages and creating in general, my wheels are indeed always turning. Hope you have a creative day!
(Compensated affiliate links from Foiled Fox, Scrap n Stamp and Ecstasy Crafts)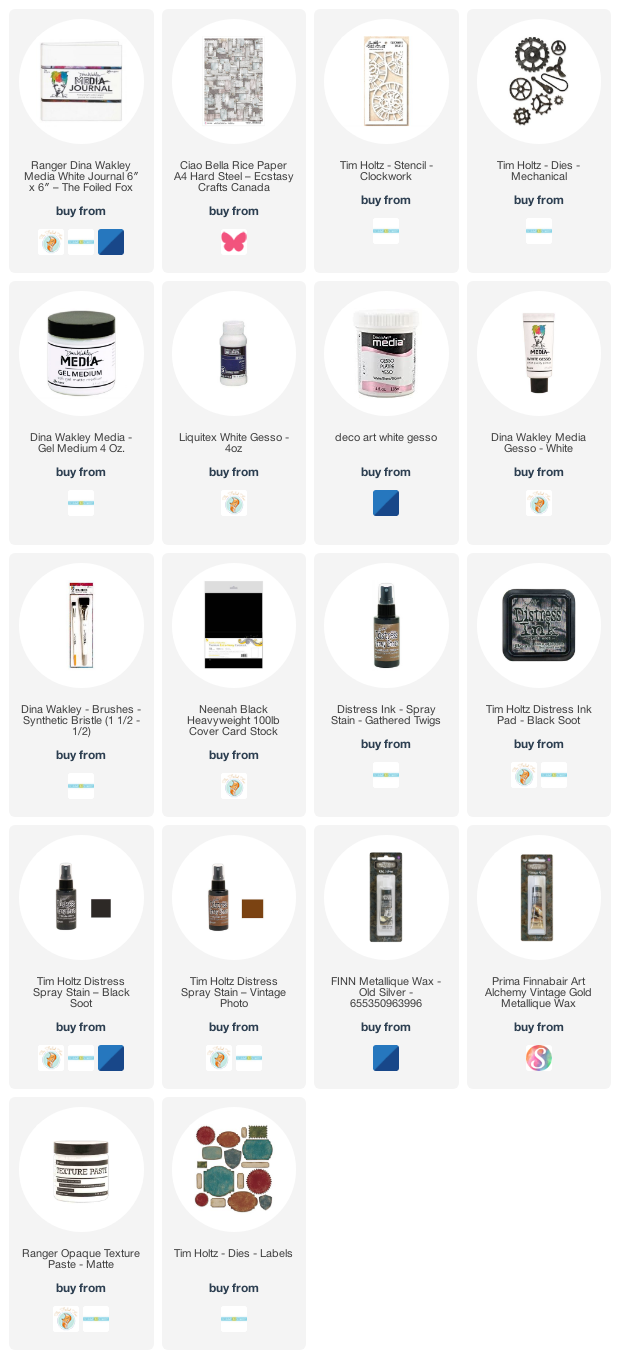 ---
Posted: March 2, 2022
Filed under: gel press, harmonious, Penny Black, Tim Holtz, wild flowers #1
| Tags: gel press, gel printing, Penny Black stamps, Tim Holtz, To
3 Comments
Here is another of my gel prints from last week. When I sit down to write my process for you I get a little confused as to the order I did things. With gel printing you need to do the top layer of the final print first on the plate then layer the background over the top. I don't list the paints I use for my prints because I end up with many paints over my work surface during a printing session of several different brands. If you are wondering about paints for gel printing, use any acrylics you have and see what you like best.
I imagine I brayered blue paint on the plate first, then pressed the fiddly flower die cuts into the paint, took a print to remove all but the outlines of blue then brayered the orange and red over that. I added texture to the red layer and took the final print, I think. The grid print you see was made by pressing a textured piece of cardstock into the paint on the gel plate. I guess I need to video my process for myself as well as to share with you!
The blue prints were not as distinct as I had hoped; I'll keep working on that. I do like the shadow flowers though and when I found an outline flower die from Penny Black I stacked two blue layers and added it over the shadows. I like its grunginess, bold colours, shadow flowers and grid texture. And those two odd white dots were made as old paint peeled off the plate. Gel printing is full of delightful surprises.
Supplies
(Compensated affiliate links used when possible)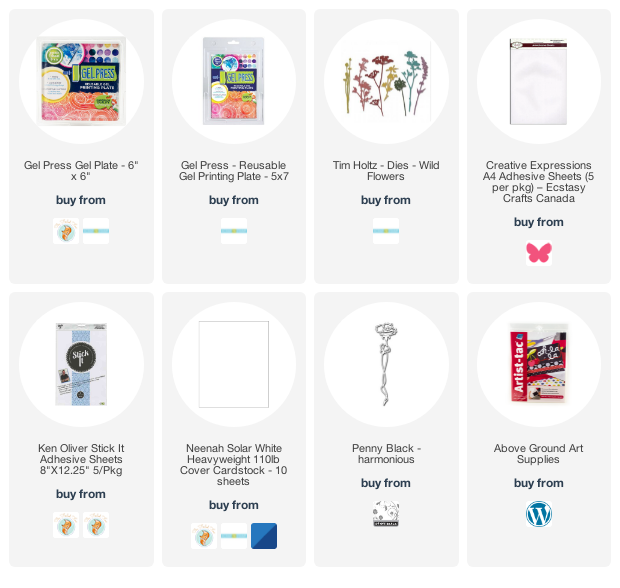 ---