The Wheels are Always Turning
Posted: August 25, 2022
Filed under: 6"x 6" journal, Art Journal, Ciao Bella, clockwork stencil, mechanical dies
| Tags: Art Journal, Ciao Bella, Mixed Media, Tim Holtz
3 Comments
Not a leaf, tree or flower in sight on this journal page but it was made my me, just in case you are wondering. The day I created this page I claimed to have come over all Tim Holtzish; you can probably see the connection.
I began with a few strips of Ciao Bella rice paper glued to the left and right edges of the the journal pages. Over the rice paper I added texture paste through the Tim Holtz 'clockwork' stencil then filled the rest of the background with brown and black distress inks and sprays.
I cut a stack of gears from black and olive cardstock then arranged them both flat and stacked across the pages. The stars of this double page spread for me were the Finnabair metallic waxes. I applied them over the gear die-cuts and the stencilled clockfaces creating metallic edges and highlights. Adding old silver wax over black cardstock transforms it immediately.
To complete the page I cut a couple of labels from black cardstock and rubbed wax on the edges. I used some little typewriter letters stamps to stamp, 'the wheels are always turning'. When it comes to art journal pages and creating in general, my wheels are indeed always turning. Hope you have a creative day!
(Compensated affiliate links from Foiled Fox, Scrap n Stamp and Ecstasy Crafts)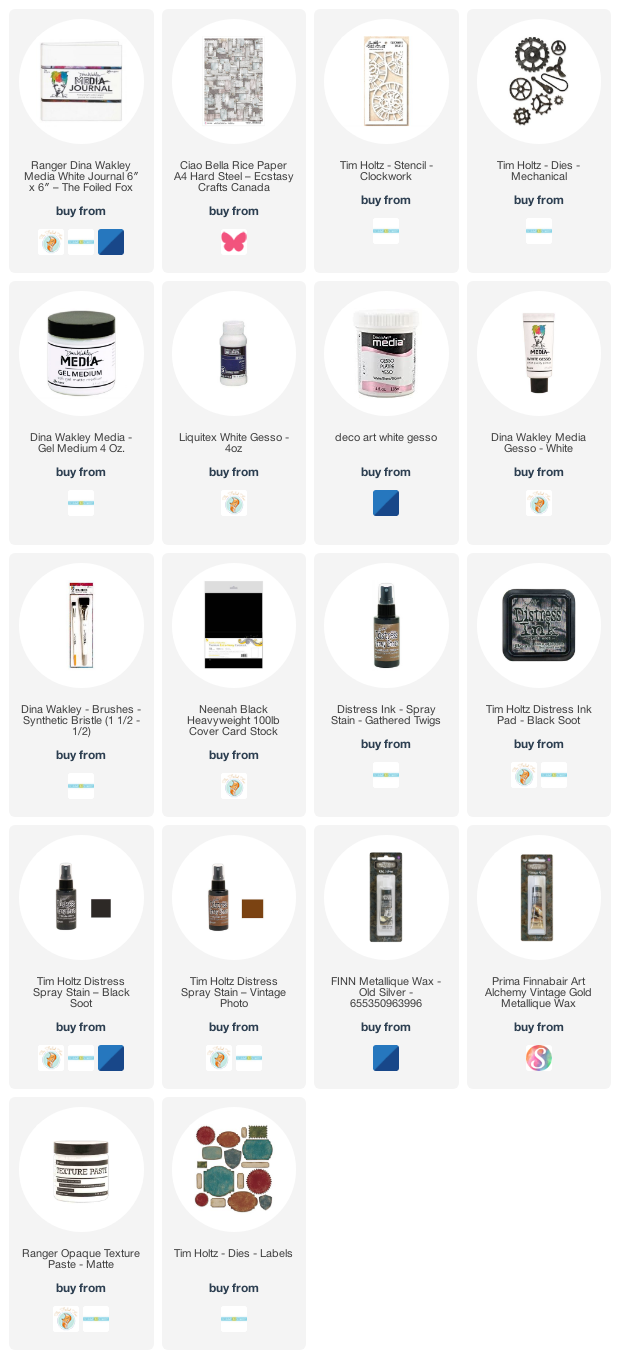 ---