Winter Gem
Posted: August 22, 2022
Filed under: Dies, Penny Black, winter gem
| Tags: Fabriano Watercolour Paper, Penny Black creative dies, Penny Black stamps, Ranger Distress inks
5 Comments
This lovely pinecone stamp is a new one from Penny Black called 'winter gem'. The stamp has one pinecone plus groups of needles but I stamped it several times to fill my card front. The way I oriented the pine cones makes it look a little breezy with all the needles pointing to the left. I have a large and not very attractive pine tree in my front yard. It drops things all. year. round! There are always needles on the lawn, driveway and flower beds and most of the year there are pinecones too. It isn't a tidy tree.
The one time the pine tree looks beautiful is after a fresh snowfall when all the snow is balancing on pinecones, needles and branches. For this panel I worked on hot pressed watercolour paper with masking fluid splattered over it before starting. I worked in a stamp positioner and inked the pinecone with three browns. I spritzed the stamp with water before stamping and spritzed again after before stamping a second generation image. I decided to stamp the pinecone a couple more times on the edges of the panel. I used a slightly wet paintbrush to blend the browns on the pinecones and touched up some of the pine needles also with a fine tip paintbrush.
Once the panel dried I blended speckled egg ink around the pinecones. Because there was masking fluid spots all over the panel little white dots of snow appeared after the masking fluid was removed.
Penny Black has come out with a few clever sentiment dies which pair a large word with a one sided outline. I cut the outline from the stamped panel but it looks fresh and snowy if you cut the outline from white cardstock and place it at the base of the your panel. My word is cut from dark green cardstock but looks black; it's always the way with dark colours in my photos.
(Compensated affiliate links from Foiled Fox, Scrap n Stamp and Ecstasy Crafts)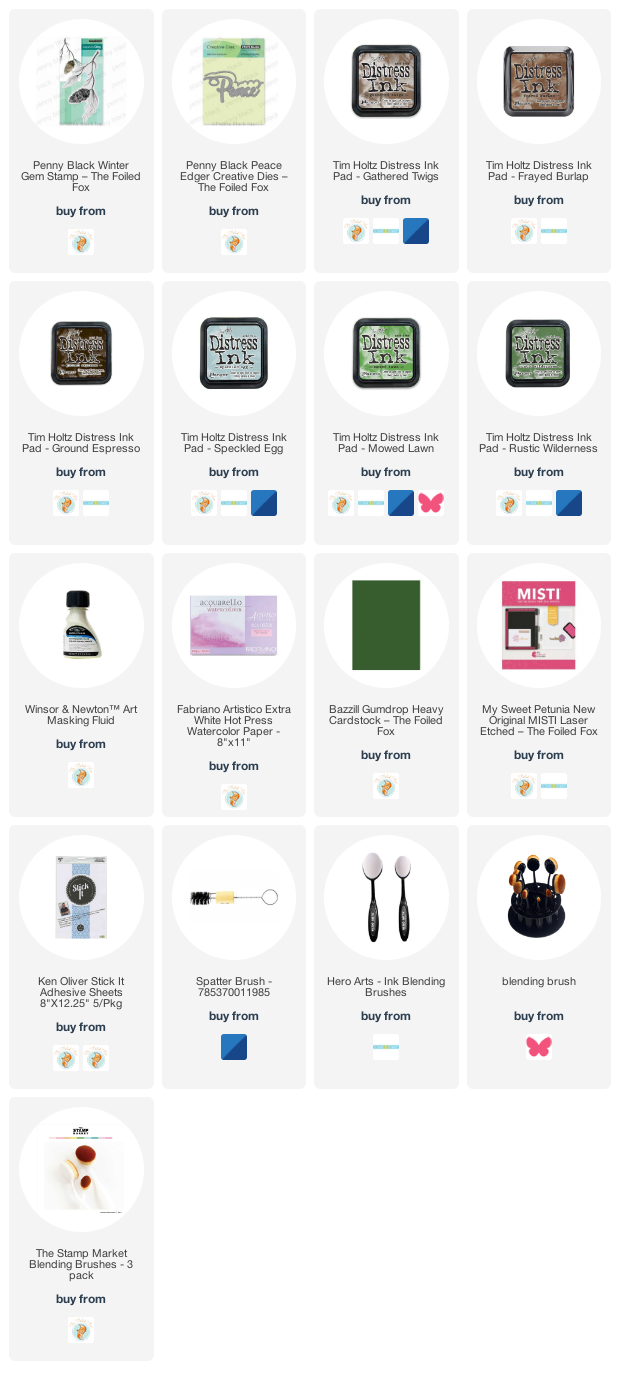 ---